October's Garden To-Do List

EllenB
Gold Post Medal for All Time! 858 Posts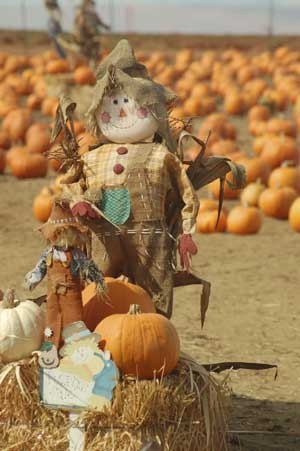 Fall is officially here and with it comes a list of important seasonal chores to keep gardeners busy. No matter what zone you garden in, getting fall chores done can depend a lot on the weather. Some zones will get hit hard with rain and other zones will dry out. Just about all zones will end up with cooler temperatures and (hopefully) calmer weather as we transition into November. For those of you in cooler zones, here's wishing you an Indian Summer!
October's Checklist
Plant or transplant shade trees & shrubs, ground covers and vines: Cooler temperatures and adequate rain make fall ideal for planting most trees, shrubs, ground covers, and vines. Fall is also a less busy time for most gardeners.
Divide and transplant perennials.
Sow perennial or annual seeds that need stratifying. Certain seeds need a cold period to make them ready to for germinating once spring weather arrives. Sow them at or just before the first frost at a depth slightly deeper than you would in the spring. Protect the sides of the beds with boards or barriers to keep seeds from washing away with fall rains.
Plant spring bulbs: It's not too late to plant spring bulbs like tulips, daffodils, and crocus. Plant them right up until the ground freezes.
Pot bulbs for winter forcing: If you plan on forcing bulbs indoors this winter, this is a good month to pot them up and begin chilling them.
Dig up tender bulbs, let cure and store for winter.
Take perennial cuttings and continue to collect and dry seeds for next season.
Prune shade trees, vines, and perennials.
Fertilize lawn: Continue to mow your lawn as long as grass keeps growing, but set your lawnmower blades high. Fertilize the lawn for the final time after the last mowing.
Clean up and compost garden debris: Fall is a wonderful time to start a compost pile with yard waste and garden debris. Turn over already established compost piles. Leave some plant debris in the garden to add winter interest and provide protection for insects and birds.
Rake leaves: Start to rake up leaves. Till them under, compost them or use them as a winter protection for tender plants.
Protect vegetables and flowers from frost: Stay alert for frost advisories and be prepared to protect vegetables and fall blooming flowers from cold damage. Keep row covers, sheets, or portable cold frames at the ready.
Overwinter potted plants indoors: Place cold sensitive plants in protected areas or indoors for their dormant period.
Mulch for winter protection: After the ground freezes, add winter mulch around perennials, trees, and shrubs as needed.
Wrap smooth bark trees: Wrap smooth bark trees like maples with tree tape to prevent cold damage.
Water as needed: Evergreens need at least 1 inch of water until the first frost. So do new transplants, shrubs, and flowers. As established deciduous trees lose their leaves, they usually need less water, but if your area has seen a drier than normal summer and early fall, keep watering them until it freezes.
Keep up with weeds. Most continue to grow until the ground freezers. The more you remove this fall, the fewer you will have to battle in the spring.
Clean and store garden tools: Clean tools with soap and water and use steel wool to remove rust. Oil moving parts, drain fuel and sharpen the blades of motorized lawn and garden equipment. Hang up long-handled tools and store hand-held tools, blade side down, in a pail filled with a mix of sand and motor oil.
Clean and store empty pots and containers: Wash out empty pots with warm water and a stiff bristled brush. Smaller pots can be washed and sanitized in the dishwasher (without detergent) providing they are made of a durable material. Pots made from ceramic or terra cotta should not be left outdoors over winter as they may freeze and crack.
Stock up on bird seeds and clean and prepare feeders for winter season.
Repair fences, trellises, and store garden accessories.
Prepare ponds and outdoor water features for winter.
Cover or store firewood indoors for winter.
Harvest fall vegetables and herbs: Take in remaining green tomatoes for ripening indoors. Harvest and freeze herbs.
Get your soil tested. Contact your county extension agency for directions on how to collect samples and where to send them for testing.
Start the clock on Christmas cacti and poinsettias: Move to cooler temperatures (50-60ºF) and start monitoring photoperiod (13 hours of complete darkness for Christmas cacti and 15 hours for poinsettia). Remember that street lights, car lights and indoor lights can disrupt this sensitive period.
Categories
Pages
More
Categories
Published by ThriftyFun.
© 1997-2021 by Cumuli, Inc. All Rights Reserved.
https://www.thriftyfun.com/Octobers-Garden-To-Do-List-1.html