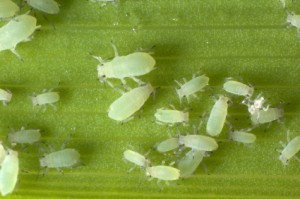 When gardening organically, there are several ways to manage pests without the use of chemicals. These include things like erecting physical barriers, spraying pests with water, attracting beneficial insects to the garden, or even removing insects from plants by hand. Occasionally, the need arises for the use of an organic pesticide. Here are explanations of some of the more common options, as well as some tips for using them effectively.
Always Read the Label
Chemicals in the garden, whether they are organic or not, should always be used as a last resort. While organic products are generally considered more environmentally friendly than synthetic ones, all pesticides should be considered poisons. Both types can be effective against garden problems, and both can have a negative impact on the environment - especially when used incorrectly.
The first step in choosing an effective pesticide is to identify the problem. Then read pesticide labels to see which ones are registered to treat the problem in question. Pesticide labels carry important information for consumers, so please read them carefully. In addition to brand names, the manufacturer's name and address, and the product's EPA registration numbers, you will also find directions for use, first aid information, precautionary statements, and information regarding correct storage and disposal. When choosing among products, opt for the least toxic product you can find and never mix or use two or more chemicals together.
Microbial (Biological) Insecticides
This is sort of a catch-all category for products that use living organisms - things like bacteria BT (bacillus thuringiensis), Milky Spore Disease - or products that are derived from living organisms, like diatomaceous earth. Biological pesticides rely on overcoming natural defenses (preying on insect pests or making them sick), so they tend to be very specific in the types of pests they control.
For many biological pesticides to work effectively, they must be applied at the proper season or growth cycle of the pest they are targeting. These products will not harm most beneficial insects and unless stated otherwise on the label, are not considered toxic to mammals.
Insecticidal Soaps
Insecticidal soaps contain salts and fatty acids that are effective treatments against soft-bodied insects like aphids, white flies, mealybugs, earwigs, and thrips. Available as sprays, these soaps are of low toxicity to people, pets, and beneficial insects while wet, and completely harmless once they are dry.
Insecticidal soaps work on contact, and do not provide any means of preventative protection. They can damage leaves and be toxic to certain plants, so you should always test them in a small, inconspicuous area before using them on the entire plant.
Do not use insecticidal soaps on azaleas, fuchsias, Japanese maples, gardenias, horse chestnuts, bleeding hearts, nasturtiums, and some lilies and ferns.
Horticultural Oils (Refined and Dormant)
Horticultural oils are derived from petroleum products. They are designed to kill the eggs and immature stages of soft-bodied insects like scale, aphids, adelgids, and mites. Similar to insecticidal soaps, these pesticides are safe for most plants and are of low toxicity to people and pets when wet, and completely harmless when dry. They must come into contact with pests to be effective and also like insecticidal soaps, provide no preventative means of control.
"Summer" oils are lightweight and can be used on plants throughout the growing season. Dormant oils are heavier and must be applied to the plants during their dormant period. To be effective, horticultural oils should not be applied at temperatures below freezing or above 85 degrees F. They can damage foliage if the plants are sprayed while under stress from drought or heat. Don't use horticultural oils on maples, azaleas, beeches, or conifers.
Mineral Pesticides
Derived from such minerals as copper and sulfur, mineral pesticides are most often used as fungicides and applied as dusts or sprays. Some plants are sensitive to mineral pesticides, so avoid applying these chemicals to plants under stress, or when temperatures rise above 85 degrees F. Copper compounds should be used with extreme caution. They are poisonous if ingested and may cause skin irritations.
In regards to the environment, copper compounds are extremely toxic to fish and other aquatic life, as well as to earthworms and beneficial insects including bees. Avoid spraying these compounds near water and during the day when beneficial insects are at their most active. Lime-sulfur compounds pose no recognizable threats to the environment, although they may be toxic if ingested by humans or animals.
Comments
August 21, 2011
0

found this helpful
My favorite pesticide is yellow mouth wash & lemon dish soap. Also juicy fruit gum to get rid of moles. They work.