I have many bracelets and wondered what to use to organize them. A paper towel holder works great for me.

By Kathy from Owensboro, KY

Answers:
Organizing Bracelets
That's a really good idea!
(10/02/2009)

Organizing Bracelets
Get a package of clip on shower curtain rings from a thrift shop or dollar tree, and string the bracelets from them, then either put them on a towel rack to display, or hang them in a closet on hangers!
For more ideas, check out this one I submitted last year. Hope this helps, PBP.
http://www.thriftyfun.com/tf16332435.tip.html (10/03/2009)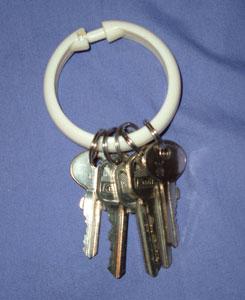 Organizing Bracelets
I've used a 12" glass blown-bottom slim- necked flower vase for years for all of my bracelets, placing only the chain ones in the bottom of the jewelry box. There are so many vases intended for single stemmed flowers and very simple arrangements available at thrift stores, curbside being tossed, and accumulated over the years from thrifty friends that you could easily and wisely collect a few of the. Make certain that the bottom is heavy and wider than your arm, the neck slim but thick glass, using the cheapest you find if you place it into a very deep dresser drawer as I do. Good luck and God bless you. : ) (10/05/2009)

By lynda
Organizing Bracelets
This reminds me of what I did to organize my earrings; especially the one that have the "french wire" (dangly-type; or"drop earrings"). I had an old wire rack from an old oven when we remodeled our house.
I spray painted this rack black and propped it on top of an old jewel box.
I hung all of my "dangly" earrings on all of these -oh what do you call them-"racks ". You can see at a glance all of your stuff and if you are really OCD like me you can group them by color.
Even my mother-in-law was impressed! (10/09/2009)
By Angie