Robyn Fed
Silver Post Medal for All Time! 398 Posts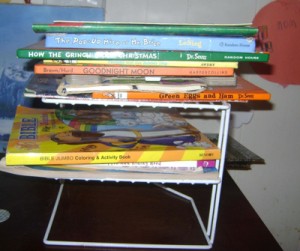 A plate stacker is a nice way to store children's books. Since I had one, I decided to use it for this purpose, and it is really nice. I don't put tons of books out at once. I change them periodically so the kids don't lose interest. I have found that this works wonders and the kids love it!
Of course, they are also great for putting coloring books on the top and the crayons and such on the second tier of the plate holder.
By Robyn Fed from Hampton, TN
Read More

Comments

I am looking for an inexpensive way to store all my daughters books. She is 2, loves books and has SO MANY! At first, I used a jumbo diaper box, but since she has accumulated more, it is overflowing and she can't see what books she has.
Any ideas would be greatly appreciated!
Answers
By Cassie (Guest Post)
October 4, 2005
0

found this helpful
this is what I did for my wee one-
Get some dowels, and 2 pieces of wood...you're making like a "towel rack" only it's for books. I wish I could show you a picture of ours.
Basically, you attach the dowels on the 2 pieces of wood (that are parrallel from one another. The books get draped over the dowels, similar to some magazine racks? Hope this helps!
ps-i just told the guy at Home Depot what I was planning to make and he drilled the holes in the 2 side pieces for me (I think it was 25c a cut?)
By Sharon,Ky (Guest Post)
October 4, 2005
0

found this helpful
My Grandson had a plastic shelf full of books,and the weight began to bend it.I found a 3 shelf wooden bookshelf,painted it and organized the books by size.It now looks nice in his room and the plastic shelf holds movies and games. After he's through with a book he's putting them back on the shelf.Books cost too much to sling in a crate and an organized shelf teaches them to be responsible for their books.You can often find them unpainted for less than $20.It's well worth the investment,to take care of their book collection.
By Linda (Guest Post)
October 4, 2005
0

found this helpful
Small or med crates or plastic shoe boxes are easiest for children to keep books in. Teach them to place books in spine up or standing up so they don't damage each other. Keep one box or crate out at a time, and rotate them.
Another good option is a magazine rack, they have wooden ones for usually about $10-especially now around holiday giftwares.
By Lori (Guest Post)
October 5, 2005
0

found this helpful
No tips for storage, Heather (sorry 'bout that), but I just wanted to applaud you for encouraging your daughter's reading habit. Speaking as someone who has a life-long love of books, you have helped establish something for your daughter that will give her much pleasure and learning for the rest of her life. Good for you!!
By christi (Guest Post)
October 6, 2005
0

found this helpful
If you have a local freecycle group ask them for a bookcase. You can probably get on for free.

October 6, 2005
0

found this helpful
I'm having the same problem, so the advice helped me too. Thank you! I'm a member of our local freecycle and it didn't even cross my mind to post on there for one. By the way, the website for freecycle is www.freecycle.org if you want to try to find you one also.
I seen on www.wal-mart.com they have small bookcases for only $17.98 which isn't that bad.
By Mindy (Guest Post)
October 19, 2005
0

found this helpful
I have a 3 year old who loves to read with me as well. I have purchased plastic dishpans from the dollar store and put the books in these. Stand the books up in the pan. We have then put them either on the floor and slide them under her bed or put the pan on a bookshelf.

July 3, 2007
0

found this helpful
If there are too many books for a child to chose from it can be over stimulating for them and they may quickly lose interest in the book and want to get another.
I would suggest that you have your child select about 10 books and then store all the others away, use these 10 books for a couple of weeks and then get all the books out again and let your child select 10 books for the next fortnight. You will see that the child will have a favourite book that they will chose every time.
I used to do the same basic idea with toys, I would have one big toy box that the children would fill with toys and then all the others would be stored away.
When they had a holiday break from school the first day was always spent re-organising the toy box, everything was put out on the playroom floor for the day and they would have great fun finding toys they had forgotton about and the next morning we would fill one box again and store away all the other toys.
This was also an opportunity to throw away any broken toys and give away any they no longer wanted.
Read More

Answers