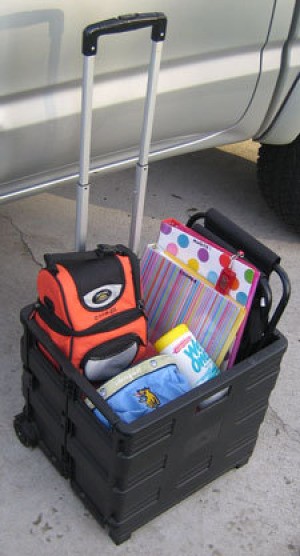 My dogs' information and emergency supplies are conveniently "stashed" in a crate I purchased on sale for $10. I have stored my pets' info in handy, colorful binders for easy access (one binder for each dog). I bought clear three-hole binder envelopes so the important stuff doesn't fall out of the binders:
veterinarian receipts
proof of spay and neuter
vaccination receipts
license info
microchip numbers and registry info
photographs
certificates earned
Additionally, I have filed training hints and other handouts in the binders.
In the crate, there are two soft and fluffy bathmats that my dogs are familiar with: they have learned to associate their personal mat with lying down quietly and being treated and praised. I have a portable water bowl, lots of poop bags, trash bags, hand wipes, antibacterial hand wash, alcohol wipes, antibacterial ointment, extra leashes and collars, and special toys. I have a small lunch cooler in which I can put water and treats. I have trained my dogs to come to me at the sound of a clicker, so I have a clicker in the crate also, as well as an extra treat bag.
I scored a portable seat/backpack at a yard sale for $1, and have stored in the crate too, this is for me however =)
Everything I need for my dogs is stored in one place and "ready to roll", whether it be to obedience lessons, the veterinarian, a pet-friendly get-together, or an emergency.
Read More Comments
We inherited a 10 year old Lhasa Apso and we don't have any health records on her. She was transported by air between states 3 years ago, so we know her health records were up to date at that point. What do we need to do to have her legal in Florida now?
By Shelley from Fort Myers, FL
Answers
December 30, 2009
0

found this helpful
I think your best bet would be to contact your local humane society. They'd probably know what you need to do to get your dog "legal". Either that or just contact a local vet's office and ask them.
December 30, 2009
0

found this helpful
Call any veterinarian's office in your town and they can tell you. Most likely all you'll need is a rabies vac. to be "legal" but ask them.
January 2, 2010
0

found this helpful
Rabies is the only dog vaccine required by law. Most states require a rabies vaccine every 3 years. Some states or counties will accept a rabies titer (blood test to check for antibodies). This is a much safer route for your dog.
As for the other dog vaccines do your research. If your dog has had exposure to a virus or previous vaccinations it is likely that she has developed lifelong immunity. Here are a couple articles to start educating yourself on dog vaccinations-- www.caberfeidh.com/Revax.htm
truthaboutvaccines.org/articles.html
January 5, 2010
0

found this helpful
Take her to a vet. He will know what to do. If you have had her for three years, she's overdue for protection for dangerous diseases. Florida requires yearly license and rabies vaccine. You can get a 3 year rabies vaccine in some cases, but the license is a yearly requirement. You must see the vet at least once a year to satisfy the law and the pets health requirements. It's worth it because if you take the dog once a year, they usually stay healthy, at least that has been my experience. I live in FL also.
Answer

this Question

...