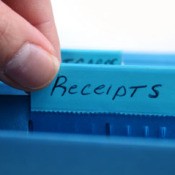 It is not a coincidence that the word "taxing" and the forms we file each April have the same root word. For me the concept of filing taxes would be impossible without a computer program that does the work for me. What isn't difficult is tallying and organizing my deductions. I pride myself on finding every penny that I can deduct, and I do it with the help of a few simply office supplies that organize my receipts all year long.
An Expanding File
Keep a multi-sectional expanding file on your desk throughout the year. Label each section with areas of papers you may need to file at tax time. Create sections for your flexible spending account, receipts for work deductions, receipts for charitable donations, receipts for miscellaneous deductions, check stubs, etc. At the end of the tax year it's much easier to total these receipts. Then, simply store the entire folder in your filing cabinet.
As a teacher I purchase various deductible items throughout the year. I simply circle the item on the store receipt and place it in the section I have for teaching deductions. At the end of the year, I tally my numbers and write the total on the tab for that section. Taxes don't require me to itemize.
Similarly, I have a section for charitable donations. These are anything but significant. They're the stubs from my yearly fire company donation, my ambulance subscription, a copy of the $10 check I donated to our animal shelter, and a receipt for dropping off two bags of used clothing at the local Good Will. I would never remember these donations come tax time, but with my folder I have a small claim to file.
A Mileage Log
Do you earn money with a side business? If so, a mileage log is essential. Even if you travel for your employer and receive reimbursement, a travel log is a great asset. They're inexpensive, and I get at least two year's worth from one log (I ignore the pre-labeled months and use one page for multiple months.) Simply log in the starting mileage of your vehicle for the year and then each time you take a trip log the mileage and the date. It helps to tally miles at the end of the year, and it offers a record should your mileage be questioned. For me, it is most valuable because it reminds me to log miles that I otherwise would forget to deduct. Do you have a small on-line business in which you sell items? Log in trips to the post office or office supply store. Did you drive to the printer's for business cards? Count your miles. By the way, the mileage log itself is a deductible expense.
A Desk Calendar
You don't have to purchase the large desk calendar that could cover a wall. A small monthly calendar that you received for free will work. Each day record any expenses which could be tax deductible. Doctor's appointment? Write the doctor's name and the cost; it's a medical expense which could add up to a deduction. College tuition due? Write it down to tally for educational claims. Shopping trip? Write how much you spent for those scrubs for work. If you're very organized, try to color code your expenses for easy January tallying.
Remember that now is the time to organize next year's taxes. Don't dread the job of preparing your forms; instead keep them organized all year and enjoy the rewards and refunds.
Comments
Read More Comments
What receipts should I keep to use for taxes? For example: food, gas, clothing, etc.

By sissy30 from Dustbowl, TX

Answers:
Keeping Track of Receipts for Taxes
Call somebody that does that kind of work, good luck. (02/04/2010)

Keeping Track of Receipts for Taxes
Unless you run your own business, there are no general receipts for tax deductions you need to keep for the IRS unless you make oodles of money over and above a salary for the 'standard deduction' allowed. In that case you would want to talk to an accountant, preferably a CPA.

You do need to keep a copy of your tax returns and attached W2's for seven years though and that's to protect yourself in case of an audit. (02/09/2010)

By Deeli
Keeping Track of Receipts for Taxes
There are some receipts you should keep if you file a 1040 (long form). A % of child care, like after-school cost, is deductible. Also sales taxes are deductible, again if you file the long form. I find that if I keep track of the sales taxes I pay when I make a purchase it comes out to be more than the IRS AGI-based calculator. Just my 2 cents worth. (02/17/2010)
By A
This may be too late for this year but this is how I handle our taxes year round. I have a folder in the area where I pay bills, open mail, etc. Throughout the year I put dividend statements, Goodwill donation receipts, etc. into the folder. I also keep all paycheck stubs in a separate envelope nearby.
As I receive tax documents in the mail in January, I add them to the folder. Then when we are ready to do our taxes, everything we need is in the folder (including a copy of the kids social security cards). Taxes are still not fun to do but I at least skip the step of pulling everything together. I also make a copy of the current year 1040 form and put it in the folder in case I need some info for the next year. Hope this helps!
By Ann4