Onesummer
Bronze Post Medal for All Time! 219 Posts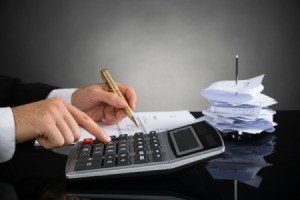 How do you keep track of all your debit card receipts? When its time to balance my acct I can't find have of my debit card receipts (they are suppose to be in my purse). Do you have any suggestions?
By Onesummer
Answers

September 29, 2009
2

found this helpful
Best Answer
I posted this tip a while back and was advised that it could be dangerous so I had it deleted. I am showing it again as I have actually seen these used in a restaurant within a foot of the public. I can see how it could be dangerous though especially if you have children in the home. So, if you make this, please put it in an out of the way place so no one can fall on it.
Take a piece of wood and drive a thin nail through the center. Each time you use your card, put the receipt on the nail. It works great for us in keeping up with our receipts and they are in date order making it easy to check with the bank statement.
After balancing my statement, I staple them together and put them in a drawer. I probably don't need to keep holding on to them but it's just easy to do.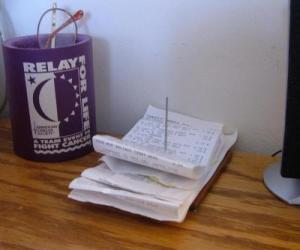 October 1, 2009
0

found this helpful
Best Answer
I have a special place in my purse just for debit card receipts. When I get home from shopping I take them out and place them on the counter with a noticable weight on them so they don't fall and get lost. When I finish putting away my purchases I immediately write them in my checkbook and deduct for current balance.
Then I store them in a folder in case something happens I need them again. Hope this helps. Mostly it is habit; just write them down and get it over with.

October 3, 2009
0

found this helpful
Best Answer
I carry my checkbook and checkbook register in my billfold. That is also where I carry my debit cards, which I use almost exclusively rather than cash. My greatest fear was that I'd miss posting the sale in my checkbook, so what I do is after the sale is completed, I place my receipt in my checkbook register. At the end of the day or the next morning, I post the receipts and then place the receipts into an expandable envelope where I have 3 x 5 cards with tabs showing the day, 1 for the first, 2 for the second, etc.
I access my checking account online every day so I can then mark my register with a highlighter when the receipts have cleared. I also use Quicken on my computer so I have a duplicate check register there. My husband also uses his debit card almost exclusively. So every evening or morning he gives me his receipts which he had placed in his billfold where money would normally go.
With this system, we never overdraw and I know to the penny how much money is in the bank at least once a day. If I do run into a problem, I can check what's online against what's in my check registers. There have been times when a receipt has gotten lost or I've double posted something. With the "filters" and being able to "sort" the data, I can find mistakes within minutes.
I've used this system for at least 10 years or more and it works great for me.
At the end of the month, I take all the old receipts from the envelope and rubberband them together and start the month over. Also, when it comes time to reconcile my account with the bank statement, I just use Quicken to reconcile and I'm done in minutes.

OliveOyl
Bronze Feedback Medal for All Time! 138 Feedbacks
September 29, 2009
0

found this helpful
As I get receipts I put them in my wallet. Every few days I remove them from the wallet and put them in an envelope. This way they are all in one place, ready to check against my statement.
If you don't want to wait a month to get your statement, view your account online and reconcile more often (like weekly) so you don't have to keep receipts as long.
Read More

Answers