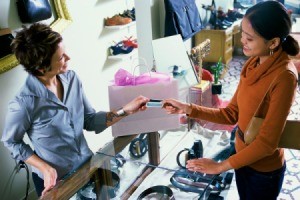 My wallet is made to hold both my checkbook and register as well as my cards. When using the debit card I just enter it as a check without the check number (but with the date) and subtract it from the account. It makes it doubly easy to monitor purchases when going over my bank statement.
When using the credit card, I add a little CC to the transaction description and subtract the amount from the account immediately, adding it to a running CC total in the bottom margin. That way I never overspend and always have the money to immediately cover the total credit card bill. It helps me stay disciplined and makes the credit card a tool rather than a temptation.
Since one reason that I keep a credit card is in case I ever have to use it for an emergency, I also round up each amount, which over time has built up a healthy emergency savings in my CC accounting. I have never felt any urge to tap into this since the comfort of knowing that it is there is worth more than any impulse purchase.
By Jeanne from Florida
Comments

May 23, 2006
0

found this helpful
Top Comment
I also do this with my credit card. The only reason I even use it is because it's a Disney card that earns points towards Disney dollars. I use it for everything I can - gas, groceries, home improvements, every purchase possible, utilities (phone, cable), insurance and even medical payments - to earn the points, but I write each and every transaction into my checkbook register as if it is a check or debit purchase. To separate it from other transactions, I enter it as DIS and do all those entries in red.
When time comes for the bill to be paid I can reconcile the transactions against my statements easily because all the transactions are in red, the money to pay the full balance is already accounted for so I pay the balance off and I NEVER carry a balance .. all this plus I'm earning points toward our Disney vacation this summer that can be used toward our hotel or park tickets among other things!!
Read More

Comments

Saving money truly is a struggle, for all of us. When we spend money, whether it be on food, clothing, accessories, entertainment, etc., we don't realize how much we actually spend each day.
Writing what you purchased and how much you spent on it is an easy, FREE way to visualize your purchases daily.