My income is cut in half. My credit card bills are overdue. They are calling all the time and I don't have extra money to pay them. How do I start climbing out of this hole that I am in? I can't get a second job; I have tried! I can't even sell the family heirlooms. I am scared and worried! Any advice?
By lynette from Ann Arbor
Answers
June 3, 2010
0

found this helpful
Best Answer
According to all the credit experts you can call your credit card companies and ask them to lower your interest rate or you will have to declare bankruptcy. The companies would rather have some money than none at all. Also if you own your own home you could refinance your mortgage and pay off the credit cards and then cut them all up and never use them again
June 4, 2010
0

found this helpful
Best Answer
First: take a hot bath. Get calm. Pray. Call your creditors first. Explain the situation. Some will be hateful. Be pleasant. Tell them you need their help to get them paid, otherwise it is bankruptcy and they won't get anything. Do not get scared. Do not sell family heirlooms. Even if you pay 5.00 a month, you are making a payment. Do not charge anymore. Check the balances and percentages and see if you can get them cut.
Contact your state government for assistance, there will be a department in your state (don't know where you are located) get on your state government website. There should be a department that works between consumers and companies. Work at finding that department, even if people say there is not, keep searching. if you have to, call your politicians and tell them you're looking for some help, where can you turn. Let them make recommendations and follow thru to see if the suggestions can help.
Don't let the companies bully you. Usually, if you can hold out things change. Don't lose your grip. If you have a recorder or can borrow one, tape the companies calling and how they are speaking to you. They are not allowed to threaten you (that's a big, big deal). Remain Calm. Remain pleasant, and keep this in mind: God is in charge, not them and not you. Before calling any company, read Psalm 31 and 37. I did it.
Remember even if you only pay $5 it is a payment. If you can return something, do it. Check your statements (go back and look) make sure you are being charged correctly. Do not charge anything else. Do without if you don't absolutely have to have it and put the money towards the debts.
Cellphones are very costly. Get rid of it (unless it is a necessity.) Give up cigarettes, switch to a cheaper brand or cut down, way down. (I quit.) Cancel cable (I did-it kept going out on me anyway) and watch whatever I want on computer and I do not miss it at all. Do not rent dvds. Do not buy dvds. Carry coffee from home. Open an etsy store. Look at what you can sell on Amazon. Do not buy books.
Eat less (I gave up having meat everyday-but then I'm not that crazy about meat anyway!) I wear uniforms. I only wear them for 8 hours a day...so asap I get home, I take them off, hang them up and sometimes knock the wrinkles out in the dryer) and wear them for another 8 hours before running them thru the washer. I gave up drycleaning years ago. I buy soap when it's on sale, open the boxes and let the soapbars dry out and it lasts longer. I stay out of stores. When I shop, I make sure to look at the prices and watch when the item is run thru the register and it rings right. For some reason, my short-term memory will let me recognize the price when it is rang up, but I must actually handle the product. some stores, do not change the price in their computer and how convenient for them, it rings up at the higher price. Take bad food back to the store you got it from and get refund.
As best you can, keep your spirits up, it is easy to drag yourself down. don't let others talk you into spending money on something that is not absolutely necessary.
I have DSL, but it is slower then what it is suppose to be, I call and get credit. Why should I pay for something I'm not getting?
Don't believe everything your friends say. I paid a friend's electric bill and she was getting it paid by CAA. burnt me up. Some friend, huh?
If possible, give up one meal every third day (this can be considered a fast and dedicated to the Lord.) do not do this if you are diabetic or must stay on regular diet, because this can hurt you.
Stop drinking sodas or at least cut down (I now drink one a day and am working at quitting that.)
Obama is sending people to school, check your local vocational college out and see if there are classes you can attend at their cost (CAA-community action, sometimes, they pay you.) Contact the welfare office, see if you qualify for food-stamps and CAA sometimes will help with electric bills.
For extra work, let your church know you need work (sometimes members can send work your way.) Be proactive.
Let friends know you are looking for work.
If you have been cut even one day out of your work, check with employment office to see if you qualify to be paid unemployment for that day (years ago, this happened to me, the company cut me one day a week, I qualified--then the company got mad and made me work that day instead-it was kind of funny.) I do not know your situation, but there are things you can do. Can you type? Sometimes, people need things done they cannot do themselves such as preparing resume or even business plans.
Do you have any specialty skills? Can you crochet or knit or sew? there are sites that let you sell your items, cannot remember but seems like LionBrand does that. Check with your local home extension office, they may offer a class for odds and ends that will help give you ideas. Some states have state sites where you can sell homemade candy, home-canned foods, homemade breads, etc on the state website. There should be a local Pathfinders that help people with different things (not bills) but maybe giving suggestions.
Get up and get started. Make sure you get a full night's sleep. In our area, there are always turnover at the local corner stores (like bp) that cannot keep help because they try to beat you to death working you so much! Collect pop cans. Look at the designs on different sites, sometimes you can make crafts for a little bit of nothing. Work your brain. Our local hospital has a swapshop for the employees, one lady is selling handmade hair bows on that site. Check out the recycling sites and get some ideas because you do not want to spend money and check freebie sites because sometimes you can find stuff you can use to recycle and sell.
Check in at your local county judge executive office. I live in a rural area, and I drop in and sometimes they know of places that need someone that the local employment office does not. Make contacts and remember once you accept a job, be clean, be on time, do it right and work hard. they pay you for your time, make sure they get it. (Check with the local walmart, I carried a job at the walmart part-time and a fulltime job at another place for well over 3 years. I got tired and quit walmart, but before I did, the manager himself tried to get me to stay on.) Jobs fall out of the sky and hit me in the head, where as my son could not find one. He moved to another state and is now working fulltime plus. Consider changing jobs: But look before you leap. Check out the state employment jobs and see what is available. There are seasonal jobs on most sites. Now, one last thing (sorry for writing so much) something I learned a long time ago, start early in the morning when looking for work. Whatever monies you save apply towards the credit card bill.
Look at the suggestions on this site!
and good luck and God bless.
June 4, 2010
0

found this helpful
Best Answer
You've got lots of great advice already, but I'd like to iterate on a few things. When you call your credit card company, do not talk to the person who answers the phone, ask for their supervisor. They cannot make the decision to lower rates, reduce payments, or cut the balance, but the supervisor can.
You must stop spending immediately, no matter how small. All those things add up quickly, and the money you spend may be your electric, food, etc, money. Re-appropriate anything you can: a friend gave me some big t-shirts, which I cut up and made into nightgowns. There wasn't even much sewing involved. I use fabric scraps to make rag rugs. I've even made homemade dishcloths.
Get by with what you have, make things last by cutting usage in half (shampoo, cream rinse, etc), quit using things you don't need (wearing make-up when you sit at home). Buy cheaper brands. Do without. Keep a list of things you need and look for them at resale shops or yard sales. It's an excellent time to start a veggie garden or grow some plants in pots. Take anything that's given to you. Learn to cook cheap meals: oatmeal for breakfast, an omelet for dinner, soup for lunch, etc. Homemade bread is wonderful.
Right now, my husband is cutting the lawns of two elderly neighbors: he does it cheaper than other lawn services (which helps them out) and makes some extra money, which we save for emergencies. Accept the fact that you can no longer eat out, buy magazines, pay for cable TV, pay for a cell phone, etc. Make homemade laundry detergent and cleaners. You'll save lots of money. Nothing will be a fast fix, but be patient and stick with it. In time, you'll be surprised how frugally you can live. Good luck. PS: You may have to stop seeing friends who spend freely and expect you to keep up.
June 5, 2010
0

found this helpful
Best Answer
Each city usually has a free company who will help you get out of debt. I went to Consumer Credit Counseling in Houston, Texas USA.
You bring everything with you regarding your debt, plus a list of what you spend things on, even stamps and magazine subscriptions, hair cuts, etc. Then CPA's, financial people give of their own time freely to put you on a schedule. They'll contact your creditors and will help and encourage you.
Make sure it is free. Do not, please please, go to these companies who advertise that they will 'make your debt go away'. This usually involves personal bankruptcy and you don't want that, for a lot of reasons.
If you file bankruptcy that means that You purchased items and didn't pay for them. That is stealing and you don't want that in your life, do yourself a favor!
Good luck, dear. It may seem like you'll never see the light of day, but believe me, with this kind of help, you will. Do you believe in God, or a Supreme Being? Pray, pray, pray. You'll be doing your part by getting help, but the miracle of the success will come from God, believe me. Pray that He will take away your fears and give you His peace.
Fear will paralyze you and you sound frozen. There should be an organization in your city where other people who are/were in debt can all talk together, share ideas, comfort you.
Also, and this is brutal, look inside yourself and determine what you did to get where you are. Self examination one of the hardest thing to do, but you have to find out how you got where you are so you won't find yourself there again. You must become accountable for your actions and make restitution for yourself and whoever your debt has touched and effected other people's world.
Many organizations, churches offer free counseling. Working with a non biased person will help you. You can say whatever you want and you will have to be very brave, in order to get to the core of what happened. It will help you so much to talk to someone who is in your shoes.
Right now, do whatever you can to save money. I ate a lot of peanut butter and soup. I stopped buying clothes, even though I shopped at Marshalls'.
Thank God I'm out of debt now, but guess what? I still shop at Marshalls and resale shops for clothing, shoes, handbags, etc. I eat peanut butter and soup.
I do not have a credit card, except one that is used in only extreme (car repairs, etc.) circumstances.
God bless you.
Answer

this Question

...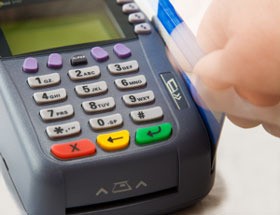 Consumer debt is through the roof right now. Americans have more credit card debt than ever and are having a hard time paying it off. With lowering home values and skyrocketing foreclosure rates, many people are struggling to keep their homes and maintain a good credit record. More and more, we have become a culture of debt.


What are you tips for paying off credit card debt? Please post them below.
---
Dealing With Credit Card Debt
I learned from a class that I took called "Financial Peace," written by Dave Ramsey. His website is www.daveramsey.com We learned how to do the payoff each by the "snowball." (02/26/2008)


By bj
Dealing With Credit Card Debt
Quite simply, don't carry your credit card in your wallet. That way you won't be tempted to buy something you really can not afford.


Also, when you do use your credit card, if it's not a purchase you can pay off in one billing cycle. Set up a personal plan to pay it off as soon as possible. Budget, budget and budget. (02/26/2008)


Dealing With Credit Card Debt
I use this payment method with my clients:


Write down the balance you owe on each credit card, next to that write down the minimum payment the credit card company wants you to pay each month. Then divide the balance by the minimum payment and write this next to the minimum payment. Pay off the lower number first with whatever you can afford AND continue making the minimum payment(s) on the other credit cards. When the 1st card is paid off move to the next card and pay the minimum amount PLUS the payment you've made on the 1st card. Do this on all the credit cards until they are paid off. AND DO NOT charge anything unless it's truly an emergency. (02/26/2008)


By Steve
Dealing With Credit Card Debt
Don't run up credit card debt in the first place. It takes self-control to resist temptation in stores - marketers have spent their entire careers thinking up ways to make you "need" something that you really don't. An eye-opener for me was taking an elective class in marketing when in college. The ways the marketers add what they call "value" in the customer's eyes are infinite.


Look at the way cosmetics and jewelry items are displayed in a department store. They are very carefully lighted, and placed in display cases that you have to walk completely around to get to the other side of the store. Or analyze the marketing that goes into something as mundane as a vacuum cleaner or tube of toothpaste. Really LOOK at the ad - what is the message behind it? That if you buy this product you will be a better person? That your spouse will love you more if you buy this or that thing? How can a vacuum cleaner or toothpaste do that?


The background music in stores is selected for the customers they are trying to reach. Now they're experimenting with smells too. Or even the tool sections at Sears, Home Depot, Lowe's, etc. - look at the lighting and bright colors, all designed to make you want this or that product. EVERYTHING in that store is designed and intended to separate you from your money. If you walk into a store knowing that, you are forearmed. (02/26/2008)


By Walt Moore
Dealing With Credit Card Debt
If you have trouble balancing out the month, set aside cash equal to your credit purchase, and keep that up each day. At month's end, write the check, which your cash covers, and owe nothing. Why bother with credit cards, then? Why indeed. Well, you may like not having to carry the cash, though stores raising their prices 2-3% to compensate for card users seems a bit...unthrifty, nor much fun. (02/26/2008)


By P
Dealing With Credit Card Debt
We had accumulated some credit card debt from school and major car repairs, and it seemed like even though we paid much more than the minimum on our card every month, we weren't making a dent in the balance.


So, we transferred all our debt to our other card that offered us 0% interest for 6 months. Beware of these, they do charge fees to transfer, but sometimes the fee is a savings over the many months of interest charges. We used a card we have had for many years and it has worked for us to do this.


Then, we locked our credit cards in our safe so they wouldn't be a temptation in our wallets. We haven't used them since. This is key! Don't charge ANYTHING else or you'll never get out of the debt hole.


I also found a part-time online job and ALL of the money I make from that is going to the debt. We made a schedule of how much we are paying off each month, and it shows how long it will take to get down to zero $. Seeing that schedule keeps us motivated! We want to see that $0 balance!


With all of those things combined, we are making a HUGE dent in the debt! It feels great! (02/26/2008)


By CiCi
Dealing With Credit Card Debt
Avoid buying anything that you can live without, and use only cash. Pay off credit cards with highest interest rate first. (02/26/2008)


By Lucille
Dealing With Credit Card Debt
This site is great; cgi.money.cnn.com/<wbr>.../<wbr>debtplanner.jsp (02/26/2008)


By paula
Dealing With Credit Card Debt
I learned a long time ago to just stay away from stores. I keep a shopping list at home, and I don't go to a store until it is filled or until I have a real emergency for something. Otherwise, I make do. I don't look through any catalogs that I get in the mail and I don't watch infomercials on TV. When I go to the store, I charge my purchases to get points on my credit card (money back) and I subtract that amount from my checkbook, so when the bill comes, I have the money to pay it in full each month.


I also save all my change and deposit it into a bank account so I have an emergency fund for those unforeseeable circumstances, and so we're not tempted to charge more. We also do odd jobs for some elderly neighbors (mow lawns, rake leaves, take their trash out, make minor home repairs, etc) and stash all that money in our emergency fund. A few dollars here and there add up fast. These simple measures have really helped keep us out of debt. (02/27/2008)


By susan
Dealing With Credit Card Debt
First of all, I use only cards that offer rewards. As soon as I make a purchase, I also make a payment, usually the full amount of what I have just bought. This way, the cards are making money for me, not the credit card company. If it is a store card, you can usually pay at the checkout at the same time, - other cards, I use online pay method. If it is a large purchase, I pay as much and as often as I can to avoid interest. (02/27/2008)


By ERP
Dealing With Credit Card Debt
We paid off our credit card debt by taking out A Line of Credit on our house. The interest rate is lower. We never use credit cards now. And we are able to save on the side for our retirement, or emergencies. This is in Canada, I'm not sure what is available in the States. (02/27/2008)


By Sheila
Dealing With Credit Card Debt
I agree with the Financial Peace University class taught by Dave Ramsey. You can also listen to him on the radio for free. Go to his website and look up a station near you.


My husband and I just started his teachings and so far we have paid off 3 credit cards and are working on one more loan. It is a new way of thinking for my husband but it is working. Not only does Dave teach you how to pay off debt, but how to stay debt free and learn to save and invest. I highly recommend it. (02/27/2008)


By Guest from Michigan
Dealing With Credit Card Debt
I know this will sound mean, but try, try, TRY not to get any credit cards in the first place. Save your money up to buy what you want (by then you will know if you really want it). It is very hard these days to keep and budget money, but credit cards end up costing you twice or three times as much as the item you bought in the end. Plus, the way the contracts on credit cards are written now, they will always find something else to charge you for. Is a credit rating really worth all the money and frustration? Sometimes it is better to have no credit rating at all than a bad one. (03/02/2008)


By laramay