Saving Money for Large Purchases
Solutions
Share on ThriftyFunThis guide contains the following solutions. Have something to add? Please share your solution!
One way to save for items such as appliances is to buy gift cards. I am soon planning on replacing my dryer, and each month I am buying a gift card to go towards it. We buy all our appliances at Lowe's, so I am buying a $25-$50 card each month.
That way I am protected from spending that money on something else. If I was unsure of where I would buy an item, I would probably get a Visa gift card that could be used anywhere, or a prepaid card from my bank that has no activation fees.
Check your state laws first. In my state, Missouri, gift cards can not expire or be deducted from monthly. (In other states they can).
This is also a great way to save up for Christmas. You can either give the recipient the gift card, or spend it yourself on their gifts.
Store your gift cards in your safety deposit box so you don't loose them to theft or fire, or simply through being misplaced.
By mom-from-missouri from NW Missouri
If you shop at Target or any other stores that have the promotional "get a gift card with purchase of this item", save your gift cards (someplace you won't forget or lose them, like I tend to do) until the amount builds enough for you to buy a big item - preferably around the holidays.
A friend of mine shops at the Target sales frequently. Quite often they have a sale where you get a $5 gift card for buying an item. Two years ago she started saving her gift cards in January. By December, she had enough saved to get her family an xBox 360 for less than $30 out of pocket! They never would have been able to afford one any other way! I thought this was a great idea, so I've been saving my own gift cards, instead of using them on my next purchase!
By Judy = Oklahoma from Oklahoma
February 15, 2006
0

found this helpful
When you're thinking about a major purchase make yourself a list and stick to it. It's too easy to be caught up in the moment and buy before you really think about something first. Don't let anyone push you by intimidation. If you are not 100% sure, you can always think on it and often will end up with a better deal.
By Nancy K. from Elmira
I am currently trying to save for a new sofa. I'm in no hurry for one, so it may take me a year or two to save up. I feel that by waiting, I'll appreciate it that much more. I decided that I want to spend no more than $700. So I divided $700 by 26 which is how many pay days are in a year for me since I get paid every other Friday. I then put that amount ($26) in an envelope.
If something more important comes up, such as a car repair bill or whatever, then I dip into that envelope and use that money and just keep saving till I have the amount I need. That way I don't have to dip into my savings account which is for big emergencies. This is only for "wants" that I do this, not for "needs." I feel it's very important to distinguish between the two.
Source: My mom and dad when I was very young.
By Kathy from Sylvania, OH
July 5, 2017
0

found this helpful
Saving money is an important skill to learn. This is a guide about challenging yourself to save.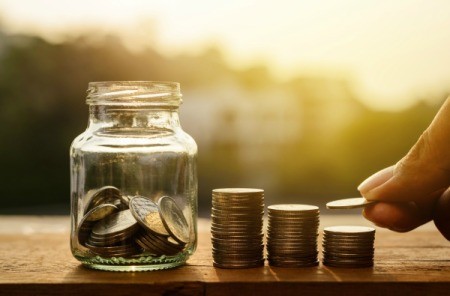 Related Content