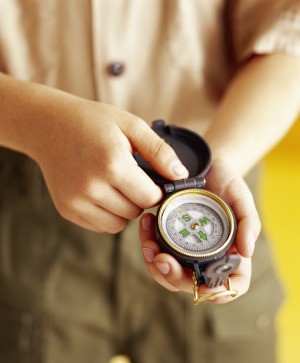 'Tis the season for Webelos (5th grade Cub Scouts) to bridge into Boy Scout troops. It's an exciting time for all, especially the new Scout! One way to keep all of the "Scout stuff" together is to get a plastic bin - nice big one - for him to put his scout book(s), uniform pieces and parts (scarf, tie slide, socks, belt, etc.), and accumulating camping/hiking/backpacking equipment in. If he gets into the habit of putting his Scout stuff in the bin after every meeting or outing, you and he will always know where to look for them next time. This is especially helpful if your Scout shares a bedroom or is prone toward misplacing smaller objects.
If he owns an external frame backpack, much of the "stuff" could be stored inside the backpack as well. Put cane/crutch tip protectors on the bottom of the vertical frame pieces and they will help keep the pack from skidding all over the floor as it gets filled.
Source: My experience with my own just-turned-Life Scout.
By Eileen M. from Elk Grove, CA
Read More

Comments