Organizing Your Garbage
Solutions
Share on ThriftyFunThis page contains the following solutions. Have something to add? Please share your solution!
To omit odors from our garbage can inside the house, if we have anything that may start to smell after a day or so (examples: the styrofoam that meat comes on, banana peels, etc.), I simply put it in a plastic grocery bag and put that in my freezer. I add to that bag all week long if I have items that may start to smell before garbage day. I also scrape our dinner plates into this bag after meals.
Source: I learned this from my sister
By Sandi from IL
Read More Comments
With prices now so high, this idea is not only frugal but also helps to save our land fills and helps to organize the trash. Of course I reuse my Ziploc bags over and over after rewashing them several times. When they just can't take it anymore, I retire them to last use bundle. When I have garbage I cannot place in the garbage disposal (like skin from chicken, banana peels, potato peels, and chicken bones), I wrap then in newspaper, roll it up tightly, and place in the old worn out zip lock bag.
Then I zip it shut and place in the freezer. I also keep a note on the inside of my garbage lid saying, "ALERT! ALERT! Don't forget the freezer bag" to remind me to take the Ziploc out of the freezer, pop it in the trash, and haul it out to the dumpster.
By dollie from Tucson, AZ
Read More Comments
If you don't want your discarded food remains to sit in your trash can, and more than likely turn foul smelling, pop the chicken skins, melon rinds, empty meat trays, etc. into a plastic bag and freeze them until you put your trash bins out at the curb for your pick up.
By Joan from Westchester, CA
Read More Comments
Save money and use less trash bags. I try to flatten boxes that cereal, cake mix, crackers, etc. come in. This way I can get more trash in the trash bag before it needs replaced.
Read More...
Waste food, used teabags, coffee grounds and so on can be placed in a sealed biodegradable bag and frozen. The food won't decompose, so won't taint other freezer contents, nor will your kitchen or bins smell.
Photos
Share on ThriftyFunCheck out these photos. Click at right to share your own photo in this page.
I hate the way that rolls of trash bags get unrolled, so I found a great solution. I took a container that was approximately the same size, with a lid. I cut a small square hole in the top of the container with my jig saw, making a slot for the trash bags to "pop up" like they do on the baby wipe box. Works great and makes the cabinet look ever so much neater.
By one.of.a.kind from Al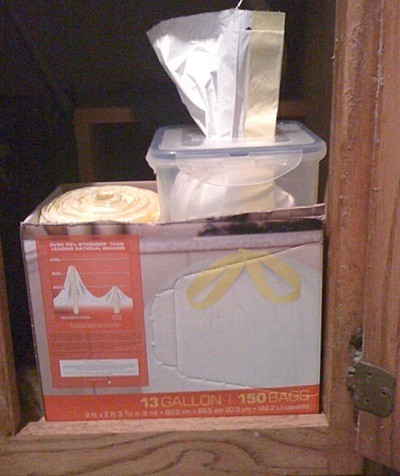 Read More Comments
Archives
ThriftyFun is one of the longest running frugal living communities on the Internet. These are archives of older discussions.
I can't stand to have smelly garbage waiting for the pick up every week. I keep a plastic grocery bag in my freezer and everything goes into it; egg shells, plate scrapings, bones, etc. plus I rinse all of my cans and TV dinner trays out before I throw them in the trash. No matter how hot it gets you never smell garbage.
I take it out on garbage pick up day, put into the un-smelly trash and put it out. It keeps the critters from getting into it too if you have more than one bag you have to set out before trash day. Nothing in it for them to smell and tear apart.
By Dottie from Republic, MI


Answers:
Store Food Waste in Freezer Until Garbage Day
Good idea, we do that with meat and such that is bad, course I have to remember it on garbage day! Do you have a recycling program in your area, tv dinner trays and such can be recycled. (07/28/2009)

By Michawn
Store Food Waste in Freezer Until Garbage Day
Hi! Just wanted to say: "What a great idea!" What I've been doing for years to keep animals out of our trash after setting it out for trash day is this: either pour a small amount of ammonia (1/4th a cupful or a little bit more) directly into the filled bag itself and close it up OR after setting them curbside, pour that same amount over the top of the closed bags. Believe me...all animals stay away from it, as they do not like the smell and no more torn and scattered garbage or a big mess to clean up! (07/30/2009)
By Dana
Store Food Waste in Freezer Until Garbage Day
We have a wild animal rescue in our area and they greatly appreciate any items from the freezer that are older or freeze dried. I hated to throw food away and then I heard of this place. They take any fruits, vegetables, meats, all of it, so, consider if there is a zoo or rescue in your area who can benefit from your wasted food. (08/19/2009)

By liz marion
Instead of tossing meat or fish scraps into the garbage, put them in a plastic bag in the freezer until pick up day. Keeps your can from attracting flies and roaches, etc., especially during the summer. To further prevent these pests, spritz your garbage can with bug spray every other day. Works great.
By Rhema from Charleston, SC

Answers:
Store Food Garbage In Fridge Until Pick Up Day
When I lived in Minnesota, there was so much snow and cold weather that the whole outside was a freezer, so the owner of the rental home told us to just double bag any garbage and set it out until spring when he would personally take it away. What a time/labor savings during the winter, and it never smelled, drew animals or pests. If you are new to the northern winters, remember that elder folks have been found frozen if they accidentally fell just taking out the trash! In N. Texas, we never worry much about it because winters are mild and pick up is reliable for double-bagged garbage.

Also, to college kids, in the winter, we used the window ledge for jelly, cold drinks, and butter on tinfoil"trays" when out of room in dorm fridges. LOL. Of course, students don't do such things these days, right? God bless you and them. : ) (11/01/2007)

By Lynda
Store Food Garbage In Fridge Until Pick Up Day
I used to know someone that lived alone and her freezer was practically bare. She kept her food scraps, grease and such in the freezer till garbage day!

I have a garbage disposal but still there is stuff I don't like to put down it. Both our fridge and freezer are always very full so don't think I'll be trying that but usually we take the trash to the garage fairly often and we have garbage pick up once a week. (11/02/2007)

Advertisement
Published by ThriftyFun.
© 1997-2020 by Cumuli, Inc. All Rights Reserved.
https://www.thriftyfun.com/Organizing-Your-Garbage.html