Organizing Your Workshop
Solutions
Share on ThriftyFunThis guide contains the following solutions. Have something to add? Please share your solution!
April 29, 2005
1

found this helpful
When you have loads of small things to store in your shed or workshop, such as nails, screws, etc, here's a cool tip: Save jam jars and screw the lids to the underside of your workshop shelves. You can see what is in the jars and screw/unscrew the jar of your choice. Just make sure your shelf is secure and sturdy enough to take the extra weight.

By Chickybiker
September 24, 2008
1

found this helpful
I save the large (25 and 50 pound) heavy craft paper bags that wild bird seed comes in. I cut along the top and bottom of the stitching and slit one side then fold and store them on my work bench. These make wonderful heavy disposable work surface covers to protect your workbench for your current project. I also use them when spray painting, stripping furniture etc as they catch all the overspray and drips. When your finished, you just fold them up and put them in the trash.
By MaryCrane from Orange Park, FL
April 29, 2005
1

found this helpful
When looking for a small nail, screw, button. pin, etc, in your can or jar of misfits and/or left-overs, be sure to dump them on newspaper, typing paper, or magazine. When finished, just lift, form in a "vee" and pour back in can or jar. Beats picking them up a few at a time.
By Andrew
June 18, 2005
0

found this helpful
Nail or glue a yard stick to the front of your workbench for quick measurements. It comes in handy when you need to make a lot of small measurements.
April 29, 2005
0

found this helpful
I attached a towel bar to the side of my husband's work bench in the garage. This saves him from wasting paper towels and it saves my "good" bathroom towels.

By Katie in NY
April 29, 2005
0

found this helpful
Keep a garbage can right by your workbench to keep debris from cluttering up your work area. If you have more than one work area put a trash can next to each.
Read More...
April 29, 2005
0

found this helpful
A cluttered, sawdust-filled shop encourages accidents. Keep the floor around machines clear of obstructions that could trip you at a vulnerable moment.
Read More...
April 29, 2005
0

found this helpful
A good place to store saw blades is in unwanted record album covers. If you don't have any record albums just visit garage sales on Sunday when people are closing down their sale.
You likely find someone will to give away some records.
April 29, 2005
0

found this helpful
The transparent Glad-Ware Soup/Salad containers make excellent storage boxes for anything from buttons to screws or staples or nails.
Read More...
May 16, 2017
0

found this helpful
Installing a piece of pegboard in your shop is a good way to help organize your tools. This is a guide about using a peg board to organize a workshop.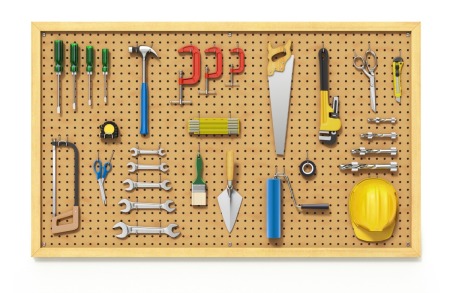 Related Content