I am going to Orlando, Florida in September 2006 and would like some info on free or discounted/cheap ideas for things to do. I plan to go to the theme park one day. So I'll be free for 2-3 more days. My husband and I are not interested the bar scene.

Thanks,
Nailfanatic from Poteau, OK

Answers:
Travel Tips for Orlando, FL
Having lived in Orlando for 4 years, I can give you both driving and site seeing tips! My best offer of driving advice is to stay away from using the "big roads" unless you know exactly where you are going. By "big roads" I mean the major highways: I-4, State Road 528, State Road 408, and State Road 417. If you can remember this tip, you can drive anywhere in Orlando and not get lost: State Road 50 (Colonial Drive) runs east-west all the way from one end of Orlando all the way to the east coast of Florida, Orange Blossom Trail (not as pretty as it sounds!) runs north and south across Orlando as does State Road 436 (Semoran Blvd which is the road you are on when you come out of the airport). 528, 408, and 417 are toll roads and those tolls add up!

International Drive is known as "tourist central", in addition to the attractions areas. There are tons of shops along I-Drive, as there are places to eat and things to see. There is miniature golf, every type of cuisine one could desire, outlet centers, Wonder Works (a totally cool science based attraction, the building is upside down!), Pointe Orlando (multiplex movie theaters, toy stores, various shopping/dining places) and so much more! The Orlando Science Center is near downtown off of State Road 50, as is the Leu Gardens (not sure of spelling, but it is beautiful).

Please feel free to print these instructions if you would like and save them to use on your vacation. Enjoy your visit, be safe and if you choose to use a "big road" remember to stay in the "slow lane"; (right land) because the natives don't go slow and they will run over you if you are in the "fast lane" doing the speed limit! E-mail me if you have any other questions. I live on the East Coast now and can give you pointers/tips should you decide to check out our Space Center and our beaches, too! (07/29/2006)

By Sheila in FL
Travel Tips for Orlando, FL
I haven't been to Orlando for so long I am sure there are so many new things to do and see. The one place I have to eat at is Race Rock. If you and hubby are race fans of any kind you will love this place. I recommend the Blackened Chicken with Fettuccine Alfredo. The food and service are excellent, bar none. The last time I was there I wanted to go so bad I used all the pennies I had rolled just to eat there, BF was a truck driver and had a load to deliver and it wasn't pay day yet.

One of my favorite theme parks is Epcot. It is geared more to technical and science, more adult oriented in my opinion. If you have never been in a helicopter there was a place next to Race Rock kinda pricey, but it is about a 10-15 minute ride, we did and I loved it. Great picture opportunity. I also loved Sea World. I don't know of any discounts, but there is so much to do there I just wanted to through some ideas out. Hope someone who has been there recently can help with discounts. (07/29/2006)

By cathy
Travel Tips for Orlando, FL
We live 45 minutes from Orlando. One of the places we like to go to is called "Old Town". It is geared towards older days. They have shops, restaurants, rides, and entertainment. etc. It is sort of like a shopping center, but offers more. The streets are brick paved.
Old Town is located on Hwy 192 right by Disney, east of I-4. (07/29/2006)

By Karifl
Travel Tips for Orlando, FL
If you or you know someone who is a AAA member go and get a tour book on Florida and Orlando area. Also, all over Orlando there are racks with fliers on places and things to do. (07/29/2006)

By Dean
Travel Tips for Orlando, FL
Go to http://www.mousesavers.com and check that site out for great deals. (07/29/2006)

By Jeanette
Travel Tips for Orlando, FL
Do a search for the local Chamber of Commerce. They often have hotels, restaurants, etc. with specials or coupons offered. Good luck! (07/30/2006)

By Jill
Travel Tips for Orlando, FL
About a month ago my family and I went to Orlando and Daytona. We did one of those resort timeshare presentation things. A bad experience, but at least now we know!
We discovered "Old Town". My husband's sister lives in Vero Beach Florida and she told us about it. It's a great place, the kids loved it! There's a go-cart track, old-fashioned carnival-type rides and lots of shops to go in and places to eat. It's not a large place, but there's plenty to do.
My son rode a mechanical bull (he's 14).
On Thursday night they had a car show, which the guys loved. My daughter and I loved the different shops. We also went to the mall in Orlando. They have a RonJon Surf shop there.
Have a great time! (07/30/2006)

By moonflower5985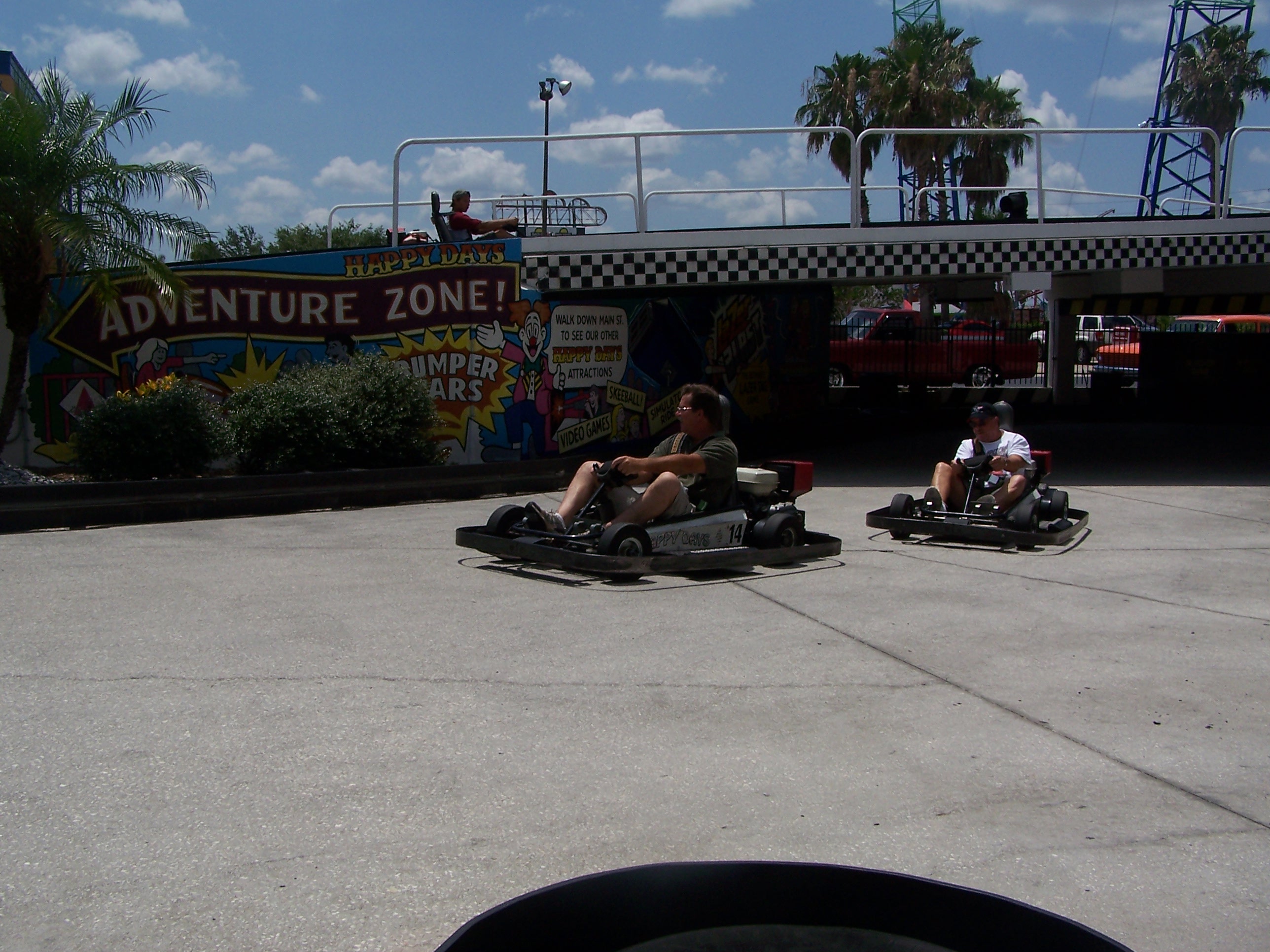 Travel Tips for Orlando, FL
I've lived in the Orlando area for nearly my entire life. There are really too many great places to list, so I will just focus on dinner theaters:

Medieval Times- (in Kissimmee, near Orlando) You watch an exciting jousting match between knights on horseback and eat medieval style food, only without throwing the bones on the floor in a castle. Stadium-type seating.

Arabian Nights- Dinner with a terrific horse show. Stadium-type seating.

Dolly Parton Dixie Stampede. Haven't been, but I've heard it's good.

Pirate's Adventure. I've heard it's fun.

One warning about dinner theaters: I would always check to see what kind of seating is available, and ask if strangers will be seated together at a table. Wild Bill Hickok's Dinner Theater and the Mystery Sleuth Dinner theater have good shows, but they will seat you family-style at a table with strangers unless your party is large enough to fill a table for six. We did not like this. I felt beholden to the man who happened to sit at the head of the table who was given buckets of food and instructed to serve or pass food. He wasn't paid to serve us!- (at Wild Bill's).

At The Mystery Sleuth Dinner Theater you'll be expected to discuss the crime and chat with strangers at your table. This can be great for people who are lonely or trying to meet people, but very uncomfortable if you just want to be with friends or family. We couldn't talk to each other because we had to include everyone sitting at our table. It was pretty awkward. We preferred stadium seating. At Medieval Times, you root for your knight with the people in your area, but you aren't expected to bond with them! Just a thought.

Also, be sure to check for coupons in the lobby of restaurants or hotels or at the tourist info center. You can save $ by having coupons for the places you want to go. (07/31/2006)

By Susann L.