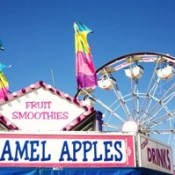 Because of tough economic times, many will find they are unable to afford an away vacation this summer. May I recommend a summer Staycation? If you cannot afford to go away this year, you can do loads of things close to home!
Take the kids to all the touristy places your city has to offer. Check out the museums, the zoo, a water park or city pool. Take them to the library for various Saturday or evening events. Visit a local farm. Start a garden and let the kids have a small flower section (sunflowers, etc.). Have a water pistol fight. Buy bubbles.
Go to local festivals (especially the free ones). Spend an afternoon at a nice park with fun activity equipment and bring a picnic! Go hiking on a nature trail. Get out your bicycles and take a ride together.
Have a family game night with pizza. Have a Friday movie night complete with popcorn and candy. Do puzzles together.
Work on a fun craft project with your kids - remember paint by numbers? You can display their art on their bedroom walls!
Go to the beach or a lake for a day at the weekend. Don't forget hats and sunscreen. Take them roller skating! Have a slumber party. Watch the paper for special events like the circus. There are many ways you can have fun right at home. Get out and enjoy your summer!
By Gooby from Straughn, IN
Read More Comments
I have wanted to see Hawaii for many years, but my health is falling apart and I could never stand the hours of sightseeing. So this year, we are having Hawaii at home!
At least once a week during the summer, we'll try a new Hawaiian recipe, make a craft that looks like it would fit, or invite people over in their tropical print outfits for dessert and conversation. I'm eagerly looking forward to this.
By Coreen from Rupert, ID
Read More Comments