How do I redo a laminate countertop in faux granite? I saw this on a home improvement show and cannot find any instruction on it anywhere?

By syoung53 from N. Vernon, IN
Answers:
Painting Counter Tops To Look Like Granite
You can do it: Paint your normal looking Formica counter tops to look like expensive granite. First thing I did was go to Lowe's and Home Depot to get samples of granite. Once I decided on the colors I liked, I started in.

Lightly sand your countertops, wipe with white vinegar, let air dry, apply your primer (I used tinted Kilz), let dry then apply your base coat (I used black oil base by Rustoleum). While still wet I sprinkled little flecks of gold leaf onto the paint, then once dried I went and sponged on 4 different colors of paints (I used Home Depot samples @ $2.97 and only used 1/4 of each color), then while last coat is still wet I sprinkled in some black glitter. Once all dry, I blew off with blow dryer any extra glitter just laying around. Last step was to seal with Envirotex. Make sure you have helpers. I had hubby pouring and spreading, daughter getting bubbles out with blow dryer, son mixing, and myself spreading with plastic spatula.
TIPS:
Make sure you have rubbing alcohol ready for your cleanup of hands.
Make sure you go online to Michael's and sign up for their newsletters, you automatically get a 40% off coupon for 1 item. Use it for your first box of Envirotex then you should get another 40% off coupon on your receipt for 1 item good the following day, then go back the next day and buy your other box. Keep repeating until you have what you need. Do not use only one box at a time. Start once you have all purchased. I saved a lot of money doing it that way. It's tedious to keep going back, but you save.
Purchase best roller for your base coat.
Lightly tap on the gold leaf to press it down into the paint to make it nice and smooth. You can go back once it's dry and really push it harder down to make it really smooth.
Use blue painters tape around sink and back splash. I went back and trimmed with a razor. Really clean cut.
Do not put anything really warm or hot onto counter. Always use hot pad.
I use Pledge furniture polish to really give it that glossy shine. (10/19/2009)
By timkerry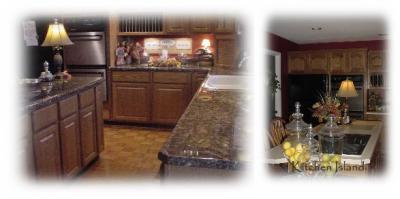 Painting Counter Tops To Look Like Granite
Here is a close up photo of what the actual counter top looks like with the gold leaf and black glitter in it. Glitter is hard to see: But it shimmers just right with the lights. (10/19/2009)
By timkerry