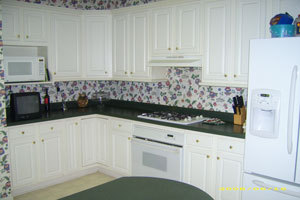 I need some suggestions in upgrading my kitchen. I do know I want the wallpaper gone. Please give suggestions on color for walls with the green counter tops.
Also what would be a goo floor type besides white. The white floors are really hard to keep clean. Photos of nice kitchen ideas would be appreciated so much!
Answers
By Stngray (Guest Post)
July 2, 2008
1

found this helpful
If I had those dark green countertops, I would make the walls a very, very light, creamy avocado color. I would keep the floors light because dark is harder to clean than white. What color floor you choose would depend on the material you have in mind. Keep in mind I'm not a decorator. Good luck!

July 2, 2008
1

found this helpful
Hello you can probably paint the walls a very pale green and leave the cabinets white or you can paint the wall a very pale peach color with the cabinets still white. Peach and dark green look great together. Good Luck!
By Karen (Guest Post)
July 3, 2008
1

found this helpful
I am a professional painter and a while back we did an apartment where the lady had green countertops and she wanted a purple to go with it. I thought, lady do you really know what you want. Turns out she did. It was absolutely beautiful!
By Carol in PA (Guest Post)
July 3, 2008
0

found this helpful
I"d stick with a lighter shade of green for painting the walls. Don't use mint. Look for a shade of green that has some yellow or grey in it. Yellow green will warm the room. Also, you might want to consider yellowish green if your room doesnt get much sunlight. Otherwise use the grey green. I think using green will give the room a cohesive look because it ties in with the countertops.
One can never go wrong with another neutral. Grey is popular today, but I think of beige for a neutral shade for flooring or walls. Use either one of those colors with your white cabinets. If you are planning to paint the cabinets, I'd choose an off white shade that leans toward beige (ivory?) or butter cream.
Choose a very bright color for an accent color to be used in towels, throw rugs, and curtains. One person suggested purple which I found interesting. It would make it like grapes, purple and green. That is a nice theme for a kitchen if you are looking for a theme. Other accent colors you might consider are bright red, yellow or orange. For my accent color, I'd consider colors used in adjacent rooms. I"d also consider sunlight. If your room is dark, use yellow (or orange). If your room is brightly lit with sunlight, use purple or red.
Best of luck

July 5, 2008
1

found this helpful
I have white cupboards and dark green counter tops too. I painted my kitchen apricot and I love it. It is so refreshing and bright.

March 23, 2018
0

found this helpful
I am about to move to a home with a tiny kitchen that has very dark green countertops. I'm just not thrilled! I am going to figure out what the countertops are made of, and try to paint them (somehow) to some sort of golden marbled color that I'll be more comfortable with.

September 15, 2019
0

found this helpful
Hellomi have the old school green counter tops in my basement apartment I was wondering what color would you paint the walls and cupboards ? I live in a older apartment and I want to freshen it up and I can't afford to have someone come in to help
Answer

this Question

My husband and I are redoing our Kitchen. We have oak cabinets, white appliances and we just put a Terra Cotta back splash up with dark green grout. Our counter tops are dark green with a slight Terra Cotta color in it and then we used dark green with a lighter green for the ceramic floor and a Terra Cotta grout. What color should we use to paint the walls? It is an open kitchen into the dinning room so it would all have to be one color. Any ideas would be greatly appreciated.
Wendy from Pittsburgh, PA
Answer

this Question