I recently bought a beautiful house with this older style kitchen. The backsplash is grey tile. The countertop is cracked ice grey. The wood doors are varnished wood and the box of the cabinets has been painted white. I would like it all to be one color. I have tried various colors of yellow and they either look too bright or peach colored.
The floors right now are a dark grey/brown that will be replaced. The room also gets lots of natural light. The appliances are white. It's a u-shape. Suggestions?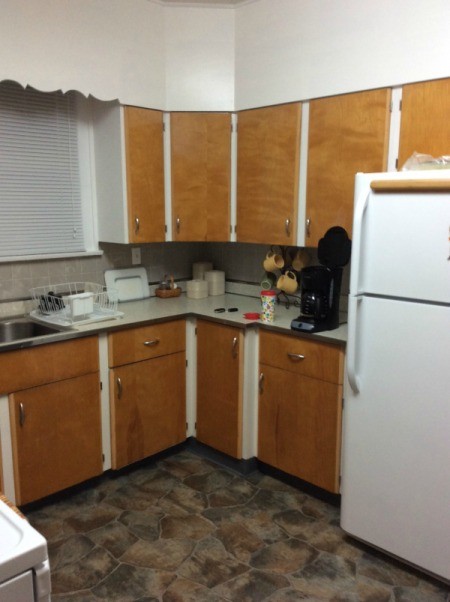 February 4, 2016
0

found this helpful
Best Answer
Leave the valance white but find a light color variation of the cabinets doors for in between doors. Perhaps some pewter colored or brushed silver cabinet handles and drawer pull would tie in with the silver/gray back-splash. Find some nice sheers for windows that incorporate the white, grey and wood tones, with additional brighter colors.
The valance is a great place to hang some collectible plates or objects that also pick up your colors. A lighter colored floor will also look good, perhaps find pseudo wood style that matches your cabinets. Just some ideas to tie it all together.

February 15, 2016
0

found this helpful
Best Answer
Personally, I'd whiten the cabinet fronts (white to off white to pale pale gray), clean pulls so they sparkle and get an inexpensive "tortoise" or greyge greige reed or bamboo or whatever window cover. As in less than $20. Will pull the floor color up, which is important to balance the scalloped wooden valence and be a fresh, modern twist.
Or I'd love to charcoal gray paint the parts of cabinet fronts that are white, window shades tortoise (still cheap). You could even leave the white that surrounds the top stove unit because it works with your window framing. No curtains, please. It's dramatic, , but puts off floor replacement for quite a while.
The front strips are the worst offenders, and not paying attention to the floor is silly. White/gray total binds are boring. Unless you skinny-cook.
Heavier-work option, bottom cabinets charcoal-ish gray and top units your light gray. Still reed (kinda multicolored brown/gray). shades to pull up color. Fabulous. Fun.
My fave is charcoal bottoms, light gray top cabinets with reed window shades. Even bamboo shades from Kmart, which I love. But please use a color, and texture, to make the room smile.
When you're wearing a white top with a skirt don't you wear jewelry to tie it together?

February 4, 2016
0

found this helpful
I like it too, Jody. The colour of the cabinet fronts ties in to the flooring. But if you want a bit of an updated look, why not consider different (perhaps white) drawer and door pulls / handles?