Paint Color Advice for Kitchen With Maple Cabinets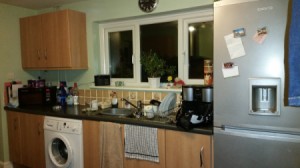 I am useless at choosing colours for my kitchen. It is a small galley kitchen with maple units and wall cupboards. The work top is black with specks of grey, hardly noticeable, and the floor is a dark colour like a blacky brown. The splash back tiles are like a light terracotta.
What colour would be best to give it some life please? I have added a couple of pictures of the kitchen, but they aren't very good. But they do show the colours of the cupboards and work tops.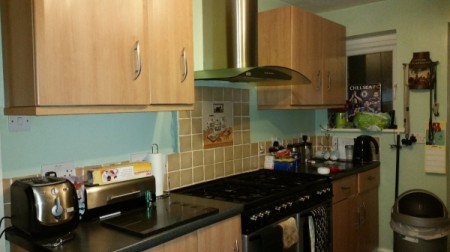 Answers
May 13, 2015
0

found this helpful
Can't say I'm much better when it comes to choosing colours, Linda, but what do you think about a very pale tan? Same tone as the back splash tiles but much lighter? I'm glad you posted pictures as there's lots going on in that room: cupboards, walls, counter, chrome appliance, white appliance, black appliances, white window trim .... A little something on the walls to create a bit more unity / calm might be just the thing?
Good luck!
Read More

Answers
36 More Questions
Ask a QuestionHere are the questions asked by community members. Read on to see the answers provided by the ThriftyFun community or ask a new question.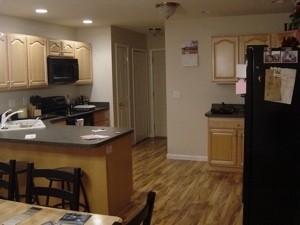 I am contemplating a color for my kitchen and need some suggestions. I have light blonde maple cabinets and dark countertops. The adjoining room is SW paint color Toasty Chocolate brown.
I am thinking about either a sage/olive green or a golden tone. I would like for the cabinets to stand out against the wall color as well as something that is not too dark as the adjoining living room is a dark color.
Amanda
Answers
December 12, 2008
0

found this helpful
I love the look of your kitchen! Anything cool tone would look awesome! Doesn't have to be as dark as the example here, however, you will be surprised how beautiful and soothing even if in the dark shades it would look with the black and light wood tones!
Oh, but keep the ceiling 'as is' ;-) Personally, I like the red violet and blue green ;-) Hope you post a picture of your finished product :-)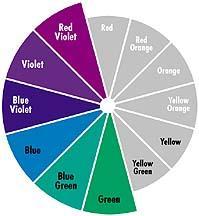 December 12, 2008
0

found this helpful
What I did I went to the hardware store & picked up some sample & put them on the wall to see what color would look good on it. I went with a Autumn Reverie card no. 7-D. My cabinets & floor is the same color as your is.
Hope it helps.
By Carol in PA (Guest Post)
December 12, 2008
0

found this helpful
First let me say you have a beautiful home. I disagree witht the person who advised you to use cool colors. I prefer a warm, sunny kitchen that is friendly and personable. For that reason, I'd choose apple green which is a lighter green with yellow in it (light yellow green). IMHO, any shade you choose should have a little yellow in it. YOu have dark appliances and dark countertops so you need something light to offset them. Also, your cabinets have a yellow undertone. So you'll want a shade that "goes with" them rather than clashes. If you dont care for the contemporary citrisy green I've suggested, you might want to go with cream. Cream is a warm white. Its a milky, creamy color.
Good luck
By Diana (Guest Post)
December 12, 2008
0

found this helpful
My floors are terracotta but otherwise the same color scheme. My adjoining living room is sage and I have wallpapered with a vegetable theme.
You can see every room in my first level from the kitchen--can be complicated but the wallpaper allows for a variety of options in adjoining rooms. I love the sage-very soothing.
December 12, 2008
0

found this helpful
You might be on the money with the gold tones. I heard yellow is the big decorating color for china, etc. these days. Maybe you could take the photo to the paint store and ask a knowledgeable person.
By Donna (Guest Post)
December 12, 2008
0

found this helpful
I think a deep sage green would be beautiful.
December 15, 2008
0

found this helpful
I have similiar cabinets and counters. I did mine with a very light sage and a shade darker sponged over. It looks great. If I had a picture I'd send it to you!
Read More

Answers
What color should I paint my kitchen? I have cedar maple cabinets, light hardwood floors, Impala black granite counter tops, seat cushions with brick red, sage green, and tan stripe. I can't make a decision. Help.
By carolyn from Washington, DC
Answers
October 8, 2009
0

found this helpful
Maybe green or yellow will look ok for your kitchen, good luck.
October 9, 2009
0

found this helpful
I love sage. It's warm and adds color, but isn't too harsh. Try this site with a color visualizer to help you see how it will look. http://www.benjaminmoore.com
October 12, 2009
0

found this helpful
Match the green or tan (with a tiny touch of yellow for brightening)! You'll be thrilled with the finished look.
October 12, 2009
0

found this helpful
I really like a cream color it is a neutral. That way you can change you accessories down the line without having to repaint your entire kitchen.
Answer

this Question
I have dark green granite countertops and honey-maple cabinets in my kitchen. What paint color would look best with these?
By Susan Root

Read More

Answers
I want to paint my kitchen/dining room Middleshire Green (light mint blue), Milk Chocolate (light chocolate brown), and Light Raffia (sand). I know I want my walls textured in the light mint blue, but what about the trim and cabinets? I have a sandy colored countertop with different shades of sandy tan ceramic on my floor.
By ashley from Philadelphia, MS
Answers
March 12, 2010
0

found this helpful
For the trim, I would go with a crisp white (assuming you're painting), as this will help highlight the other colors.
March 13, 2010
0

found this helpful
I would suggest a tint or tone of colors already used. Ceilings do not have to be white. I have a sky blue ceiling (Carolina Blue) and it works in the location. Also there are sparkles that can be added to spray paint for light. In a pale mint ceiling it would be light and different. Perhaps a darker version of one of your colors for the dining area ceiling would make it seem more cozy and more formal.
March 15, 2010
0

found this helpful
I would paint the cabinets the chocolate brown color or a little darker and the trim the sand color to or the chocolate brown.
Answer

this Question
We are remodeling our kitchen; we are doing charcoal concrete counter tops with a gray floor tile. Our cabinets are a honey maple color. Appliances are black and stainless steel. We get the morning sun that shines in. What color should I paint the walls or should I paint the cabinets and leave the walls white? I have upload a picture, as you can see, we are still in the moving and prepping stages to install floors and counters.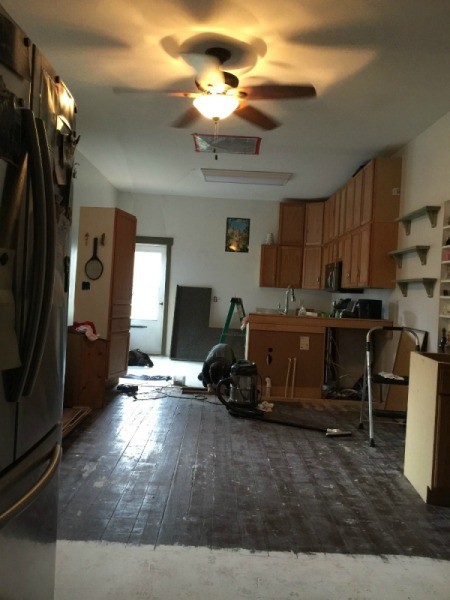 Read More

Answers
I want to paint my sofit and have medium brown maple cabinets. What colors will go with the cabinets?
By Clara G

Read More

Answers
What color (other than green) should I paint my kitchen walls? My appliances are white, floor is beige, and backsplash tile is cream. The cabinets are light maple and the kitchen is somewhat dark.
By Sue B
Read More

Answers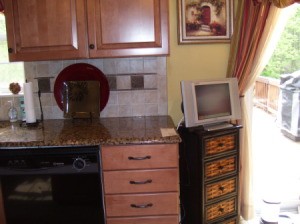 I would like some kitchen wall color suggestions for a medium size kitchen. It has maple cabinets, antiqued with mocha. The backsplash is ceramic 4x4 tiles of light taupe, antique whites, and a slight beige mixed into splashes of color. I have 4x4 every 4th tile of antique dark bronze inlays in backsplash.
By Karen from Perry, FL
Read More

Answers
I would like suggestions for paint color for a kitchen with warm brown maple cabinets and an oak floor, whitish countertops and back-splash and almond-colored appliances. I tend to be country to traditional in decorating style.
By Eileen Duffy from Monroe, NY
Read More

Answers
The color of my cabinets is "Hardrock Maple" the color of my countertop is "Butter-Rum". I have stainless steel appliances. I am looking for suggestions on floor color and paint color.
Please help, I have horrible design taste and do not want to mess up.
Scott from Kew Gardens, NY
Answers
October 3, 2007
0

found this helpful
Take a trip to Lowes or Home Depot and talk to some one in the paint and flooring departments.
October 3, 2007
0

found this helpful
How about ivory(slightly yellowish white)for the floor and a light shade of grey, blue grey, or sage(a light greyish green) for the walls. Get some paint chips and tape them to your walls. Paint chips are small but they will give you an iidea.
Answer

this Question
I have maple cabinets and stainless steel appliances. The countertop is black with gray and beige specks and the backsplash has a slight gray swirl. The kitchen is a galley kitchen and is very small.
By Robin B from Delran, NJ
Read More

Answers
We are buying a 10 yr. old home. The kitchen has light maple cabinets. We want to put in a granite countertop. What color of granite should we go with. We were thinking of old Venetian gold, but are confused if it will make the kitchen look too dull. The flooring is of oak wood medium color, neither dark nor too light. I don't want to have a white kitchen, so can anyone please suggest a good color to paint kitchen and for granite. Don't want too bright nor too dull.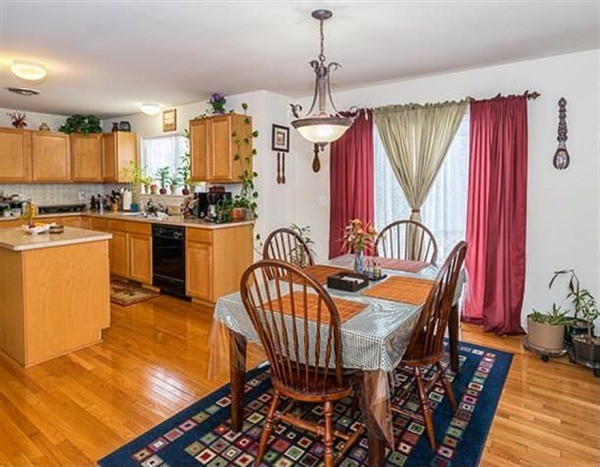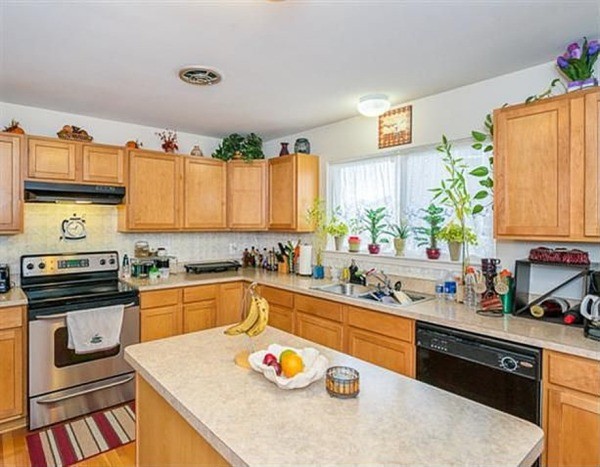 By Siya
Read More

Answers
I have very light maple kitchen cabinets (from the 80s) and black counter tops. My kitchen walls run up against my dining room walls so they need to compliment each other. My dining room is a light blue and has white California shutters that I love. I would like to go with a darker, bolder color in the kitchen as it is very bland looking right now.
By LH Sudbury
Read More

Answers
I need to paint my kitchen. I have maple units with black worktops. I am also going to change the tiles. What paint colour do you think would work? What colour tiles would like good?
By Lee
Read More

Answers
I need help with deciding a paint color for my kitchen. I am completely remodeling. I am having maple cabinets, walnut flooring, white trim, stainless appliances, and Giallo Napoli granite counter tops. I will be painting this weekend (6/4/11). Thank you.
By Lynn
Read More

Answers
Categories
Pages
More
Categories
Published by ThriftyFun.
© 1997-2021 by Cumuli, Inc. All Rights Reserved.
https://www.thriftyfun.com/Paint-Color-Advice-for-Kitchen-With-Maple-Cabinets.html