Growing Maple Trees
Solutions
Share on ThriftyFunThis guide contains the following solutions. Have something to add? Please share your solution!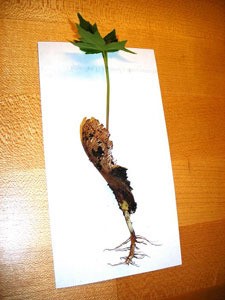 I pulled this maple tree seedling from one of my outdoor potted plants this morning and thought it might be of interest to those who might want to share it with their children, as it illustrates perfectly how seeds become plants.

By Marie from West Dundee, IL
May 30, 2017
0

found this helpful
Maple leaves turning color is a sign of the arrival of autumn. However, if your maple's leaves are turning early, it may be a sign of distress. This is a guide about maple tree losing its leaves early.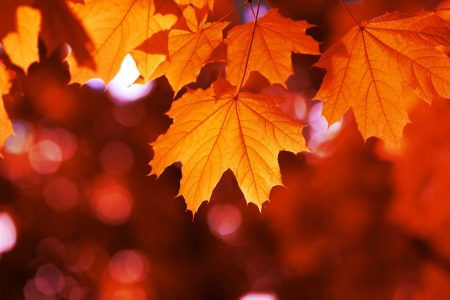 May 26, 2017
0

found this helpful
The sugar maple, red maple, and black maple trees are the source of the sap that is used to make delicious maple syrup. This is a guide about which varieties of maple trees produce sap for making syrup?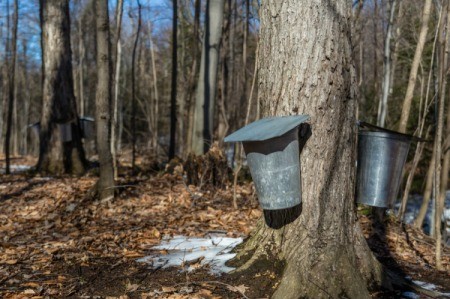 Questions
Ask a QuestionHere are the questions asked by community members. Read on to see the answers provided by the ThriftyFun community or ask a new question.
Last fall I was given little shoots of some red maple trees. They all have a great root base established now, however, they are very tiny, some are less than a foot tall. My concern is we live in a very open area with a lot of wind. Should I continue growing them in small flower pots until they grow a little more, or should I transplant them now.
Hardiness Zone: 5a
By kimberly from Monroe, MI
Answers
April 24, 2009
0

found this helpful
We bought some very small bare root trees last year and planted them then. I staked them because we get some high winds also. I tied them with strips of nylon net in several places. They're doing fine now and growing already.
April 29, 2009
0

found this helpful
Like Glenn's Mom said, I think you can plant them now as long as you stake them.
November 22, 2015
0

found this helpful
No baby them longer.
Answer

this Question

...
We have had no rain at all in Maryland for three weeks. I have a 25 year old maple tree that has bunches of leaves that are turning like they are going to die. I soaked the tree about two days ago, but it doesn't seem to have helped. I am worried I will lose the tree. Any suggestions would be welcome.
Betty
Hardiness Zone: 7a
By Betty from Abingdon, MD
Answers
July 14, 2010
0

found this helpful
Trees in a prolonged drought will be distressed and drop their leaves early. It helps them to conserve what water they can get. A 25 year old tree should have reasonably deep roots so it should be able to access deep water. It should be ok next year as long as the drought doesn't go on too long or happen too often. If you do water , really really soak it to avoid bringing the roots to the surface but I it sounds as if you know that anyway We're getting this problem too, it hurts to look at them. Best of luck.
Marg from England.
July 14, 2010
0

found this helpful
Marg.
Thank you so much for your answer. I really appreciate it. We have had 3 days of rain in the last 4 days so I think the worst is over. As you said it hurts to look at those bunches of brown leaves.
Betty from Abingdon, MD
Answer

this Question

...
I have many maple trees around my house. A lot of the leaves have spores on the leaves and the leaves are very sticky. The sap is all over my deck and my house. When we are outside our clothes get sticky. Why is this happening? It has never been like this before.
Answers
November 4, 2017
0

found this helpful
Maple tree leaking sap
Step 1
Animals puncturing tree
Step 2
Pruning
Step 3
Disease
Answer

this Question

...
When does a harlequin maple produce it's seeds?
Hardiness Zone: 5b
By Barbara from Fitchburg, MA
Answers
May 26, 2010
0

found this helpful
Harlequin maple is a form of Norway maple. But the source I checked said "plant does not set seed, flowers are sterile, or plants will not come true from seed." Sorry!
It doesn't sound like you can propagate this from seed.
Answer

this Question

...
October 23, 2014
0

found this helpful
Why is my sugar maple tree's leaves turning brown on the edge of the leaf?
By LF
Answer

this Question

...
We have 2 small Japanese maple trees in our front yard. One of them is mostly dead with a small amount of leaves on the bottom. the other did very well over the winter. I'm wondering if there's a way that I can trim the one and graft it or plant it with the one that didn't do so well. How would I go about doing that?

Hardiness zone: 6a

Tina from Pontiac, MI
Answer

this Question

...
Photos
Share on ThriftyFunCheck out these photos. Click at right to share your own photo in this guide.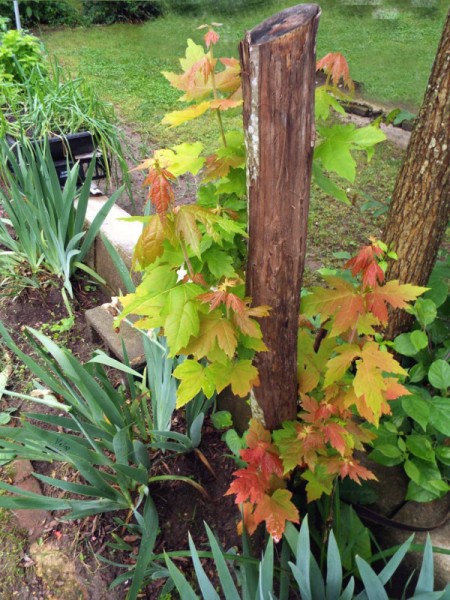 Photo Description
I had to cut down a small maple tree. It was growing too close to a retaining wall. With so much going on, I hadn't gotten around to removing the stump.
While checking on my flowers after a hard rain, I noticed several water sprouts had grown up from the base of the stump. The leaves on the sprouts were alive with colors usually found in autumn rather than spring.
I thought some of you might enjoy seeing this 'fall' display in late May.
We don't need to go on a long nature trek to observe beauty. Beauty is all around us if only we will choose to see it.
Related Content