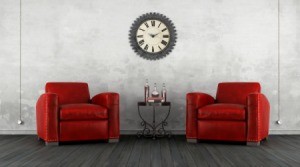 I need help! I own a bright red living room suite (couch and chair) and I do not know what color to paint my living room walls. Does any one have any suggestions?
Denise
from Kentucky
Answers
By christine (Guest Post)
October 9, 2005
0

found this helpful
Best Answer
I have red couches and I did a really light grey on the walls with white trim. Black and white photos. A charcoal grey shag area rug and charcoal grey window treatment. Glass coffee table and few accessories. Red in a dominant color so keep it simple. My furniture is quit modern and the room is very contemporary. If that's not your taste I would go with something else. Yellow and red work well for traditional and country style rooms. What style are the couches? It can also depend on the type of red. Red and green are complimentary colors but it all depends on the shades of the two colors whether they will work well together or not. Hope this helps!
By Teri (Guest Post)
October 11, 2005
0

found this helpful
Best Answer
Greetings Denise!
Funny you should mention red -- my living room sofa and loveseat are both deep red. I've opted for two tone walls -- medium brown and light brown -- with cream ceiling. My windows have dark wood blinds, floor is honey parquet. I've opted to make the fabric for my drapes -- vertical stripes incorporating 3 shades of "earthy" green, cream, red (just a touch), black (a touch), and a deep turquoise.
I'll also use these fabrics (which are "satinesse" with a great sheen and were all purchased at Joann's for .99 to 1.99 per yard) throughout the room on a small round table and cushions for the seating.
While I don't always follow it, one color guideline which is definitely helpful is the 60-30-10-- one color takes precedence (usually walls and ceiling) at 60%, the next at 30% (seating, floors?), then the third at 10% (accents). When choosing your colors, try using this as a guide, you can ALMOST not go wrong. And remember, a little black should always be incorporated -- picture frames, other small accents -- if black isn't in the 60-30-10.
Good luck! :)

October 11, 2007
0

found this helpful
Best Answer
I have red furniture and peach carpet and walls. This combination does not look good. I am thinking about mocha carpet and walls. Does anyone have other suggestions for carpet and walls?
I also have a 4 year old so I need a carpet/wall color that doesn't get dirty quick. Does anyone have pictures of their rooms with the red furniture?
By Angela (Guest Post)
November 25, 2007
0

found this helpful
Best Answer
I just purhased my red sectional and chair I plan on painting the walls a light olive green I get alot of my ideas from furniture sales papers. I let you know how it goes I plan on accents with dark cherrywood that looks almost black.
Answer

this Question

We're moving and the place we're moving to has medium gray carpeting throughout. We have bright red living room pieces. I'm coming up a blank with ideas for wall colors, please help!
By Brei from Maryland Heights, MO
Answers

Joan
Bronze Feedback Medal for All Time! 186 Feedbacks
April 10, 2011
0

found this helpful
There isn't much you can do about color, other than the basic off-whites or a shade of gray. Gray is very poplular right now.

Myrna
Bronze Feedback Medal for All Time! 168 Feedbacks
April 10, 2011
0

found this helpful
I saw a lovely yarn afghan with the colors of gray, red, and white. I'd stick with these colors as they go together and compliment well.
White walls with a few black accessories would go well too.

April 10, 2011
0

found this helpful
Yummy, yes black. White walls, use big pieces of art work with red and black in them. u want to draw the eye away from the walls.

April 12, 2011
0

found this helpful
I would use a gray that is one shade lighter than the carpeting. Enjoy your new place!

April 12, 2011
0

found this helpful
A light turquoise for the walls, with deep turquoise, red, and gray accents, would be stunning. Bring the colors together with pillows, artwork, wall hangings, and accessories that have all three of those colors in them.
Beautiful!

April 12, 2011
0

found this helpful
I love the gray idea,but darker than the carpet. Accent with black and white. Remember that the paint will appear lighter than the sample cards they always offer at the paint store. Or buy the small bottles and paint a couple of different shades,and let them dry and then observe the effect light has on them at night and during the day until you are certain what you want to do. (I love love love black accent walls with red and gray. But it can freak some people out. Also remember that paint is the least expensive element in decorating a room, and does the most to effect the outcome. Have you thought about separating the wall horizontally into three wide stripes and painting three differing shades of the same gray with the darkest at the bottom,and working up to the lightest at the top. What color is your woodwork? That will make a difference, too.

March 19, 2018
0

found this helpful
We have 4 large red overstuffed pieces in a large room. We did 3 very light blue walls and a tan wall. I liked it a lot about a year later we turned the tan wall gray.
I am not as happy withe the blue and gray. But all three colors go really well with red

June 28, 2020
0

found this helpful
A dark gray would be stunning.
Answer

this Question