I have mice in my attached garage. I ran out and purchased several little bottles of peppermint oil and saturated many cotton balls and put them all around. The mice are practically laughing at me. I do not want to kill them, just repel them. Help.
By ProfessorEnglish from Lubbock, TX

Answers:
Peppermint Oil for Mice Control
I've always heard to use moth balls. (02/26/2010)

By memymoebly
Peppermint Oil for Mice Control
Don't use moth balls. They are terribly toxic, and smell terrible. I would prefer the mice. For proper mouse control, you need a cat, or maybe two. Anything else is a waste of time. If they are in your garage, it is only a matter of time before they are in your cupboard eating the rice, cereal, and crackers.

You can't repel mice. They don't take hints. You could trap them, I suppose, or set out poison, figure out where they are coming in, and cover the holes with metal. It is just so much easier to have cats. Besides, they purr. (02/27/2010)

By louel53
Peppermint Oil for Mice Control
OK first of all, mice are in heat every 5 days and can pop a litter at your house every 21 days. I guess I would do more than just make them smell good with peppermint. The mint factor is to plant that around the outside of your home. It is like weeds when it gets going and has good roots too. This is to DETER them away and not hid around your house.
Once they gain entrance, you have to poison or trap. The best is the sticky traps. My son's home was taken over by the mice that came in to the house in the fall cold. 15 caught in 1 day. No food, drawers, etc are safe. Even get into the oven not in use.

If you have pet feeding areas, vermin love that--not only mice. One trade off, if you have snakes in your yard, you don't often get mice. Natural enemies. Mickey Mouse is not real, but your problem is. Put your thoughts elsewhere to a humane society, etc and just plain trap/poison those mice. Think of the germs and disease they bring into the house. You or them!

PS. I love the peppermint on the cotton ball--use it all the time for sinus issues. Tuck it in a pocket, stick it by your pillow. (02/27/2010)
Peppermint Oil for Mice Control
WOW, well done for the oil. It's like the Exodus. I'm keeping quiet and watching these little beggars chat as they leave. It's actually quite scary that I thought there was only a few. I'm so grateful that the Good Lord saw fit to make peppermint, Arrrgh, no there's another one, they look pissed. Glad it works, can't really see myself hitting something as pathetic as a doormouse. I knew there was a way, just hope they're gonna stay gone. I've still got to do the border patrol but so far so good :) (03/16/2010)

By house daddy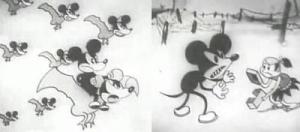 Peppermint Oil for Mice Control
Hi all who love animals but not when they don't pay rent. Ok, my girl is 22 months old. I have a box room that looks like WW3 behind the fridge. I found a 12 inch doorway for these guys to walk though. What bothered me was the cute little size of the first one I saw. they breed at the rate of fire. I realized that there must be a whole nest waiting to breed again. I went and got 100%pure p-mint oil put half in an old atomizer with a bit of water and set the nozzle to a fine mist.

I just did the centers of the rooms (always leave your enemy an escape route kinda thing). I did this one hour ago. It's night time and they're going nuts. Hopefully they will retreat to the zone that's not my home. Next I'm gonna give the place a blast of scrubbing, mopping and shaking, sweeping furniture, beating, surface disinfecting. Then I'll do the cotton wool p-mint doormen. I will keep you all posted as tonight is the proof for me. (03/16/2010)
By house daddy
Peppermint Oil for Mice Control
I do agree that a cat is great a keeping mice away. However, I wouldn't recommend it. We use to let my cat in the basement every fall/winter to hunt for mice seeking shelter. One day he started throwing up after killing a mouse. He was never the same and developed some type of stomach cancer throwing up all the time. I can't prove the mouse was the definite cause, but it started immediately after he killed/ate the mouse. You don't know what these mice are carrying! I've been tempted to try fox urine, but I have small children and have been told it could also attract real foxes to the house. (05/28/2010)

By ThemBones24