Planning Ahead For Traveling With Children
Recently we (3 adults and 2 children under the age of 10) took a rather long road trip. It was a learning experience for us all! :-) I did manage to do a few things to make the trip easier.
Kids get hungry. They are always starving. At gas stations, snacks will break you. Before the trip, I purchased summer sausage and a block of cheese. I sliced them thinly using my slicer. I packaged 1/2 dozen slices of each into a small plastic pouch using my foodsaver then I tossed them in the cooler. As the ice melted to water, my food stayed dry. I have used baggies and plastic containers before, but this was the best way for me. Each child took a pouch at a time, and a few crackers. There was no waste, food stayed fresh, and the kids were happy.

Before the trip I also purchased (for $1 each), a bottle with a push/pull top, like the top on a dishwashing detergent bottle. All drinks (diet soda, water, or juice) had to be in that bottle. No spills. We also took fresh fruit. You can always stop along the way and replenish supplies.

Kids get bored. Several years ago, my husband asked me what I wanted for Christmas. I asked for a portable DVD player and 2 sets of headphones. He thought it was an odd request, but that is what he purchased me. I took it on the road trip with numerous movies placed in a CD case. It really helped entertain the children when the drive was getting long and "boring".
Kids want souvenirs, Most are cheap toys with a "Made in China" stamp. I let each child take a medium sized empty plastic peanut butter jar. They filled it with pretty pebbles from the beach, a handful of sand, etc. I also picked up brochures to put in their scrapbooks, and of course I took loads of pictures! I found T shirts on clearance racks in shops, instead of paying $15 a shirt, I paid $3.
Make travel a game. I had printed out several scavenger hunt games and search a word travel games before we left, and gave each child a clipboard and pencil. Kept them busy for hours!
Find free things to do. I took the time to check out free/frugal things to do in the cities along our route. I was pleased to see how many things were free. We went to interesting museums, frontier towns, and other tourist attractions. All it took was a little of my time to find them.
In this economy, I thought getting a motel room each night would be easy. I was wrong. The motels along the highway filled up fast. I learned the hard way to use my phone to locate them in the town we were going to stop at for the night, and to call ahead. I also found that by traveling a mile off the highway, we found smaller "mom and pop" motels that were clean and cost over 50% less.
No matter where you are, you will always have dirty laundry. Before we left I put a premeasured amount of powdered laundry detergent, and a scoop of dry bleach into a snack size baggie. I placed the filled packages into a plastic square ice cream tub, along with a pack of dryer sheets. It made it easier, and certainly cheaper, to do laundry along the way, be it at the hotel or a laundromat.
With motels usually offering a continental breakfast, and our buying bread and lunch meat for our lunch, we only had one meal to eat out on, that was supper. Many prefer to eat lunch out on the road (they must of never had car sick kids). At one nice restaurant, they wanted $6 per dessert. Way too expensive. Instead, we got back in the car, picked up ice cream cones at a fast food joint, and tooled around on a site seeing tour around the town while munching on them.
All in all, it was a fun, and educational trip; one I hope the children will always remember. I know I will!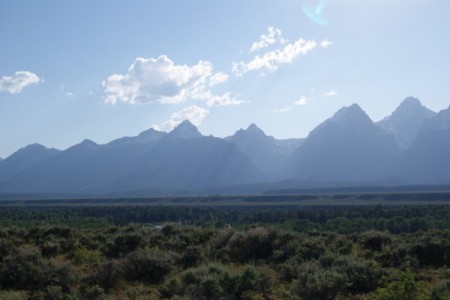 Add your voice! Click below to comment. ThriftyFun is powered by your wisdom!
July 14, 2012
0

found this helpful
Rest now, That was a long trip.You did good. GG Vi
Add your voice! Click below to comment. ThriftyFun is powered by your wisdom!
Advertisement
Published by ThriftyFun.
© 1997-2020 by Cumuli, Inc. All Rights Reserved.
https://www.thriftyfun.com/Planning-Ahead-For-Traveling-With-Children.html