Traveling With Kids
Solutions
Share on ThriftyFunThis guide contains the following solutions. Have something to add? Please share your solution!
Hitting the road with the kids means hours in the car listening to them complain about being bored. Well, never fear the old games we used to play are still around and to top it off you can create some new car fun. Who needs the car video player or hand held games?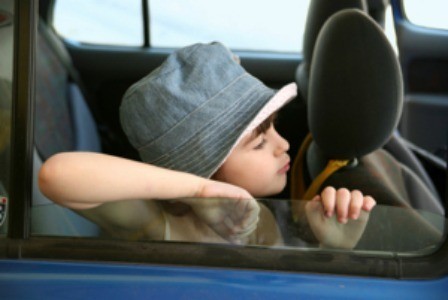 Read More...

Recently we (3 adults and 2 children under the age of 10) took a rather long road trip. It was a learning experience for us all! :-) I did manage to do a few things to make the trip easier.
Kids get hungry. They are always starving. At gas stations, snacks will break you. Before the trip, I purchased summer sausage and a block of cheese. I sliced them thinly using my slicer. I packaged 1/2 dozen slices of each into a small plastic pouch using my foodsaver then I tossed them in the cooler. As the ice melted to water, my food stayed dry. I have used baggies and plastic containers before, but this was the best way for me. Each child took a pouch at a time, and a few crackers. There was no waste, food stayed fresh, and the kids were happy.

Before the trip I also purchased (for $1 each), a bottle with a push/pull top, like the top on a dishwashing detergent bottle. All drinks (diet soda, water, or juice) had to be in that bottle. No spills. We also took fresh fruit. You can always stop along the way and replenish supplies.

Kids get bored. Several years ago, my husband asked me what I wanted for Christmas. I asked for a portable DVD player and 2 sets of headphones. He thought it was an odd request, but that is what he purchased me. I took it on the road trip with numerous movies placed in a CD case. It really helped entertain the children when the drive was getting long and "boring".
Kids want souvenirs, Most are cheap toys with a "Made in China" stamp. I let each child take a medium sized empty plastic peanut butter jar. They filled it with pretty pebbles from the beach, a handful of sand, etc. I also picked up brochures to put in their scrapbooks, and of course I took loads of pictures! I found T shirts on clearance racks in shops, instead of paying $15 a shirt, I paid $3.
Make travel a game. I had printed out several scavenger hunt games and search a word travel games before we left, and gave each child a clipboard and pencil. Kept them busy for hours!
Find free things to do. I took the time to check out free/frugal things to do in the cities along our route. I was pleased to see how many things were free. We went to interesting museums, frontier towns, and other tourist attractions. All it took was a little of my time to find them.
In this economy, I thought getting a motel room each night would be easy. I was wrong. The motels along the highway filled up fast. I learned the hard way to use my phone to locate them in the town we were going to stop at for the night, and to call ahead. I also found that by traveling a mile off the highway, we found smaller "mom and pop" motels that were clean and cost over 50% less.
No matter where you are, you will always have dirty laundry. Before we left I put a premeasured amount of powdered laundry detergent, and a scoop of dry bleach into a snack size baggie. I placed the filled packages into a plastic square ice cream tub, along with a pack of dryer sheets. It made it easier, and certainly cheaper, to do laundry along the way, be it at the hotel or a laundromat.
With motels usually offering a continental breakfast, and our buying bread and lunch meat for our lunch, we only had one meal to eat out on, that was supper. Many prefer to eat lunch out on the road (they must of never had car sick kids). At one nice restaurant, they wanted $6 per dessert. Way too expensive. Instead, we got back in the car, picked up ice cream cones at a fast food joint, and tooled around on a site seeing tour around the town while munching on them.
All in all, it was a fun, and educational trip; one I hope the children will always remember. I know I will!
Before starting any vacation or car-travel, go to a good $1 store and pick out 5 small quiet toys for each child. Then give these to them one at a time throughout the trip instead off buying trinkets at each stop along the way. This will not only keep your children occupied, but will save you all kinds of money.
You can even use these toys as "bribery", as in "If you keep your voices down and don't fight with your sister for the next hour, I have a new toy for you.
Read More...
October 18, 2004
1

found this helpful
When traveling with children, I do this to avoid stopping all the time and save money on wipes. Before we leave, I get at least 2 wash cloths and soap them really well but don't rinse them. I put them in a ziplock baggie.
Read More...
January 17, 2005
0

found this helpful
When traveling a long ways with a child, bring his shoe bag holder. Hang it over the car window to block sunlight and to store toys in the "pockets"! By Chell
Read More...
Questions
Ask a QuestionHere are the questions asked by community members. Read on to see the answers provided by the ThriftyFun community or ask a new question.
April 16, 2005
0

found this helpful
"Mom are we there yet?" ... "I know you are, but what am I?" ... "Mom! Sandy hit me!" Traveling with kids can be quite a challenge.
Here are some tips to help keep them occupied and prevent you from going nuts. Post your ideas.
Answers
January 20, 2005
0

found this helpful
Best Answer
Books on tape are great for long car trips with kids or even by yourself! You can often check them out from the public library, so it's free!
By Becki in IN
January 20, 2005
0

found this helpful
Best Answer
When traveling on a long car trip with kids, a 9x13 inch cake pan with a tight-fitting lid is great to keep the kids busy. You can store coloring books, crayons, small toys, etc. inside the pan and then when they need a surface to color/play on, put the lid back on and use the lid as the surface! If the lid is uneven, flip the closed pan over and use the bottom.
By Becki in Indiana
September 4, 2008
0

found this helpful
Best Answer
Wow I thought there would be alot of suggestions, but I do have some that were not mentioned. 1st - food and drinks are a must. Books to read, music, and games. Homemade bingo using things that you would see on a car trip.
(bird, green car, semi, horse, barn, cow, flowers, church, dog, etc. ).
Play the ABC game, every one tries to get every letter of the alphabet starting with "A", you can see it on a billboard or license plate or other sign, but can not be anywhere except the first letter of the word. OK I admit that it is hard. You can make exceptions for little ones, like the letter "X" and " Q" can be eliminated and then you can say yes to the letter being anywhere in a word.
Another game is to play "guess who I am" (a famous person). Someone thinks of a person dead or alive. The players ask "yes or no " questions till they give up or get it. Another version of that game is " I spot". Someone announces that they see a certain something and then the guessing starts. Coloring books and puzzle books are great. My dad who was always the driver would ask us kids how far a certain distance was. He would pick a land mark up ahead and we would guess. Then he would tell us what it really was. The guessing was fun.
Also, I always bring each passenger a pillow and lap blanket. Sleeping is a great pastime too. haha
Answer

this Question

...
What time of day is the best time to travel with children?
By nanny from WI
Answers
February 3, 2011
0

found this helpful
Best Answer
It depends on how you train them. My folks would pack us up at midnight to leave so we would sleep while they were driving until 6-7am; then stop for breakfast, change clothes, etc. Just pack lots of games, books, snacks, DVDs if your vehicle is so equipped. Plan to stop every 2 hours for bathroom/stretch breaks; kids can't sit as long as adults. Stay positive! Start with shorter trips and work up. My nieces are 3 & 4 and travel like troopers, it's all in the "training."
February 3, 2011
0

found this helpful
Best Answer
As bkvander said, it really does depend on the child and how they have been trained. I think the first trip I did with my kids was started just around bedtime so they will sleep. Now that they are a few years old, but still preteen we get up really early. Kids crawl in the vehicle in their pj's and then we stop for breakfast when they wake again. They do generally go back to sleep for a while, but it might take a little bit for that to happen. They change out of pjs when we stop for breakfast.
Another tip I found that helped a lot was to pack a "fun bag" that is easily accessible at stops. The bag should have stuff like sidewalk chalk, bubbles, a small ball, maybe a jump rope depending on the age of the child. Every stop should include a few minutes of play time to let the kids expend some of that pent up energy that ends up causing arguing between siblings. We also play tag during our stops if there is a place that won't interrupt others. Now that my kids are school age, I have included a small digital camera in the "fun bag". It is always cool to see things from their point of view.
February 3, 2011
0

found this helpful
Best Answer
We used to travel with our kids starting around 7pm. The trick we learned early - on days to travel we didn't give our kids an afternoon nap. This would usually end up with them going to sleep sooner and staying asleep through the night.
If you really need to travel during the day I would recommend leaving an hour or so before your kids normally take a nap. Then they sleep during part of the trip. Of course , if your kids don't normally take naps your next best bet is an activity that is high energy to wear them out (so to speak). Just make sure you live through it. No naps for the driver.
Answer

this Question

...
Related Content