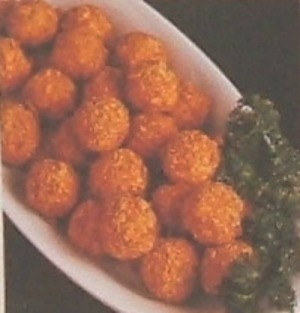 Ingredients
2 cups stiffly mashed potatoes
2 cups finely chopped fully cooked ham (or sausage)
1 cup shredded cheddar or Swiss cheese
1/3 cup mayo
1 beaten egg
1 tsp. prepared mustard
1/4 tsp. pepper
2 to 4 Tbsp. all purpose flour
1 3/4 cup crushed cornflakes
Directions
In a bowl, combine first 7 ingredients well. Add enough flour to make a stiff mixture. Chill for 30 minutes. Roll into 1 inch balls and roll in flakes. Bake at 350 degrees F for 25-30 minutes. Serve hot. Makes about 6 dozen.
Source: The Country Cooking Collection from Country Magazine,
Nancy Eash, Gambier, OH
I am looking for an Italian recipe that is a mashed potato ball, with things like chopped ham and cheese rolled into it. Then I think, it was fried. I don't know what it's called, but I ate it at an Italian Festival. It was so good!
Ramona from Granby, MA
Answers
By Nance (Guest Post)
August 22, 2008
0

found this helpful
I saw this demonstrated on Food TV. You could check Food TV.com for a recipe. I forgot who showed it.
August 25, 2008
0

found this helpful
Years ago I got a recipe from a girl I worked with (she's Italian) for rice balls that she made. Perhaps this is similar to what you're looking for? They were delicious! When I go home tonight I will look for the recipe and post it - hopefully, I still have it. In the meantime, Google a recipe for Italian Rice Balls... This may be what you're looking for.
August 25, 2008
0

found this helpful
It sounds a lot like a Arancini, an Italian rice ball that's traditionaly made with Aborio rice. Aborio has a very creamy texture when cooked, almost like mashed potatoes. Here's the recipes I've used many times, it's just like what I remember growing up with. I usually make this with cheese and I make some with meat. I make a small melon ball size meatball ahead of time and alternate the two in the center.
http://allrecip cini/Detail.aspx
August 26, 2008
0

found this helpful
Can't find the recipe, sorry.
As Stephanie posted, they're call Arancini, and I've bought them at an Italian market here in the Chicago area. It's called Caputo's. Now, I realize you're not in the Chicago area, but you may be able to buy them ready-made in Italian stores. Just a thought....
Good luck!
Answer

this Question

...