We got a chihuahua-dachshund mix pup months ago and she still won't potty train. She goes in closets, cabinets, even in the middle of the rooms! It is starting to smell! Does anyone know how to not only train her but to get rid of the odors too??
Emily from Fort Worth, TX
Answers:
Potty Training a Puppy
I have to say Crate Train all the way! We took in an abused MinPin puppy that was dumped on our street. Burns on his belly. He was trying to pee in the house every 5 minutes. We had to go with the crate. We also like to go camping in our Travel Trailer. We had a crate in there too. He did get mad at us a couple times when we would be out around the campfire and felt he would be safer in the camper and he totally let loose in his crate not only number one but number 3 too!!!! YUCK! He new how to get his point across! My husband was not a happy camper those two evenings. But persistance paid off. We didn't give in. We kept trying and taking him out to potty often, watching him closely in the house and any time he'd even start to sniff around the floor we'd whoosh him outside. Also right after he wakes up, the minute you get home, after he plays and after he eats get him outside and use the same key words every time. Gotta go potty? Go poop! No-No. Which comes in handy when you are walking him and/or have a designated area for him to do his business in. Today he is a quite spoiled, pampered little Prince as you can see. The crates are no longer needed (didn't have to use them long) and in the attic gathering dust. My husband and I both work during the day and Brinks never has an accident. He loves everyone and is so gentle and sweet which is hard to believe since he had such a tough beginning. Don't give up! (07/03/2007)
By Haley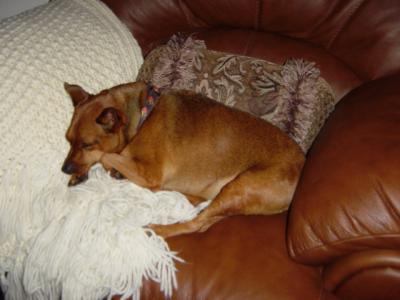 Potty Training a Puppy
OK people, just addressing the ODOR/STAIN factor: Use OUT! Gets rid of ODOR/STAINS from urine, feces, vomit, blood etc. Safe for Carpet. Uses natural enzymes has pleasant odor, sprays on. By OUT! International Inc. Usually found in most grocery stores. (07/03/2007)

By MDM in WA
Potty Training a Puppy
First of all, please get a good book on potty training. It would have been better all around if you had done this before you got the dog. However as a caring dog companion you just need a little good information, patience, love and consistency.
I volunteered at an animal shelter where several people brought in dogs because they just wouldnt house train. We asked them how they house trained and the reality became all too clear. It was never the dogs fault.
Go to a library and gets as much info as you can. Sooner rather than later. No dog is too stupid to be housetrained. Google.
There is also lots of info here if you do a search.
I definitely recommend against crate training and I probably sound like a broken record.
I posted this page on another thread: http://warreneckstein.com/pettips_caging.html
Up until a couple of decades ago crate training was unheard of. And many many dogs were successfully trained without them. I grew up learning how to house train a dog without a crate and I know how wonderfully smart and willing to please they really are.
I dont mean to sound unkind but I honestly find myself wondering about the nature of people who would willingly lock their little babies in little cages. On such a consistent basis.
Maybe they are wonderful people who just don't understand dogs to begin with or are too easily led from their own loving nature by people they think of as experts. Or worse yet, by people who want to sell dog cages. (07/10/2007)

By Sheraone