My puppy won't go! I just got an 8-week-old puppy. I'm trying to potty train her using the wee-wee pads (we're in a high-rise apartment) and a crate. I've crate trained a dog before and have refreshed myself by reading up on all this.
I know what I'm supposed to do generally, but I'm worried because in the last 48 hours, she has only peed 3 times and pooped once. 2 accidents out of the 4 times, so not a bad average. But it does make it difficult to train her. And is this a health problem? Would love to hear any advice or experience about this.
TPM
Answers:
Potty Training a Puppy
We got an 8 wk old part boxer/part pit bull puppy. We did not use a crate or papers or anything. We simply took her out about every 2 hours through the day. Within about 3 days she would go to the door herself, and within 2 weeks she was completely house broke day and night. Never had to get up at night with her. When we both started working day shift she was by herself with full run of the house, and we still never had any accidents. (11/08/2008)
By Cora-Sue
Potty Training a Puppy
This sounds funny, but it works. My friend told me about a cat litter box. Good luck, Sheila (11/08/2008)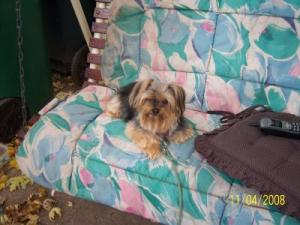 Potty Training a Puppy
First off, don't get too uptight about the issue. Expecting an 8-week-old puppy to go when and where you think he or she should without some gentle guidance, is like expecting an 8-month-old human child to do so. Your puppy, like a child, knows when you're upset and gets at least as upset if not more so over the whole matter.
You may not agree with this method, but my hubby (very old-fashioned) swears by it. If Puppy has an accident of any sort, gently put his/her nose near - NOT in - the mess and let him/her smell it. Say "no, no," or whatever phrase works for you, to indicate your displeasure. Then show Puppy where he/she is expected to relieve himself/herself. Be calm, be patient, and above all, be persistent. Any puppy of reasonable intelligence will get the idea fairly quickly. (11/10/2008)
By JustPlainJo
Potty Training a Puppy
We got our puppy Jan. 1 and are crate training him. He had a couple of accidents on the floor on the first 2 days, but what we did was bring him over to watch us clean up his mess (we didn't scold him), then took him outside and he went there.
Our breeder also suggested that we feed him in his crate since dogs are not likely to poo/pee where they eat. It has worked so far! We take him out every hour or so when we are home and he has started to either bark or jump up on us when he needs out. (01/08/2009)
By Carol