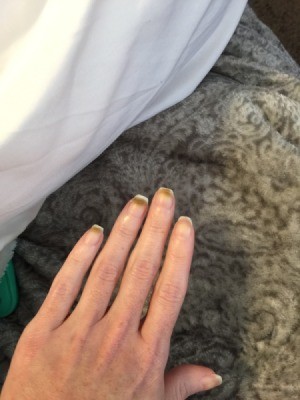 I have been getting shellac on my nails as far back as I can remember. The last trip to my nail salon, I was informed they now had "Powder nails." She told me they last longer than shellac, don't chip, and are also thicker. She said it's only an extra $5.00 (I perhaps should mention that my natural nails are extremely thin which causes them to break and/or bend very easily.)
So after hearing all of that I was like, "Great! Sign me up!", thinking they would keep my real nails protected from breaking off into the quick much better than the shellac. My nails were fairly long when they applied the powder nails, but I consider myself as someone who's fairly gentle on them and didn't have a problem leaving them that way.
So she finishes up putting them on and they looked great (although it took me a bit to get used to the added thickness.) For whatever reason, no matter how gentle I tried to be this time, I just kept hitting them on things accidentally (possibly because they were just flat out too long) and being they were much thicker than shellac they didn't break. It just hurt really bad.
Still, I didn't think much of it and went about my day. They lasted about 3 weeks - just as I was told - at which time the bottom part around my cuticle area began to lift where it had grown out. When they started doing that my nails were snagging on everything, including my hair. Every time I put my hands in it to brush, wash, and/or fix my hair I would literally would pull strands of hair out.
It was past time to get them done and out of nowhere one just popped off. I now see what appears to be a huge bruise under my fingernail. I immediately remembered how I kept hitting them on things and just thought, "Wow, I hit them harder than I thought. Maybe this nail just hit the hardest".
After seeing that one nail like that I was like "Ok, I'm done. The rest of these are coming off now". So I popped the rest off only to find almost every fingernail, on both hands, were/are beyond bruised. Or what looks like bruising.
I have never in my life had this happen (and FYI I'm 33 years old and have been getting my nails done since I was a freshman in high school). I got the typical French tip acrylic nails done at first, then switched to shellac when it came out. So needless to say, when all of the nails were off, I was shocked to see every nail severely bruised.
As was everyone else I showed them to. I was trying to see if I was the only person this happened to since it was the first time I had gotten the powder nails and all. Nobody had a clue. Said they'd never seen this before.
Sidenote: I have been anemic on and off for years, so the only rational reason I could come up with was every time I hit one on something, it bruised my nails to all heck and back, and I just simply couldn't see it. I'm still not 100% convinced though.
Has anyone else ever experienced anything like this? I want to get them redone because they look so bad that I'm embarrassed to even be in public with them looking so awful! I don't know if I should try the powder nails again and just have them cut my nails short when they do it or simply go back to getting shellac.
I've attached a couple of pictures of the horrid and humiliating aftermath. I cut them off to the length they are in the pictures and filed them the best I could to smooth away all of the ragged edges. My right hand isn't as bad as my left. Any other ideas/suggestions as to why and how this happened and what this truly looks like (whether severe bruising or something else) and/or how I can make them better would be greatly appreciated!