Preparing for Holiday Visitors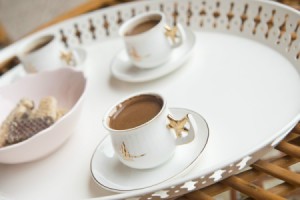 With the onset of the holiday season (Thanksgiving, Christmas and New Years), many of us find we may have some occasional unexpected company. There are several items that we can keep on hand, and things to do to make such visits more pleasant.
Be sure your bathroom that guests will use is clean. Once you clean the bathroom, a 10 minute (or less) touch up daily will keep it that way. Make sure you have an extra package of toilet paper on hand. This isn't the time to wait until you open the last roll to run to the store. Also be sure to have hand soap in the bathroom and clean hand towels for guests to use.
Have on hand some flavored teas, coffee or hot cocoa and some cookies. These make a nice inexpensive treat to offer your guest.
If you live in a cooler climate, make sure your coat closet is clean and organized, with some extra hangers (I use the heavy duty wood ones in mine) to have a place to hang guests coats. This is especially important if you have indoor pets. No one wants to visit and have to lay their coat on a bed or chair and then leave with it covered in pet hair.
A tidy spot to visit in. During the holiday season, it can get pretty hectic at times. But, even though it gets busy, your guests will feel more comfortable and at ease if you have a nice spot to visit in. So, try to keep at least one place (the living room, or dining room, kitchen, etc.) where you can comfortably sit and visit without having them have to stand there awkwardly while you clear them a spot. That can make them feel like their visit was unexpected and unwanted.
To cut down on odor, keep your trash emptied, and food and dirty dishes put away. No one wants to visit a stinky home. Also, be sure any litter boxes are also kept clean.

Have a few non-gender specific gifts for both adults and children on hand. Keep them simple, but handy for someone who may bring you something. For children, I like to keep a few wrapped coloring books with crayons, play dough or some board games from the dollar store. For adults, some small boxes of candy, daily planner for the upcoming year or calendar, stationary, dry soup mix in a jar, or cake or cookie mix in a jar.

Keep the area by the front door clear of clutter--especially the many pairs of shoes that often gather at doors. No one wants to see their guest fall over them.

Lastly, if you know ahead of time your company is coming, don't wait until the last minute to prepare. Do a little each day so you are not too tired to enjoy them once they arrive.
Add your voice! Click below to comment. ThriftyFun is powered by your wisdom!
December 24, 2013
0

found this helpful
Excellent and thoughtful things to do to show your love and appreciation of your guests choosing to visit you!
Thanks April! We'll be there on Monday...heheheh. ; )
Add your voice! Click below to comment. ThriftyFun is powered by your wisdom!
Related Content