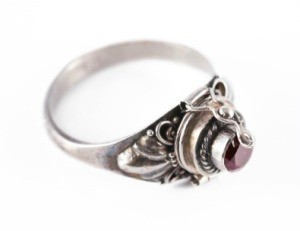 To keep all your silver jewelry looking like new and keep it from tarnishing, keep it locked in a zip lock bag in your jewelry box. The air will not get to it and you will not have to worry about tarnish and cleaning!
Source: This tip was from a jeweler in Montana, on my vacation
By Sandy from Munroe Falls, OH
How can I store my silver jewelry so that it won't tarnish?
By Vicki from AZ

Answers
January 4, 2011
0

found this helpful
There are anti-tarnish strips made by 3M. I think other companies make them, too. Store your pieces in a plastic zip bag with an anti-tarnish strip. They have to be replaced periodically. I make jewelry, and I use the strips. Alternatively, you could put a piece of chalk into the zip bag with your jewelry. That should slow down the process, too.
January 7, 2011
0

found this helpful
I've used my system for years and rarely have to repolish my silver.
Ziplock makes some food storage bags that you use a pump that comes with them to suck all the air out. I put my newly polished silver in one of these and remove all the air. I use as many bags as needed. For large pieces I used my electric vacuum sealer and "created" bags to fit them by cuttng and sealing seams, then sucked all the air out. After all the silver is in bags, I put the whole shebang into a black plastic bag. There are 2 things that will tarnish sliver: air and light. This blocks both. And can be re-used over and over.
Now when I use my silver, I just pull it out of the bags, use it. Then I wash it thoroughly. IF there are any spots that need a little polish (usually there's not) then I polilsh what's needed and re-bag them.
I've kept silver this way for years and didn't need to polilsh any of it when I needed it next.
January 8, 2011
0

found this helpful
The antitarnish strips work really well. If you have a storage box for your silverware that keeps it from tarnishing, you could keep your jewelery in there, if you don't wear it very often. You might also try those bags of silica or whatever it is that always comes with assorted things like electronics that absorbs the moisture. They might also work; however, the anti tarnish strips which you should be able to get at a jewelery store (or likely WalMart) are made just for this job, and last for a long time in my climate.
April 22, 2019
0

found this helpful
You can get the anti-tarnish strips on line at firemountaingems.com. They also have lots of other jewelry supplies and have been in business for over 40 years that I know of.
Answer

this Question
Can I use nail polish to stop my silver ring from tarnishing?
Thank you.
Answers
September 15, 2017
0

found this helpful
Silver exposed to air will tarnish. The coat of polish will prevent air from getting in, so the answer is yes.
September 19, 2017
0

found this helpful
I am leaning towards a 'no'. The polish will yellow and peel, leaving more of a mess than when you started. Air and moisture are your enemy. I'd use a spray varnish or get you a jewelry polishing cloth for silver quick n easy. Also ease up on skin lotions that rush the tarnishing. Good luck.
January 21, 2020
0

found this helpful
There are many steps that can prevent the silver from getting tarnish. Some are mentioned below :
Store the jewelry in an airtight box, it will protect the jewelry from air.
Avoid wearing it during workouts or any physical activity. Wipe it carefully before storing.
It is recommended to buy jewelry from genuine stores or wholesalers, where you premium quality jewels which can serve you for decades. You can definitely go with an online wholesaler of gemstone silver jewelry if you are looking for jewelry with gemstones.
Answer

this Question
I clean my silver jewelry, store with anti tarnish strips and within a few days it is tarnished again! I make and sell jewelry so I have hundreds of pieces, what can I do?
By Jackie
Answers
May 12, 2014
0

found this helpful
How do you store? In an airtight container or ziploc bag of some sort? It's being out in the air that causes the tarnish.
September 19, 2017
0

found this helpful
Try storing in closed case and use silica gel packs to remove moisture. Of course handle with gloves.
October 10, 2017
0

found this helpful
You can get something at a fabric store called anti-tarnish flannel. It is usually brown. I make bags from this for my silver jewelry or just wrap in in a piece. Also, I have lined the drawers in my jewelry chest with this cloth. It works pretty well to keep the tarnish away from the sterling jewelry and from the 10K jewelry.
Answer

this Question