EllenB
Gold Post Medal for All Time! 858 Posts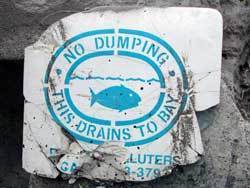 Spring is here and that means runoff. Precipitation from melting snow and spring rains that does not naturally soak into the ground flows across impervious surfaces like our rooftops, driveways, sidewalks and streets and picks up a variety of potentially polluting materials along the way. The water then makes its way into our storm sewer systems and is eventually discharged into nearby lakes, rivers, wetlands and waterways.
Because stormwater isn't treated before being discharged into these bodies of water, the best way to prevent runoff pollution is to eliminate it at the source.
The Polluting Effects & How to Minimize Them
Spring runoff carries with it anything that crosses its path-sediment, debris, road salt, excess nutrients, animal waste and household hazardous waste. Because storm sewers often drain directly into the bodies of water we use for swimming, boating and fishing, polluted stormwater runoff can have many adverse effects on aquatic plants, animals and people.
Sediment: Sediment can cloud the water, which makes it difficult if not impossible for aquatic plants to get the proper light to grow. It can also build up and destroy aquatic habitats.
What You Can Do: Cover piles of dirt or mulch being used in landscaping projects. Collect sediment leftover on driveways and sidewalks in buckets rather than sweeping it into the street. The same is true for the sand on the street in front of your house. Contact your city's water and sewer department and ask about collection sites for street sand and sediment.
Excess Nutrients: These cause algae blooms. When the algae die, they decompose and remove oxygen from the water. Fish and other aquatic organisms cannot survive in water containing low dissolved oxygen levels.
What You Can Do: Use pesticides, herbicides and fertilizers very sparingly, or not at all and use organic means whenever possible. If these chemicals are necessary (even organic), read directions carefully and use only the recommended amounts. Purchase household detergents that are low in phosphorus and environmentally friendly.
Bacteria & Other Pathogens: These come primarily from animal waste and improperly functioning septic systems. When bacteria and other pathogens wash into swimming areas they create health hazards for anyone coming into contact with the water-swimmers, kayakers, canoeists and recreational boaters.
What You Can Do: Inspect your septic system every 3 years and pump your tank regularly. Keep livestock and manure away from bodies of water. Clean up pet waste in your yard and pick up after them when walking.
Debris: When plastic bags, bottles, six-pack rings and cigarette butts wash into nearby waterways, they can choke, suffocate or disable waterfowl, fish, turtles and shoreline birds who live and feed there.
What You Can Do: Properly dispose of all waste in a secure trash receptacle. Compost or mulch your yard waste-including grass clippings and leaves.
Household Hazardous Wastes: Improper disposal of insecticides, paint, solvent, oil and other mechanical fluids can poison aquatic life and be harmful to people and animals who eat diseased fish or shell fish or ingest the polluted water.
What You Can Do: Dispose of household hazardous wastes properly-not in sinks or toilets. Take advantage of hazardous waste clean-up days. Repair leaks and dispose of auto fluids and batteries by dropping them off at designated areas. Wash your car at a car wash that recycles gray water rather than in your driveway.
General Landscaping Tips:
Because runoff cannot permeate sidewalks and driveways made of traditional concrete, when it's time to replace yours, consider trying a flexible, permeable system. There are several new products available like Netpave ®50 or Grassy(TM) Paver that are designed to be laid down like a cellular structure and filled with rocks or grass. They are tough enough to drive on, yet will let water penetrate.
Install a rain barrel to catch water or a rain garden to slow down run off and increase infiltration from rooftop stormwater.
Plant a "filter" strip of native grass or plants along roadways or streams. They trap pollutants as water flows across driveways and streets.
Control soil erosion on your property by planting a stabilizing ground cover in erosion-prone areas.
Participate/organize a storm drain stenciling program.