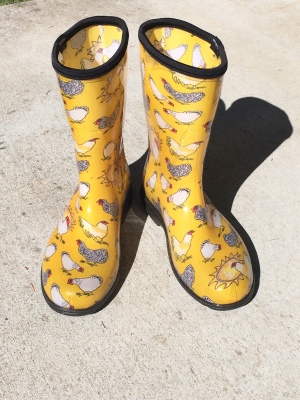 I recently purchased a pair of these awesome boots. They are super flexible, unlike many other rubber boots that are stiff and hard to work in. They have a fabric-covered edge at the top, which makes them comfortable to wear with shorts and they are wide enough to easily stuff your pant legs into when necessary.
I would say they run a little small. I wear a size 8.5 and since they don't sell half sizes I ordered a 9. They include inserts to adjust for the half size increase but I didn't need them. They are made in the USA and are reasonably priced at $39.99.
Shipping was quick too. And the best part...they are made from recycled materials!
"Our boots are made from 100% RECYCLABLE, medical grade material, so they have a soft feel, no odor (like the China stuff), are easy to hose off clean and will last for years. The sole contains up to 50% recycled material and when your finished with your boots, you can send them back to us and we'll turn them back into a new pair!"
I absolutely love these boots and so did my girls!
Visit their website at: www.sloggers.com