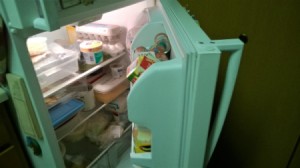 I have a lovely fridge in a nice newly remodeled apartment. However, the owners deemed we old folks are too forgetful to close the fridge door so it closes on my head. Literally, if I don't pull my head out fast enough, sometimes hitting it on the freezer handle, it closes on me.
Today was the last day.
I filled a 1 liter bottle with water and tested it to make sure there was enough weight to stop the door. Check.
Then I found it was a bit ugly so I went to cover it, temporarily till I have time to paint it or crochet something to cover it, with a wine gift bag. Then I made sure the pantry door would open without having to move it. Check and check.
Now I have time to get my food out and back in before I am trying to back up in time to clear the door.
N-JOY!