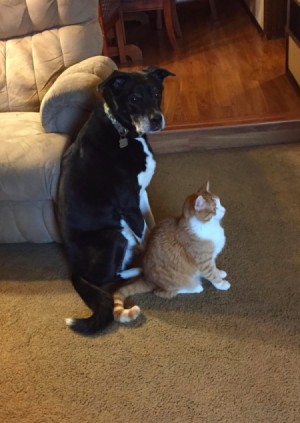 My dog had severe separation anxiety when we adopted him. His loving owner doted on him until the husband broke his hip, was taken away by medics in an ambulance and had to move into a nursing home that would not take large dogs.
Mason (age 2) then was placed in a foster home where he was spoiled by his foster family and became very attached. Enter my crazy family of 5 who on adopting him became his 3rd family in 3 months. Mason was an angel when we were home, but "freaked" out when we left him home alone and of course with three kids every time we left the house it was a little crazy (probably reminding him of the paramedics). Mason destroyed countless doorframes, prized possessions, several quits - including a down quilt, pooped all over the floor, etc. We tried shutting him in the bathroom, but guess what.. he can open doors. We tied putting him in a crate - but that totally freaked him out and he actually broke the crate and hurt himself. Enter a frantic trip to the vet and a dog trainer.
I've attached a link to the behavior training that worked for us below. Because he was so worked up, we did put him in doggy day care while we were at work for a few weeks while we started on the steps. The vet also ended up putting him on anti-anxiety meds (doggie Prozac) for a couple months and the first couple times we left him home alone we gave him a sedative just to knock him out a bit. It took a couple of months and then we were able to wean him off of all the meds. He is now able to stay home alone un-crated with no problems what-so-ever (for 6 years) and is a much happier/more confident dog. He plays with toys all the time now too, which he didn't do for months when we first adopted him. I won't lie, it was a lot of work, but so worth it and while we did put some money into daycare and meds, it was less than we had spent replacing the things he had destroyed. He has been a wonderful, wonderful family pet and I think he appreciates the work we put in.