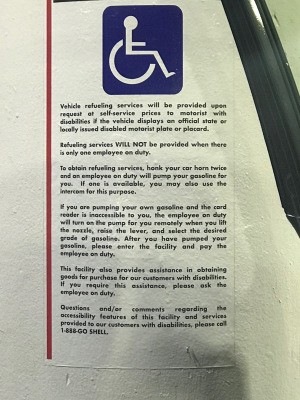 When you pull up to the gas station, there are all sorts of signs posted. Do you stop and take a moment to read them?
While pumping gas this afternoon, I decided to read the sign literally right by my car window and it was very informative! Although the sign did not apply to me, but I was able to relay the message to my relatives who are handicapped - they did not know about these offered services! They usually have their car fueled by someone in their household instead.
Essentially the sign is saying - if you have a disabled plate or placard, you can honk your horn twice and if there is more than one employee on duty, they will help fuel your car. Or, if you need assistance to turn on the pump - employee on duty can remotely allow gas to be pumped first and then you pay afterward.
Note: All signs may vary depending on your gas station/state. This photo of mine was taken at Shell Gas Station in California.
Try to be alert and read signs, they may be informative or new information you can pass on to someone that can relate.