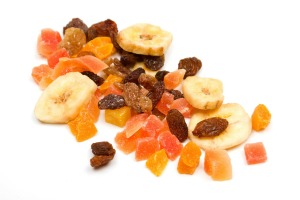 This recipe uses dried fruit to add sweetness and a chewy texture to these moist, golden-brown muffins.
Servings: 12
Preparation Time: 25 min
Cooking Time: 15 min
Ingredients:
1 1/4 cup dried mixed fruit, coarsely chopped
1 cup uncooked old fashioned oats
3/4 cup uncooked oat bran
1/2 cup all-purpose flour
1 Tbsp all-purpose flour
3 Tbsp packed light brown sugar
5 tsp baking powder
1 tsp ground cinnamon
1 cup fat-free skim milk
1/4 cup orange juice, fresh
2 large egg white(s)
2 Tbsp vegetable oil
3/4 large banana(s), or 1 medium, mashed
2 tsp orange zest
Directions:
Preheat the oven to 400°F. Spray a 12-cup muffin pan with nonstick spray or line with foil or paper liners.
Combine the dried fruit, rolled oats, oat bran, flour, banana, brown sugar, baking powder, and cinnamon in a food processor. Pulse until the mixture is just blended, then transfer to a bowl. Combine the milk, orange juice, egg whites, oil, and orange zest in another bowl. Add the milk mixture to the dried fruit mixture; stir just until blended. Spoon the batter into cups, filling each about two-thirds full.
Bake until surface of the muffins are golden brown and spring back when lightly pressed, or until a toothpick inserted in a muffin comes out clean, about 15 minutes. Remove from the pan and cool on a rack 10 minutes before serving. Store in an airtight container at room temperature for up to 3 days.
By Kathy
Read More

Comments

I would like to make some apricot syrup using dried apricots. Does anyone have a recipe?
By Anita Geffinger from Montclair, NJ

Answers

December 17, 2009
0

found this helpful
Dried Apricots in Clove Syrup:
I discovered the delight of combining dried apricots and cloves at a breakfast at the Jeddah Conference Palace in Saudi Arabia. The apricots used in this recipe may be prepared a day in advance and stored in the refrigerator.
Ingredients:
1 1/2 cups sugar
1 strip lemon peel
2 teaspoons fresh-squeezed lemon juice
11 ounces dried apricots
1 teaspoon whole cloves, in a cheesecloth spice bag
1 stick cinnamon
Directions:
To make syrup, combine sugar with 1/2 cup water, lemon zest, and lemon juice in a medium saucepan over medium heat. Stir to combine and cook until all sugar is dissolved. Once sugar is dissolved, stop stirring the syrup and add apricots, whole cloves, and cinnamon stick. Mix well and simmer 5 minutes, or until apricots become plump. Remove from heat and cool. Remove cinnamon stick and cloves and transfer to a serving bowl. Serve at room temperature or cold.
Chef Suggestions:
You can strain the leftover apricots and serve them over plain yogurt for breakfast with a dash of cinnamon. Good luck.

PENNY K
Bronze Feedback Medal for All Time! 107 Feedbacks
December 17, 2009
0

found this helpful
I make jam from dried apricots. I would soak the cots a few days in a quart of water, well covered in fridge.
Run whole thing through blender to chop and simmer
for few hours, adding more water as needed. I think you would have even better results if you add one can of peaches as well. Check for sweetness and add sugar in 1/2 cup increments. When as soft as going to get, cool, then blend in small batches, then run through sieve. Save what didn't go through sieve for some other purpose in small jar, perhaps as glaze on pork roast or ham with a bit of apple juice or sherry or soy sauce added, or all of that if you like.

December 18, 2009
0

found this helpful
Thanks so much, both recipes sound interesting & tasty and I probably will try them both. Anita
Answer

this Question

Maryeileen
Bronze Request Medal for All Time! 59 Requests
I have some dried fruit (blueberries and cranberries) that I would like to use in recipes that call for fresh or frozen berries. Would these work if I soaked them in hot water for a short time? If so, for how long?
Maryeileen from Brooklyn, OH
Answers

February 8, 2008
0

found this helpful
i always heard that you can rejuvenate dried fruits you can try and keep checking. i wouldnt do a large amount until youre sure its going to work tho. good luck and I hope it works

February 8, 2008
0

found this helpful
I have done that with raisins and 'craisins' and it works well.
I put the fruit in a heatproof bowl and add just enough boiling water to cover the fruit up. Let it sit to plump up for about 15 minutes. It should soak up most of the liquid. Drain the rest of the water if any...unless the recipe calls for water...then you could prob add it in if you want to.
Here is a link that is more fruit specific:
Answer

this Question

I am looking for recipes using dried cherries.

Thank you,
Janet from Suring, WI

Answers
By Mel from NC (Guest Post)
January 31, 2007
0

found this helpful
Any recipe that calls for Craisins or dried cranberries would work for dried tart cherries.

Maryeileen
Bronze Request Medal for All Time! 59 Requests
March 12, 2007
0

found this helpful
Check out: www.thriftyfun.com/tf82326083.tip.html
By Marlene (Guest Post)
March 12, 2007
0

found this helpful
I use an oatmeal cookie recipe and add the dried cherries and some chocolate chips to it - yummy!! Vanilla chips work well also.
They are also good in cakes, muffins, anywhere you'd use raisins or nuts.
By Jan (Guest Post)
March 12, 2007
0

found this helpful
Mel & Maryellen, Thanks a bunch for your help.
By nicole MN (Guest Post)
March 14, 2007
0

found this helpful
I use them in a snack for the kids. Buy whole wheat tortilla wraps and cut down into rectangles (shape of the week), in little dixie cups have the following: yogurt, peanut butter, shredded carrots, diced celery, dried cherries, raisins, dried blueberries, dried cranberries. I have the kids make their own snacks. I made my daughter a piece with peanutbutter, dried cranberries, dried cherries, carrot, and she ate it right up.. plus she got needed nutrients!! Enjoy!!
Answer

this Question

I am looking for recipes using dried blueberries or cranberries.
By Rebecca Bruce from Atascadero, CA

Answers

May 30, 2009
0

found this helpful
I use a basic chocolate chip cookie recipe but add white chocolate chips instead or just chunks of cut up white chocolate. I like ghirardelli's chocolate best. Then I add craisins (I'm sure blueberries would work just fine to.) Here's what really makes them, Throw some chopped macadamia nuts in there. Yum! Sometimes I'll use toasted almonds instead. Depends what I have on hand. (I usually just put about 3/4 cup of each.) Bake according to cookie recipe and enjoy. Everyone always loves them.

May 30, 2009
0

found this helpful
Also I put them in salad. If you us a balsamic vinaigrette dressing the sweet and sour tastes balance eachother out quite nicely.

June 1, 2009
0

found this helpful
Actually any baking recipe calling for blueberries or cranberries will work fine. I have put my dried fruit in a small bowl with enough water to cover them for an hour before I start mixing my ingredients. The water hydrates the fruit and makes them chewy in the recipe. Good luck!
Answer

this Question