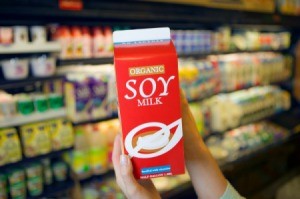 I am able to buy soy milk at 30-50 cents a quart (our cow milk is now almost $6 a gallon, so this is a huge savings). My family won't drink it straight (even though it is flavored) but I would like to try cooking with it. Does anyone have any recipes to share that use soy milk?
I started buying this as one of my daughters has to take a powered medication 2-3 times a day and she takes it in chocolate milk. With the chocolate in the soy milk, she will take it, but I'd like to try and save even more by cooking with it also.
April from NW Missouri
Answers
By Kelly in SF (Guest Post)
September 23, 2008
0

found this helpful
Best Answer
You can substitute soymilk in many recipes in place of regular cow's milk. My son has a milk allergy, and I've used soymilk to make quickbreads, muffins, smoothies, etc. with good results and in baked goods, no one can tell. Good luck.

September 24, 2008
0

found this helpful
I found the soy milk on sale and decided to try it hoping it would help menopausal symptoms,,lol,,,tried a glass and didn't care for it, grew up on a farm and love the fresh from cow,, can't break myself,,,
This morning I used it instead of water in oatmeal, it was really good. So I think as the other poster said it could be used in cooking and baking,,.macaroni and cheese, potato soup, I'm going to try creamed gravy also.

September 24, 2008
0

found this helpful
So, do you all think I would be ok just using it as it is when ever a recipe calls for milk??

September 24, 2008
0

found this helpful
I've been lactose intolerant for quite awhile and have been using soy milk in place of cow's milk. The only thing I HAVEN'T been able to make with soy milk is instant pudding.
Where do you get soy milk so cheap?
Read More

Answers