Holly
Silver Post Medal for All Time! 364 Posts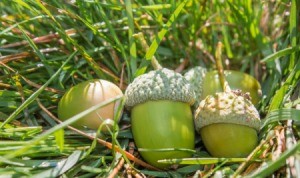 Our oak tree dumps a lot of acorns on the lawn. What is the best way to get them out of the lawn?
Hardiness Zone: 8a
Holly from Richardson, TX
Answer:
Hi Holly,
There really isn't any magical solution to getting them out of the lawn. The best way to clean up acorns is simply to rake or vacuum them up. Another option is just to leave them on the ground and the insects and squirrels will soon devour them. Acorns make a good addition to the compost pile. Collect them in a burlap bag and then drive over them a few times with the car before tossing them on the heap. This will help them breakdown faster.
If you've never tried harvesting them for their meat, try it. It might make cleaning them up more tolerable. Acorns are high in fiber, complex carbohydrates, vitamins, and minerals. They are also relatively low in fat compared to other nuts. The meat of the nut is too bitter to snack on like other nuts, so it is usually processed into meal and used the same way that corn meal is used. Burr, white and swamp oak acorns contain the least amount of tannins.
To harvest, collect only acorns without any visible holes on the shells. Lay them out on a cookie sheet and dry them in the over at 175 degrees from about an hour (stir them to prevent burning). Crack the shells open and remove the meat. The meat should be yellow, not black or moldy. Place the meat in a food processor or run it through a grinder. Place the ground meat in a large bowl and pour hot or boiling water over it. Let it stand for 1 hour and them drain off the murky-colored water (tannins). Continue to do this until the meat loses its bitter flavor and then dry the meat in a food dehydrator or on a cookie sheet in the over on low heat. When the meat is completely dry, grind it into a fine meal using a grain mill or stone. Store the meal in the freezer until you need it.
Ellen
Comments
Read More

Comments

How do I remove over a thousand embedded acorns from my lawn?
Answers

DCA
Bronze Answer Medal for All Time! 220 Answers
April 6, 2016
0

found this helpful
Three methods, as far as I know:
Dig them out yourself method,
Buy/rent (not sure about renting) a several hundred dollar machine to dig them out method,
Leave them in the ground and mow over them once they sprout method; this removes the growth tip. As they grow from the tip, mowing a few times will eventually kill all the plants. If the acorns are in an area that you cannot mow, then the first two methods will help.

April 8, 2016
1

found this helpful
A hungry pig or two roaming around would make short work of them!
Answer

this Question