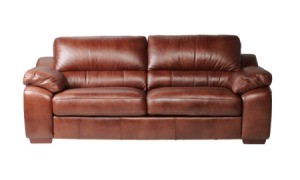 I have a huge brown leather chair that one of the kids dumped a melted candle on. The candle was light blue. I thought when it cooled I could just peel the wax off but to no avail. I heard I could use an iron and a brown paper bag on furniture, but have never heard it used on leather. I am hesitant to try it. Is there anything I can do to get this wax off without ruining the chair? Thanks!
Mom

Answers:
Hair Dryer
You may be able to heat the wax with a hair dryer. Then as it melts, wipe it up. I have used this method before, but not on leather.

By Aimee
Ice
Try putting an ice bag on the was and chill it thorougly. It should make the wax harder and easier to chip off the leather. The blow dryer idea would probably work, too. Just treat the area afterwards to re-moisturize the leather. If any color remains, try saddle soap to recondition and clean the leather.

By cj
Blow Dryer
If cattle are branded, I would think they could withstand a little blow drying.

By Carrie
How do I remove wax crayon marks from the surface of a leather sofa?

Lilly from Burlington Ontario

Answers
By Janet (Guest Post)
August 1, 2008
2

found this helpful
Best Answer
The hairdryer definitely works, I tried it on my leather dining chair - just remember to keep the hairdryer moving and not to get too close with it. A good tip is to clean up with baby wipes with that have baby lotion in them. The leather will absorb it and prevent it drying out.
As some wax also dripped on to my varnished oak dining table, I can also testify to the credit card method working, for any residue left, I VERY carefully used the hairdryer (from a good distance) and good old baby wipes to finish off.
Answer

this Question