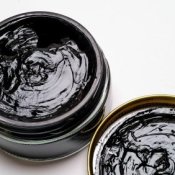 To get black shoe polish out of beige carpet, use Goof Off but saturate the cloth and dab on affected area. It works!
Source: I read the back of the Goof Off can and followed directions.
By Terry from Rockwood, MI
Read More

Comments
My daughter is in Sea Cadets and even after telling her umpteen times not to polish her boots in the living room, she did. Now, I have a huge black shoe polish stain on my carpet. I hadn't noticed it until today and am not sure how long it has been there. Any ideas on how to get it out? The carpet is new and I'd really hate to have to have it replaced.
Thanks for your ideas.
Darlene in Mississauga
Answers
By Beth (Guest Post)
February 3, 2005
0

found this helpful
Go to Walmart and get a can of SPOT SHOT Works everytime!
By Mike, London (Guest Post)
February 20, 2005
0

found this helpful
Take a can of butane cigarette-lighter gas, and discharge a "puddle" of the liquified gas directly onto the stain. This will freeze it, enabling you to spot-clean the polish off using some paper towel. Do not rub too hard, or you will damage the carpet!
This works for me, on a 100% wool carpet, it also alows the removal of chewing gum that has been trodden in...
Beware: Highly inflamable, so no smoking either at the time, or for 5 minutes after in the room!
By Delain (Guest Post)
July 16, 2005
0

found this helpful
I just got a puppy who felt that a bottle of black shoe polish was a great chew toy on new white carpeting. I checked out this web site and tried Spot Shot as suggested by Beth. Worked wonderfully. It saved the carpet!
By Oz girl (Guest Post)
September 28, 2005
0

found this helpful
I used Ethyl Chloride (liquid alcohol) Got the idea form the person with the cigarette butane idea! It worked a treat - so easy to remove... Thanks!
By molly (Guest Post)
March 12, 2006
0

found this helpful
Tried spot shot on liquid black shoe polish scuff cover on carpet, did not work, any other suggestions?? HELP!
By Isobel. (Guest Post)
September 12, 2008
0

found this helpful
The butane gas works wonders on the boot polish on red carpet. Like the man said, no need to rub too hard with kitchen roll. Leave five mins and dab with dry towel and hoover, boot polish GONE!
Thanks for that.
Answer

this Question