Removing Stains from a Satin Dress?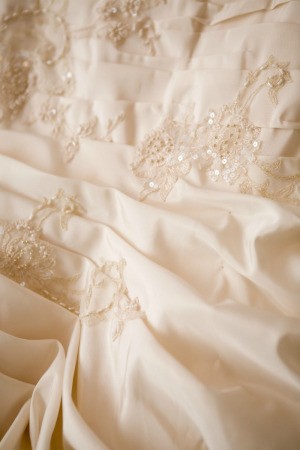 Can you please tell me how to remove black grease off of a satin wedding dress which cannot be washed?

Lesley from Essex

Answers
By pikka (Guest Post)
September 28, 2007
0

found this helpful
Best Answer
For starters, place fabric over a towel on ironing board for some solid support. Use a piece of scotch tape, press down and lift. Repeat with new scotch tape each time so you aren't putting grease back down again. See if that helps. You can run your fingernail across top of tape firmly to get embedded grease. When you've got as much as you think you can, it may be gone. If not, use a clean white washcloth (so you can see stain clearly) or scrap from white tee shirt and dip in white vinegar so cloth is damp, not dripping. Then press down on fabric and lift...repeat if it seems to be helping. You can rub gently also.
By LOIS (Guest Post)
September 28, 2007
0

found this helpful
Best Answer
I was amazed to see a saleswoman wet a cloth with simple green cleaner and gently rub a black spot off the shoulder of a white satin gown and it easily disappeared. It looked like grease from a car. No shadow stain remained. Water will leave that shadow mark. Good luck.
Answer

this Question
10 More Questions
Ask a QuestionHere are the questions asked by community members. Read on to see the answers provided by the ThriftyFun community or ask a new question.

I have a shiny satin wedding dress and a shoe print stain from it being stepped on before our wedding day. How do I clean this footprint off of the back of my satin wedding gown?
Answers
January 14, 2016
0

found this helpful
Best Answer
This is one of those times when you need to rely on a professional dry cleaner!

October 13, 2016
2

found this helpful
Best Answer
I found this thread while googling how to clean satin. My darling youngest is into taking of his diaper every chance he gets. He decided to remove his soiled diaper in my closet and managed to smear some on my wedding dress.... My fault for not putting it back in its garment bag right away. I decided to try the hand washing method with a little dial anti bac hand soap (works like a dream on blood stains so why not?
) the stains came out with mild scrubbing no problem first shot. So I decided to tackle the 13 year old drag marks on the train that never got removed. Those are gone too now. I have tossed it in the washer on delicate to remove the potential for rings or water marks from just spot cleaning. We'll see how it looks after it hang dries, and I'll post my results for posterity.
Answer

this Question

How do I remove red sharpie permanent marker from a pink satin formal dress? I made the dress my self and I need it in two weeks for a wedding. Can anyone help me? I do not want to wreck the dress. It already leaves spots when it gets wet.
Christina from Delano, MN
Answers

January 26, 2008
0

found this helpful
Best Answer
Don't mess with it -- take it to a professional cleaner!
(been there, done that)
Answer

this Question

I just bought a brand new yellow satin grad dress, and somehow got black felt pen on it! any ideas on how to fix it? I'm scared to ruin it, or make it blotchy, but it looks horrible! Please help!
Lindsay from Canada
Answers

April 9, 2008
0

found this helpful
Best Answer
You can try hair spray I've never used it on satin but I know it works on cotton. I would test it on the inside seam of the dress.
Answer

this Question
I have a ranch dressing spot on a satin shirt. I need to know the best wat to clean it. Thank you.

By Judy

Answers

December 5, 2017
0

found this helpful
Best Answer
I would pretreat it with a spot remover such as shout. Ranch does contain oil in it, so it may take more than one treatment. Do not put it into the dryer until it is completely out.
Answer

this Question

How do I get a pink eyeshadow stain out of a white satin material formal dress? I have to return it in two days for a new size. Please help! I have no clue how to do this.
Answers

April 6, 2018
0

found this helpful
Best Answer
Use lemon scented dish detergent. Instructions are here: www.google.com/.../amp
Answer

this Question

Is it possible to wash satin-backed crepe in cold water with Surf? I recently found one of my bridesmaids' dresses - 32 years old! - in a wardrobe. The dress is in perfect condition, but I would like to have it clean as well.
Thank you!
Kind regards
Carol from Republic of South Africa
Answers

April 16, 2007
0

found this helpful
Best Answer
I called Queen's Lifestyle and they told me the material is washable. I washed the dress in cold water with Surf and rinsed twice, the last time with white vinegar instead of fabric softener.
The dress came out beautifully.
Answer

this Question

How do you spot clean a satin wedding dress? The spots are light dirt. I didn't want to leave water spots or circles.

Carolb from Fairview, TN

Answers
By Robin (Guest Post)
February 23, 2006
0

found this helpful
Best Answer
I would definitely take it to a dry cleaner to be cleaned. Any type of "wet" will mark the satin.
Answer

this Question

I have a beautiful blue satin dress that I wore to two proms in a row. At the second one (last night) I got a little bit of mud on the very bottom of the skirt.
Is there any way I can remove it?
Answers

April 29, 2019
0

found this helpful
Hi,
I would use the blotting method. Put some detergent in a bowl of water and mix it. Take a cloth, wet it, with the detergent solution, and blot the stain until it is gone. At this point, let the satin dry.
I found a helpful website that you might find has some ideas:
www.thespruce.com/wash-satin-clothes-and-sheets-2146321
Have a wonderful and blessed day!
---Robyn

April 29, 2019
0

found this helpful
Brush off as much mud as possible. Then mix mild detergent and water. Using the suds only, remove the remaining mud.

April 29, 2019
0

found this helpful
Satin is notorious for leaving "circles" or stains when water is applied so be very careful and only blot with a damp cloth (satin can also stretch so do not scrub or pull).
I would suggest using a detergent that specifies satin on the label (such as Woolite).
Here are a couple of links that show easy step by step instructions.
Answer

this Question

Will hairspray come out of a satin dress when dry cleaned?
Answers

August 11, 2019
0

found this helpful
Make it a point to tell the dry cleaner where the stain is and that it is hairspray. They will tell you what the chances are of removing the stain.

Pghgirl40
Bronze Feedback Medal for All Time! 196 Feedbacks
August 12, 2019
0

found this helpful
It should come out with the dry cleaning. Be sure to tell them the brand and type of spray (they will want to know at a minimum aerosol or pump as they have different ingredients) and point out the spots when you take it.
When you pick it up, check for the spot removal before you leave and if it is still there, ask if they can try anything else.
Hope it works for you! Post back with an update.
Answer

this Question
I got a light grease mark my wedding dress and two small yellow spots. How do I remove them?
By Linda

Answers

June 30, 2015
0

found this helpful
On a wedding dress? You don't. There's too big of a risk of ruining it.
You go on facebook and ask who is the best dry cleaner in your area. Take it there, and when it is done, package it properly and put it straight into your closet or cedar chest.

July 16, 2021
0

found this helpful
Grab a dryel stain remover stick, scrub the stain off with a paper towel underneath and let dry. No big cost involved and safe for any fabric. It's some good stuff!!
Answer

this Question
Categories
Pages
More
Categories
Published by ThriftyFun.
© 1997-2022 by Cumuli, Inc. All Rights Reserved.
https://www.thriftyfun.com/Removing-Stains-from-a-Satin-Dress.html