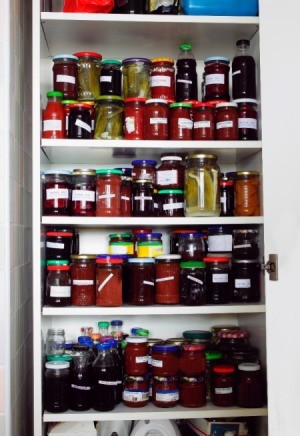 No, I didn't run out of groceries and have to restock. What I mean is that when I come home from shopping, I have decided to restock my shelves in somewhat the same manner that the stores do.
It must work for them so I decided to do try it and do the same sort of thing in my pantry. Talk about shocked, I had doubles of quite a few things and had some items I have no idea why I purchased. The money sitting on those shelves could sure have been put to better use. If the store was as disorganized as I am it would go broke in no time. They can't sell something if no one can see it and I can't use something I bought if I don't know I have it. So something had to change.
A new organizing system had to be implemented. First of all everything came out of the pantry and was sorted into like groups: vegetables, pastas, condiments, etc. This I had done before, for the most part. Then each group was re-sorted. For example, the beans: chili, pork and beans and green beans; you get the idea.
My pantry is a wooden self-standing cabinet about my height so reaching high was not an issue. When it came to putting the goods back into the pantry, the most often used went on the top shelf at eye level and so on down to the bottom. I adjusted the shelves as I went to accommodate for the size of containers. When I came across those oddities I had forgotten I had, they went to the front, duplicates also went to the front.
When I use everyday items and only have one left I add them to my grocery when I use it. When I found duplicates I made a "2" on the lid of one and that one went in front of the other one. That tells me I have one left. Beside my grocery pad, I tacked up a piece of paper with the duplicates, neglected items and older items on it to remind me to plan around those items that needed to be used first.
Now to stick with this plan and keep my pantry looking organized, and easy to find items will be a pleasure instead of a chore. Hopefully this will help someone else keep organized and stop wasting money that could have been used elsewhere. Happy organizing and shopping everyone!
By Ann Winberg from Loup City, NE
Do you have a frugal story to share with the ThriftyFun community? Submit your essay here: http://www.thriftyfun.com/post_myfrugallife.ldml
Comments

July 1, 2011
0

found this helpful
This is such a good idea and I have been meaning to organize my pantry forever. Maybe your post will motivate me.

July 1, 2011
1

found this helpful
Great ideas. I started keeping a list of what's on hand as I make out my menus and shopping list, and I really like your idea of numbering the cans. I like to keep staples on hand for emergencies, but I don't rotate. Lots of great suggestions!

July 5, 2011
1

found this helpful
Thank you!! I buy with coupons and when things are at great sale prices. Most items go into my pantry(s) but they are simply placed anywhere on the shelf. Since Hubby recently organized the goods into sub groups I should be able to rotate, do inventory, and number the cans. As we hit and miss eat, living more from the delis, I find I have a lot of things going out of date before using.
But I cannot pass up good prices on something I may use in the near future. I have learned not to fall for the BOGOF sales as I end up giving most of it to the local food pantries.
I will stock up on toilet tissue and paper towels when I have coupons and the items are on sale. I figure what the heck, the prices will only go up for here.

Nightsong
Bronze Feedback Medal for All Time! 121 Feedbacks
December 7, 2017
1

found this helpful
It is also good to remember to put new item behind the old. Again a store tip. That way the older gets used before the new.
Read More

Comments