Pantry Food Storage
Solutions
Share on ThriftyFunThis page contains the following solutions. Have something to add? Please share your solution!
As a young bride I went to the store weekly and bought what I thought I needed for the two of us, then the three, and the four of us. Toward the end of the week, we might or might not have, had much to eat.
On the Thursday before my husband's Friday payday, I found in my pantry, a can of pork and beans, a can of lima beans, and a can of green beans, and that along with some rice was what we had for dinner. That was an interesting meal!
I began by planning a week's worth of menus at that point and buying what was needed for those menus. Nothing had to be used on a specific day, just some time during the week. And as I progressed I collected 35 or 40 menus.
Of course, sometimes there were sales on foods, twofers, etc and I began to buy those extra cans for emergencies. I set aside shelves in my basement and put the extras there. You can put them under the bed or any place where there is room, even in a small apartment.
As I began to accumulate foods, I would first shop from my food storage, and then go to the store, replenishing what I had used and buying a few extras as well.
A salvage warehouse came to my area. Cases of canned goods, housecleaning supplies from wrecked trucks and trains were available at the warehouse. I would check the store price of such things as green beans and then 'haggle' at the warehouse for a case of green beans at a much lower price per can. None of the cans I bought were damaged, although the boxes they were in might have been.
At the end of the month when I got my salary, I would go to the warehouse and spend a total of $50 or whatever I had, on extra foods, things that we all liked and that I used frequently.
If there are warehouse big box stores near you, buying just a few things extra each week can add up to a good food storage program. Even the twofers from the grocery store are great and using any coupons of course, adds to the value. Later I added freezer products to my food storage, as well as dry goods.
Today, quite a few years after being a 'young bride' I continue the food storage. I try to keep at least a 6 month supply of food on hand at all times. And there have been times that I have had to live off of my food storage with no purchases from the store, and for extended periods. Such a time as now and what we are going through with the economy is a good time to have a food storage program, or even begin one, can by can.
By Nancy S. from Cross Lanes, WV
After purchasing boxed goods and canned items, write the month and year on them with a permanent marker. You'd be surprised at how long you end up keeping food.
By Barbara H.
I have started to date my foods that I put into storage; into the fridge, into the freezer, and into the pantry, my leftovers, everything!
An easy way to do this is keep a dispenser of scotch tape and a sharpie handy. If you don't want to write on the carton (because you're going to use it again at another time or it won't take the pen), just put a piece of scotch tape on the package and write on it.
I do this with perishables as well as staples. I buy most of my staples in bulk, and keep them in an outside fridge. It's easy to read, and keeps me circulating my stuff, and I don't have to worry about how I'm going to get the writing off storage containers that I reuse over and over again.
I put these removable labels on the tops, the sides, wherever I need them.
I'm not the best organizer and this has greatly helped me.
By Carolyn from Clovis, CA
To make sure I always have a back up of certain items I try to buy two of them when I can and then put the extra into the pantry area and forget about it. When I can't spend too much on groceries for some reason, I always have extra items I can count on.
Read More...
I've done this for several years now. When I get home from grocery shopping, I saturate a heavy-duty paper towel with white vinegar and wipe off every piece.
Read More...
Food Storage Guide. I copied this food storage guide and keep it in my cookbook for reference. Baking powder: Store in airtight tins in a cool, dry place and replace every 6 months.
Baking soda: Store in an airtight container in a cool, dry place for about 6 months.
Read More...
Questions
Ask a QuestionHere are the questions asked by community members. Read on to see the answers provided by the ThriftyFun community or ask a new question.
I have found 2 tins of sardines expiration date Dec. 2006. The tins are not dented or blown. I have also found a tube of anchovy paste with a June 2006 expiration date. Can they be used or should they be thrown away?
Thank you.
By petalem from Sandy, Bedfordshire
Answers
November 19, 2010
0

found this helpful
When in doubt, throw it out!
November 19, 2010
0

found this helpful
My family comes a long line of "if it doesn't smell bad, it's fine." Of course you might want to do a small taste test too. Helps if you have a strong stomach like us just in case :) If it smells funny at all to you then pitch it.
November 20, 2010
0

found this helpful
I would throw it out, way past expired!
November 20, 2010
0

found this helpful
I am with the smell and taste test on the canned foods, too. Canned foods without dents or bulging will actually be safe for a decade or more past expire date but their nutritional value and flavor reduce over time.
As for the 'tube' of anchovy paste, personally, I would throw that out.
November 20, 2010
0

found this helpful
I would much rather recommend that you throw them out than risk ending up in a hosptal or morgue! Not worth the risk, I say!
November 23, 2010
0

found this helpful
Is it an expiration date, or does it say "best used by". There is a difference.
February 21, 2012
0

found this helpful
If in doubt...throw it out!
Answer

this Question

...
How good are can goods after the expiration date?
By LV
Answers
February 8, 2012
0

found this helpful
Here is the link ot the US Government Fact Sheet on this subject:
www.fsis.usda.gov/.../index.asp#5
Hope this can help you.
Make sure the can you have is not bent or damaged and does not smell bad if you are unsure.
Blessings, Robyn
Answer

this Question

...
This is a page about reusing a salt container spout. The small metal spout on the top of your salt box can be reused with other containers for convenient pouring.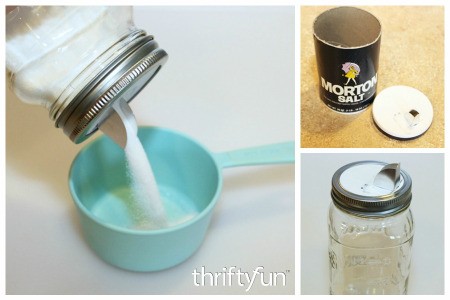 Archives
ThriftyFun is one of the longest running frugal living communities on the Internet. These are archives of older discussions.
How long can I keep canned goods after the expiration date?

By babyfase from Jersey City, NJ

Answers:
How long can canned goods be stored for?
How sick do you want to get? Bacteria begins to form well before the container begins to bulge best bet is toss it out and better planning next time. (03/23/2010)

By Nate
How Long Can Canned Goods Be Stored?
I'd say at least a year if it's been kept in a reasonable environment and the cans are not dented. Tomatoes and other acid foods like orange juice will get a "tinny" taste, so I taste them before using them. Evaporated milk seems to separate and won't come together no matter how hard you shake it. Ground coffee will get rancid because of the oil in the coffee beans, but instant is okay, as is tea. I have used canned goods 2 years past the "expiration" date.

As far as food safety, my mom's uncle was a hermit and didn't have electricity, had a rain barrel for water and shopped once a month for groceries. He was born in 1908 and died in 1990 of a stroke. Uncle Joe always used canned or dry goods such as oatmeal and beans. (03/23/2010)

How Long Can Canned Goods Be Stored?
Same answer as Frazzled Leslie! I've even had canned goods three years past expiration and the only thing was at that age they weren't quite as tasty and needed a little spicing up. The sell by date is not a safety date, but rather a quality taste date. As long as the can isn't dented or bulging they are fine :-) (03/23/2010)

By Deeli
How Long Can Canned Goods Be Stored?
Here is what I have learned directly from some of the leading canned food mfg. Before they started adding the exp.dates on most food products I wrote to several companies asking what the shelf life was on their products. Three of the major companies all said about the same thing. Most canned goods are safe to eat up to 5 years. However, after the 2nd year they may lose some nutritional value and show color loss. They did caution about swollen and dented cans, throw them out.

Oh and one other personal note, My sister-in-law gave us a 1lb.can of coffee many years ago, she said she didn't need it. ( don't know how long she had it.) Because it was a brand we normally didn't use it was stuck back in the cupboard for a long time. I don't know how long we had it, but when I did finally open it, it smelled wonderful, looked great. Better than the coffee we were used to. (No fillers).

The kicker is, there was a coupon inside, with the expiration date 10 years before. That was the best coffee we'd tasted in a very long time. Now when you call the 800 #s most will say they can't recommend use after the expiration date. Have to cover their you know. I just might still have those old letters though.
LOL GG Vi (03/24/2010)

By Vi Johnson
I would like to know the length of time canned food can be stored? Is it the date on the can or can you keep it longer. I understand it is no longer any good when the can bulges or leaks, etc.

Thanks.
Billie from Sharpsburg, GA

Answers:
How long can canned goods be stored for?
If the can bulges or leaks, throw it away. Vacuum sealed foods such as can goods are good for five years past the expiration date on the can. I help out with a food pantry and they have to go to classes to learn "pantry etiquette". (10/31/2006)

By Nellie
How long can canned goods be stored for?
"In general, high-acid canned foods such as tomatoes, grapefruit, and pineapple can be stored on the shelf 12 to 18 months; low-acid canned foods such as meat, poultry, fish, and most vegetables will keep 2 to 5 years, if the can remains in good condition and has been stored in a cool, clean, dry place."
(10/31/2006)

By Mary
Advertisement