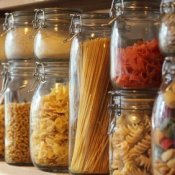 As a young bride I went to the store weekly and bought what I thought I needed for the two of us, then the three, and the four of us. Toward the end of the week, we might or might not have, had much to eat.
On the Thursday before my husband's Friday payday, I found in my pantry, a can of pork and beans, a can of lima beans, and a can of green beans, and that along with some rice was what we had for dinner. That was an interesting meal!
I began by planning a week's worth of menus at that point and buying what was needed for those menus. Nothing had to be used on a specific day, just some time during the week. And as I progressed I collected 35 or 40 menus.
Of course, sometimes there were sales on foods, twofers, etc and I began to buy those extra cans for emergencies. I set aside shelves in my basement and put the extras there. You can put them under the bed or any place where there is room, even in a small apartment.
As I began to accumulate foods, I would first shop from my food storage, and then go to the store, replenishing what I had used and buying a few extras as well.
A salvage warehouse came to my area. Cases of canned goods, housecleaning supplies from wrecked trucks and trains were available at the warehouse. I would check the store price of such things as green beans and then 'haggle' at the warehouse for a case of green beans at a much lower price per can. None of the cans I bought were damaged, although the boxes they were in might have been.
At the end of the month when I got my salary, I would go to the warehouse and spend a total of $50 or whatever I had, on extra foods, things that we all liked and that I used frequently.
If there are warehouse big box stores near you, buying just a few things extra each week can add up to a good food storage program. Even the twofers from the grocery store are great and using any coupons of course, adds to the value. Later I added freezer products to my food storage, as well as dry goods.
Today, quite a few years after being a 'young bride' I continue the food storage. I try to keep at least a 6 month supply of food on hand at all times. And there have been times that I have had to live off of my food storage with no purchases from the store, and for extended periods. Such a time as now and what we are going through with the economy is a good time to have a food storage program, or even begin one, can by can.
By Nancy S. from Cross Lanes, WV
Read More

Comments

I have found 2 tins of sardines expiration date Dec. 2006. The tins are not dented or blown. I have also found a tube of anchovy paste with a June 2006 expiration date. Can they be used or should they be thrown away?
Thank you.
By petalem from Sandy, Bedfordshire
Answers

Marjorie
Silver Feedback Medal for All Time! 290 Feedbacks
November 19, 2010
0

found this helpful
When in doubt, throw it out!

SuzyQ82
Bronze Feedback Medal for All Time! 117 Feedbacks
November 19, 2010
0

found this helpful
My family comes a long line of "if it doesn't smell bad, it's fine." Of course you might want to do a small taste test too. Helps if you have a strong stomach like us just in case :) If it smells funny at all to you then pitch it.

November 20, 2010
0

found this helpful
I would throw it out, way past expired!

(Guest)
Gold Post Medal for All Time! 846 Posts
November 20, 2010
0

found this helpful
I am with the smell and taste test on the canned foods, too. Canned foods without dents or bulging will actually be safe for a decade or more past expire date but their nutritional value and flavor reduce over time.
As for the 'tube' of anchovy paste, personally, I would throw that out.

November 20, 2010
0

found this helpful
I would much rather recommend that you throw them out than risk ending up in a hosptal or morgue! Not worth the risk, I say!

November 23, 2010
0

found this helpful
Is it an expiration date, or does it say "best used by". There is a difference.

February 21, 2012
0

found this helpful
If in doubt...throw it out!
Answer

this Question