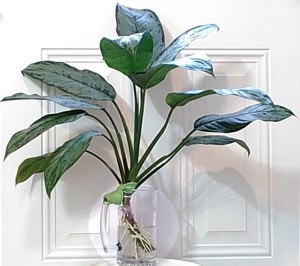 I have a large Chinese Evergreen with one stem that insists on growing horizontally rather than vertically. I remedied that problem with a sharp knife, a heavy beer mug and water.
As Winter approaches, a lot of us will direct less of our gardening time to outside plants and more to houseplants. If you don't have a Chinese Evergreen, I'd like to suggest you get one (providing you have the space. This is not a window sill plant.)
The Aglaonema (Agla-o-nee-ma), commonly known as the Chinese Evergreen has many fine attributes. While not completely disease and pest free, it is seldom bothered by either.
The plant can grow to be quite large. I usually do some heavy pruning when my plant grows to a height of 2-3 feet. The parent plant will thrive on this treatment and it is a good source of new plants.
You might be concerned about handling a larger plant. This is not necessarily a problem. The 'Aggy' will thrive in medium to low light. Put your plant where it will get some filtered natural light combined with indoor lighting and it should be fine.
The plant will grow for many years in the same pot without the need for re potting. I water my plant about twice a week, a little less during Winter. I don't feed my plant monthly. Instead, it gets fed every time I water it. The concentration of fertilizer is very weak, about a fourth that of a normal feeding.
With little care, the Aggy can afford years of enjoyment. It is available in shades of green, pink and red. And if an admirer should want a start from you, that's no problem either.
As my picture shows, the horizontal stem I severed from the parent plant is quite happy in a beer mug with no more than water. In a months time, it has grown many roots and soon should be potted. I did not treat the cutting with rooting hormomes. I did change the water twice a week and refilled the mug with tap water that sat overnight to allow any chlorine to dissapate.
I've had my Aggie for years and hope to have it much longer. I enjoy caring for it. I do groom it occasionally by dusting and polishing its leaves with a soft cloth. This produces a nice sheen without adding any type plant shine.
So, If you want a larger house plant that will be as much a part of your living room as your sofa, and one you can share cuttings with friends as well as a plant that isn't fussy with special needs...
Get yourself an Aggy!