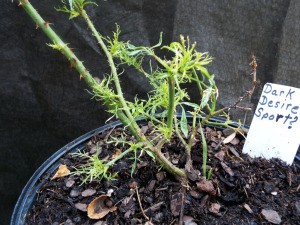 One disease which affects roses is called Rose rosette. The common name for this disease is 'Witches Broom'. It is caused by a virus which is spread by a very small, eriophyid mite. According to Clemson.edu, 'Plants infected with the Rose rosette virus cannot be cured. These infected plants should be removed. If diseased plants are left in the landscape they will most likely die in a couple of years, all the while allowing the virus to spread to other nearby roses'.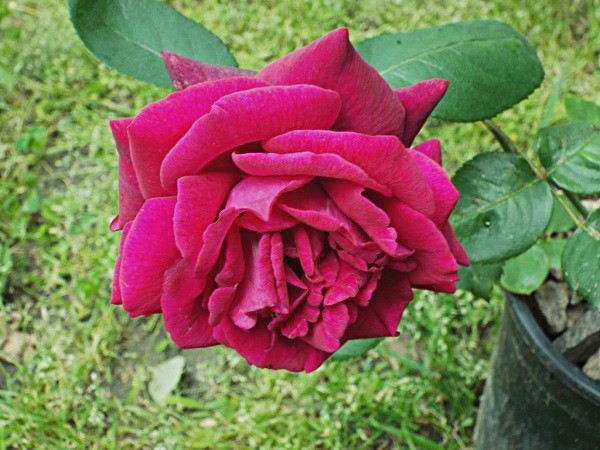 Here is an account of my encounter with this disease:
I have several 'Dark Desire' rose bushes. On one, I had what I thought was a 'bud sport'. A bud sport is a genetic variation of one branch of a plant.
Bud sports can give rise to new varieties of roses. The Chicago Peace rose, for example, was not bred. It is a sport of the Peace rose. A Peace rose grown in Chicago showed genetic variations in one branch. That one branch was cultivated, creating a new rose variety. The variety was called 'Chicago Peace'.
The above picture is of a bloom on one of my healthy Dark Desire roses. At one point, I noticed a very different bloom on the same bush. That bloom is shown here.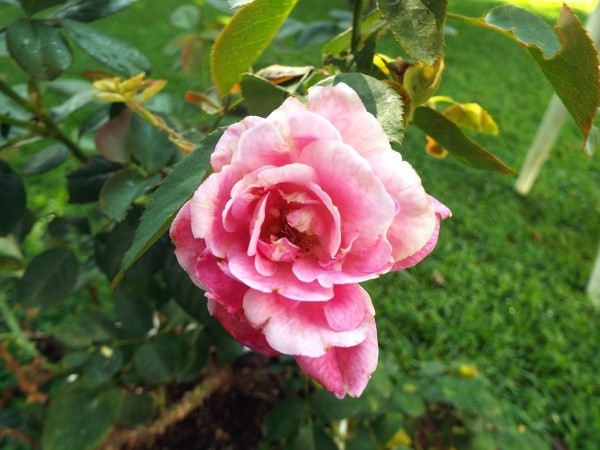 Thinking I might have a bud sport, I sent a picture to my ag agent, asking for his input, (a sport could mean I could introduce a new variety of rose to the World, and quite possibly, be handsomely compensated).
My ag agent was very interested. He agreed it could well be a sport. He asked that I 'keep an eye on the oddity' and to let him know of any results.
I took a cutting from the 'odd' branch to root. If the rooted cutting produced the same odd bloom, and if successive cuttings from that cutting produced the same odd bloom, (and did not revert back to the original Dark Desire), it could be said I did indeed have a sport; in fact, a new rose.
To my dismay, the cutting did not root. Not only that, the plant from which it was taken, along with two others, began to show signs of deterioration. I isolated these three plants from the others and watched them closely.
Within 2-3 weeks, it was obvious there was something seriously wrong with these three bushes. The leaves were very distorted. I took pictures of the plants, Googled them on Google Images. I confirmed my plants were infected with the Rose rosette virus.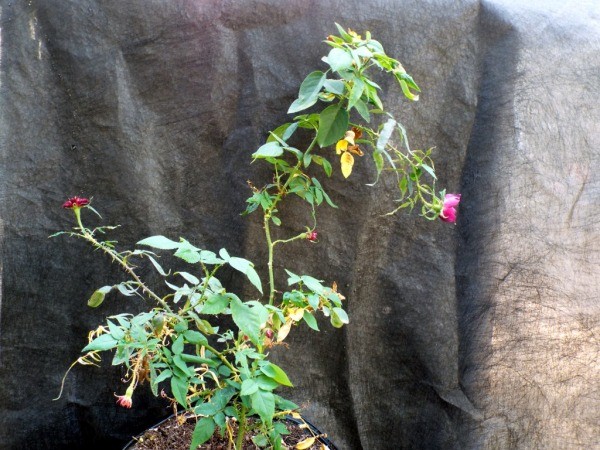 Unfortunately, what I thought might have been a sport, was a malformed bloom caused by the Rose rosette virus. There goes my recognition in the rose world for introducing a new rose variety, and there goes all the royalties for doing same.
Here is a picture showing how far the disease has progressed. It is obvious just how the disease came by its common name, 'Witches Broom'.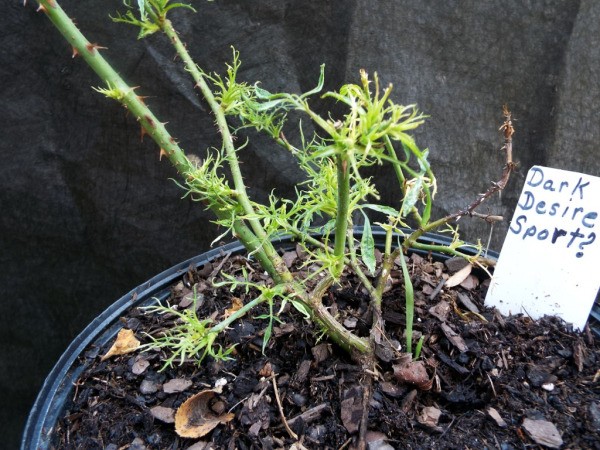 And finally, here is a close up of the damage done by the Rose rosette virus.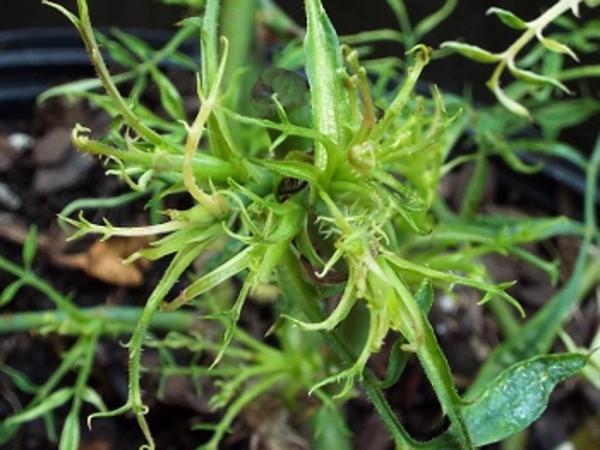 If you should see the slightest indication of this disease, you should immediately isolate the suspect bush, less it infect other plants. If infected, the plant should be destroyed.
While there is no cure for this disease, there are preventive measures which can be taken. They can be found at several sites on the Internet. The famous Knock Out rose series was thought to be immune to Rose rosette. It since has been found on this rose and is spreading.
All is fair in love and war and rose growing. I've learned a lot from this little episode. I'm not upset. I still have several healthy Dark Desire rose bushes. I now know they are not tea roses with a floribunda habit, but a grandiflora rose. I don't like this form and may decide to give them all away.
Well, maybe not this one.