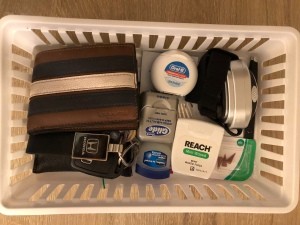 This tip is actually universal whether you live in a single story, two story apartment, etc. For me, I am always running up and down stairs for important essentials especially misplaced car keys and wallets. I bought this set of 2 drawer storage organizer mini bins, 10.3 x 6.5 x 2.4 inches at Walmart for only 96 cents!
Essentially, buy a bin that will fit your important belongings and other knick knacks so you can put everything you need in the bin. Bring it out to your kitchen table/office when you start your morning, put back into when you get home and, at the end of the night, gather everything else you need into the bin to your room with you (at night) and repeat!
Some people may have key racks and whatnot but I don't feel safe having that out in the open.
You will never have a headache looking for your items and it makes life so much easier. :)
In my bin, we have my wallet, my husband's wallet, keys, headlamp, as well as some essentials that are often misplaced; dental floss, tweezers, Vaseline. And, I also include in my basket items I need to bring upstairs like I needed to bring up pack of Rubber Tip for my GUM Stimulator. Also in the basket will be our phone chargers to lug up and down stairs.