Tips for saving money on hand soap. Post your ideas below!

Answers:
Saving Money on Hand Soap
I found a way to keep the soap in the bathroom longer. First I take the bar soap out of the wrapper and place it in the linen closet to "dry" out a little. That will help it last longer.
Then in the shower or other places where you place your bar soap use this technique. Get one of those smaller sponges that has the scrubby side on one side and sponge on the other. Place these with the scrubby side face down in your dish or bar soap container. Keep the bar of soap on the sponge in between uses. This allows the soap to air dry between uses.

Also when you want to clean something in the bathroom you can use the sponge and scrub with. You don't even need to add soap, it's soaked into it the sponge! This helps soap last a lot longer and also has dual purpose cleaning.
Let me know if this works for you.
(06/16/2004)

Saving Money on Hand Soap
I had a plastic dish in the shower that would fill up with water and create soap soup in the dish. So I just drilled a few holes in the plastic dish and now the soap dries off in between uses. (06/16/2004)

By Anne H.
Saving Money on Hand Soap
There are several companies that you can buy a soap pump from. You add a few drops of liquid soap and add water and it comes out of the pump as a foam like the new public restrooms use. Pampered Chef is one of the companies and I am not certain who the others are. (06/16/2004)
By Tawnda
Hand Soap Mix
I use an empty handsoap foamer bottle to put 2 parts Palmolive Ultra Aroma Therapy Lavender and Yllang Ylang liquid dish soap with 1 part water (or more water as preferred). Shake it to mix well. I use it for handwashing in the bathroom; it's gentle on the hands, smells great, nobody knows the difference, and it lasts at least 4 to 5 times as long as the pricey stuff! Also, the foamer is more economical than a pump bottle by far.
(06/25/2004)

Less expensive hand soap
Someone else mentioned that you could get a less expensive antibacterial hand soap by buying antibacterial dishwashing liquid. I buy Palmolive antibacterial dishwashing liquid and then add an equal amount of water and gently mix it with a wire whisk. This gives you twice as much for the low cost of the dishwashing liquid and it works very well!

(07/02/2004)

Make Your Own Liquid Soap
Make Your Own Liquid Soap
1 bar (3.5 oz.) soap with moisturizing cream
3 cups water
Makes 3 cups
Directions:

Shred bar of soap. Place in large bowl. Add water. Microwave at high 5 to 6 minutes, or until soap is dissolved, stirring every 2 minutes. Let stand until cool. Fill soap dispensers.
(07/02/2004)

Saving Money on Hand Soap
The tip re: antibacterial soap/dish soap is a waste of money. Antibacterial products in the home are unnecessary and dangerous, aiding in the breeding of 'super bugs' with multi resistances. I work in a hospital and antibacterial soap went out years ago. What is important is the thoroughness and duration of the handwash, especially after using the toilet, handling meat, etc. Any cheap soap/detergent, or even shampoo, will do. The antibacterial thing is a marketing ploy.

Regards.
(07/03/2004)

By Jo
Saving Money on Hand Soap
If your pump dispenses too much soap in one go, secure a cable tie round the stem part that plunges into the bottle, thereby stopping it part way and giving out less soap each time. (07/21/2004)
By Louise
Get the Soap Fragrances You Like for Less
I like the antibacterial soap that Bath & Body Works have. I purchased about 20 bottles last year at a cost of $1.74 (including tax) and I dilute them. 1 bottle of soap to 3 bottles of water which comes to about 43.5 cents a bottle. Once or twice a year they have a fantastic sale so I stock up. When it next comes around I will only replace the amount of full bottles to keep my supply at 20 so I have the fragrances I like.
(08/20/2004)

Saving Money on Hand Soap
I discovered a foaming soap dispenser at Wal-mart for slightly less than two dollars. It is Dial brand Complete Antibacterial Foaming Hand Wash in the 7.5 ounce dispenser. On the back of the package it says "refill only with Dial Complete Refill. Other liquid hand soap refills will not work or foam." However, I found this to be untrue as long as you dilute your brand of liquid soap with water.
The pink liquid inside the bottle appears to be diluted liquid soap, and when I used that all up, I diluted any brand of liquid soap with water, added it to the bottle, and it works just like the original Dial soap did. Since the bottle is clear, I didn't like how my mix looked from the outside since it kind of separates, so I took some Krylon Fusion spray paint for plastic that I already had, and sprayed the bottom part of the bottle where the top meets the foaming mechanism. Now I can't see through the bottle, and it matches my kitchen and bathroom decor! (08/22/2004)

By Tori
Refilling Hand Soap Dispenser
Next time you need to refill your hand soap dispenser, use inexpensive bubble bath. I purchase a 32 ounce bottle for about a $1.99 or less. And they come in various colors and scents!
(11/20/2004)

Saving Money on Hand Soap
I use the Alberto VO5 in fragrances when they are on sale, buy one get one free and use a coupon!
I use the old dollar store hand soap dispensers and refill with the shampoo mix. Cheap, cheap, cheap and works great too! (11/20/2004)

By Syd
Saving Money on Hand Soap
I always put an elastic (hair elastics work best) on pump soaps. This allows a smaller amount of soap to be dispensed which is plenty for hand washing.
(12/05/2004)

Saving Money on Hand Soap
The ultimate on saving on hand soap, if your hands aren't 'dirty' or you aren't going to prepare food then just use water! If my hands are only sticky or just feel like they need a freshen up I just rub them in water and dry. Better for your skin and better for the environment.
Regards.
(12/10/2004)

By Jo Bodey
Saving Money on Hand Soap
I have to use an expensive liquid soap from a health food store due to chemical sensitivities. I dilute it down by 50-75%. It still works wonderfully without the expense. I just reuse the old bottles. (12/27/2004)

By brizaksmommy
Refilling Softsoap
When I refill the Softsoap, I don't fill the container full. I leave about 2" from the top and add water and shake well. It is not as thick, but not too runny either. It makes the soap go further. I tell my family to wash their hands for the 20 seconds so all the germs wash down the drain!
(01/15/2005)

Saving Money on Hand Soap
I take those small pieces of leftover bar soap that usually gets thrown away and I put them in an old liquid-soap hand dispenser and add water. Viola! No waste and you can't get any cheaper than that. (01/15/2005)

Shampoo Leftovers
I always use more conditioner than shampoo so I end up with a small amount of shampoo left when the conditioner bottle is empty. I keep a pump bottle by the kitchen sink for washing hands and I just add that dollop of leftover shampoo to it, with a little bit of water to thin it down a bit. This way I don't have to buy hand soap and don't have to waste that leftover shampoo.
(02/26/2005)

Bits of Soap
If you use bar soap and it gets to the point where there's just a teensy little nub left, instead of throwing it out, add it on to the new bar of soap. You will need to wet the new bar of soap so that the old soap can stick to it.
(03/17/2005)

Saving Money on Hand Soap
Tie small leftover pieces into the leg of an old pantyhose or onion bag and hang on your yard spigot or the one at your campsite. It's nice to have a bit of soap handy after yard work sometimes even if the water is cold. (04/21/2005)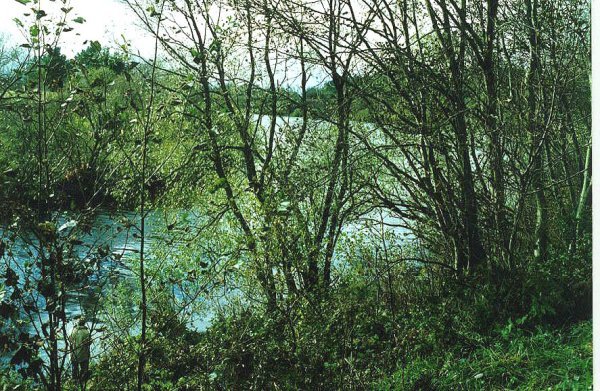 Saving on Bar Soap
The best way to save on any bar soap is to buy ahead, like a few months worth. Unwrap all the bars and allow them to dry for at least six to eight weeks. They last so much longer that way.
(04/26/2005)

Soap Slivers
I save the slivers of soap, shave them into flakes and mix with warm water. I then store it in an empty detergent squirt bottle and use to wash my hands at the kitchen sink.
(05/12/2005)

Saving Money on Hand Soap
I've had the same liquid soap bottle for five years. I keep refilling it with the store brand liquid soap and dilute it with water and it lasts me a long time.
(08/22/2005)

By Athena
Bacterial and Saving Money on Hand Soap
You diluters are playing with fire. In microbiology there is a very important technical specification used when formulating liquid soap. It is called water of activity. This is a critical specification because if it is too high, bacteria from the environment can get into the product post production and cause the soap to become a breeding ground for potentially harmful bacteria.
Imagine if the liquid soap is used in the bathroom. I should ask all you diluters: Have you ever seen a sort of milky cloudy substance at the bottom of your diluted soap over time. Yup, that's contamination. Soap is designed by competent professionals trained in product design and safety. Do not dilute your liquid soap in a bottle and store it on the counter to be used over time. Simply use 1/2 or less of a squirt of the undiluted soap to wash with. Chances are that with your diluted soap you are using a full piston stroke of the pump or more. Anyway, I love to save money, but not at the expense of potentially creating what could be a very serious health hazard where you are trying to reduce one (hand washing). By the way, antibacterial soaps are generally effective in reducing bacteria, but they also dump millions of gallons of antibacterial chemicals into the environment. The nurse who posted the fact that antibacterial soap is not used in the hospital is spot on. What actually matters is that you wash for two full "Happy Birthday To You's" . Happy Trails:) (06/26/2007)

By Tim