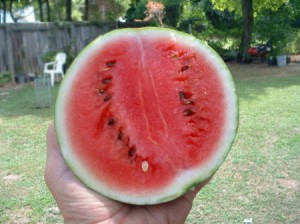 I was sitting here reading some of my gardening notes from 2015. I made a lot of mistakes last year. Hopefully, the notes will help make this year's gardening more fruitful and with less work.
I am a member of the neighborhood association for the ward in which I live. Yes, we have gardens. We have lots of gardens. With the exception of corn, just about any vegetable is grown in these plot gardens, even watermelon.
At the close of the growing season, 2014, I helped myself to a small watermelon someone had grown. I was lucky to spot it as the gardens were being raked over for fall and winter.
The melon was quite delicious. Good enough to persuade me to save the seed. I'm sure someone planted hybrid seed. I knew planting seed taken from this melon would not result in the same melon, but I was curious as to just what I would get.
Early 2015, I planted the seed taken from that crisp and very sweet melon. The results are shown in the attached picture. This melon was just as good, if not better than its parent. Its parent was a hybrid, but this offspring from that hybrid parent, is not. So? My taste buds, my stomach, and my eyes, don't care!
Scattered about in ThriftyFun's archived posts are many references to the pros and mostly cons of saving and planting seed from hybrids. These references are sort of after thoughts added to a different main subject. This is why I thought it a good idea to submit a post making seed saved from hybrids the main subject.
It all boils down to this: Making a hybrid requires the 'crossing' of two parents. If you just plant the seed taken from a hybrid fruit, be it a melon, or whatever, you are not crossing anything; the fruits from that seed will not be a hybrid.
The big question is: Does it matter? Yes and no. If you are a commercial grower and your customers demand an exact item, a hybrid fruit, then yes, it matters. If you love the unadulterated taste of a Celebrity tomato, then each year, you will buy new Celebrity seed, because you know seed saved from the hybrid Celebrity will not produce a true Celebrity.
But, if you are not uptight, are a bit curious and adventurous, and like to experiment, do save and plant at least a few seeds from hybrid fruits. What will you get? You won't know til you harvest. If you saved and planted 10 seed from a hybrid watermelon (and all bore fruit), you would end up with 10 different watermelons.
Most won't be as good as the parent, a couple may. There is a chance though, that within that 10, one could be the best watermelon you ever tasted. So good that the word 'patent' comes to mind. So good that you are besieged with offers from top breeders from around the world. OK. I got carried away (but it could happen). Anyway, playing around with seed saved from hybrids is just another way to add more interest and fun to your gardening.
One year, I grew the hybrid dianthus 'Cherry Magic'. I saved the seed and planted them the following year. Lo and behold, I must have had 50 new and different dianthus. And yes, there was one, just one, that to me was prettier than the original Cherry Magic.
Happy Hoeing, Y'all!