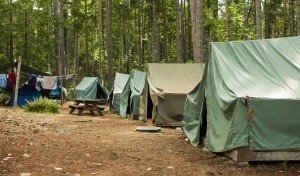 When my son was younger, I was the Cubmaster for his pack. Most of the scouts had single moms. The whole family goes camping in Cubscouts, but money was an issue.
When we didn't have money, the boys slept in my backyard in the tents. For breakfast, they cooked for their family on stove inside, usually pancakes for a $1. The older scouts helped younger ones (6 years and up) to cook. They watched not to burn it, since this was mom's breakfast and their siblings would tease them if it burnt, especially sisters.
At the State Parks, you can stay for a dollar a night in primitive. Other campgrounds, such as K.O.A., charged $5 a night per scout. Some campgrounds offered free camping when scouts helped clean up the campground. Scouts collected and sold cans for camping fee money or odd jobs.
Each scout made a cup when starting Scouts, which was brought everywhere with them as their official cup. Each scout had a mesh dish bag (made from mesh fruit bag with drawstring on top) in which stored his mess kit or made their own, consisting of fork, spoon, knife, dish, pan, and pot. Each scout washed his dishes or didn't have clean ones to use at next meal.
Bathroom and dishtowels were used instead of paper napkins, washing and line drying them. Sand was used to clean up the burnt pots. I saved old foam meat containers that I washed in the dishwasher to use as paper plates for the moms.
For drinks, we had Sun tea and Kool-aid. The Dutch oven was used for the big oven. The scouts made solar ovens by covering pizza boxes with aluminum foil or by folding a silver sun visor into an oven. The visors could also be used as a mat to sleep and sit on. Metal coffee cans were used as Hobo stoves. We would burn wood collected on garbage night for firewood. Metal knife and flint were used to start fire.
For sleeping, we lined the bottom of tent with newspaper if cold, and a pillow made by stuffing clothes in a pillowcase. We used sleeping bags or quilts to stay warm in winter and slept on mats in summer.
I am proud of all my little men and they still talk about those cheep fun camping trips their Cubmaster took them on.
By Kathy Bourg from Jefferson, LA
Do you have a frugal story to share with the ThriftyFun community? Submit your essay here: http://www.thriftyfun.com/post_myfrugallife.ldml
Comments