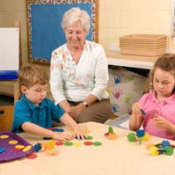 My grandson Michael started kindergarten this year. Besides being a milestone for him, it became an eye opener for me. At Back To School night, we came to tour his classroom and to meet officially with his teacher for the very first time. I was amazed at the enrollment in the classroom. Due to financial cutbacks at the district level, there were 33 children in one class and it was obvious that this teacher was going to need some serious help.
Although the district was paying for a full time aide, I quickly realized that any child that was going to need a little extra help was in no way going to get it.
Now I believe in our children and I know that they are our future. The district did finally decide that our school needed two kindergarten classes but that still left 16 children to be taught. In the area where, I live most families are low incomes; a lot of these children did not have the advantage of preschool. When most of us went to kindergarten if you can still remember that (written with a laugh), it was mostly about learning our numbers and colors and shapes, nap time and snack time were the highlight of our day but now kindergarten is much more. Children are expected to already know the basics and are learning to add and subtract and write stories in kindergarten. I taught seven children the basics before they left for school but a lot of our parents here also have the disadvantage of English as a second language. Even if you live where kids are less disadvantaged, you can still help to educate our future. So this is where you come in.
Sitting out there right now in front of their computers are, I know, a lot of grandmothers who are retired and their children have moved on with their lives. Maybe you don't get to see your grandchildren very often or it is just a long distance phone call once or twice a week. Now imagine your self sitting with a child that is struggling with their ABC's and you are helping them. All of a sudden, you see it in their eyes! They got it. You cannot imagine the joy that you will feel in your heart. Do you love history and The History Channel, you can help kids with Social Studies. Love music? You can help teach the kids about classic or jazz or even old rock and roll. Do you speak Spanish? Become an interpreter. Do you know American Sign Language? You too could become an interpreter or teach the kids to sign by starting a Sign Club after school for a half hour.
When I went into the classroom as a volunteer, it was only going to be until they could get another teacher (hopefully) for another kindergarten class. But I stayed because it was obvious that these children needed me. I was shocked at the lack of supplies for the classroom. My first thought was to ask the teacher what she really needed and that turned out to be something I could help with. Now not being a teacher myself, I needed a crash course in technical terms like tactile learning and manipulative but once I got that down I was able to go on the Internet and come up with some really great ideas. I even used some of the ideas that I had written about for ThriftyFun. Every thing that I made for the classroom was either recycled materials or stuff I just had hanging around.
I made a sand paper alphabet so the kids could feel what an "A" felt like. I took some old dry erase boards and made individual storyboards for them. I copied and pasted free clipart from the Internet into a word document and cut them out and covered them with clear contact paper so they could have felt boards for story writing or in our case story telling. My husband cut some boards we got from the cut off bin and made shoes for learning how to tie. I found tons of sites that had free flash cards and even some that had signs and calendars that could be printed off the Internet for free.
Even if you could not spend half a day in the classroom, doing these simple things would really help. Most teachers do not have the time to do these things. They are struggling on low budgets just like everyone else. Organize a book drive so that each child has a book to take home for the start of a home library. Pass on your love of reading. Most school libraries these days only want new books. But your old well-loved children's classic can start an in-classroom library so they even have more chances to read.
To get you started here is what you do. Contact the elementary school nearest your home. Tell them that you would like to volunteer and what skills you have. If you can read and write, you have skills. Did you raise your kids? Help with homework, you have skills. Maybe you have a little college, you have skills. Did you help run your family business, you have skills. When you get to your classroom, ask the teacher where she needs help. Offer to help the kids that need extra help. Maybe he/she will only need help with organizing the classroom or maybe just supervision but your time will be well spent.
So you're thinking to yourself "I really get along better with older children", every grade needs volunteers. You will be making a big difference. There are always going to be kids that need extra help and with your life experience maybe you can bring some different perspective to a learning problem that helps that child. We are all teachers in one-way or another! The United States in the last 20 years has fallen way down the list for quality education. Our teachers are over worked and underpaid.
Parents now days have to work two and sometimes three jobs just to keep body and soul together. This leaves them with little time to teach their children. They say it takes a whole village to raise a child. Well, here is where you can start. If you are lonely and need a grand child fix this could be an answer to your prayers and the children will benefit so much from your involvement. Wish me luck as I continue to learn and benefit from the love of my kindergarten class.
Comments

Judi
Bronze Feedback Medal for All Time! 239 Feedbacks
September 30, 2008
0

found this helpful
Top Comment
As a teacher I can tell you that not only Kindergarten needs helpers. There are always those kids who need extra help for one thing or another. Sometimes just sitting beside an easily distracted child wil help them stay on task. Listening to a struggling reader who won't read aloud to other students is a great help. I've seen more kids than I should have come to school after getting themselves out alone, no breakfast, often nobody at home but the other kids and those kids just need somebody to talk to and to give the feeling that SOMEBODY cares. If you've made it to grandmother stage you know quite a lot about listening, loving, and caring. I agree. Step in a let some little kid have needed extra help.

Janet
Silver Feedback Medal for All Time! 399 Feedbacks
September 30, 2008
0

found this helpful
Top Comment
I taught for years & eventually evaluated other teachers. When I moved back to Massachusetts I thought I would offer to help out in a local school, subsitute, read, work with small groups, anything. The school said they have an extremely tough policy about people helping out in their school. They had problems one year. Anyway they expected me to bring in a lot of recommendations from other people, submit to a crime check (which I have already done in order to teach at all), fill out a million forms, etc. I would have gladly done all that, as I miss the kids, but they really seemed disinterested. I thought they would really appreciate a retired teacher. Apparently not.
By Marg. (Guest Post)
October 1, 2008
0

found this helpful
Top Comment
I help out at the primary school where my grandson went. Everything from listening to children read through art to museum trips. It's marvelous. Go for it!

Jana
Bronze Feedback Medal for All Time! 116 Feedbacks
October 2, 2008
0

found this helpful
Top Comment
When my older kids (now 20 and 21) were in Elementary school, I wasn't working and was able to volunteer every week. In fact, the year that they were in 1st and 2nd grades, on Thursdays I volunteered 1/2 day in one class, ate lunch w/ one child or the other (alternated weeks) and the second 1/2 of the day and then on Friday, I volunteered 1/2 day in a kindergarden class, because the teacher didn't have enough volunteers. All these years later, some of the kids (now grown, some w/kids of their own) still remember and appreciate the times that I spent with them, and the books we read together.
Please, anyone that has the time, volunteer at an Elementary School near you. You never know how you might effect the life of a child.